Shawn Mendes And Camila Cabello's Relationship Timeline: The 'Señorita' Singers' Friendship Turned Romance
19 February 2020, 12:26 | Updated: 19 February 2020, 12:36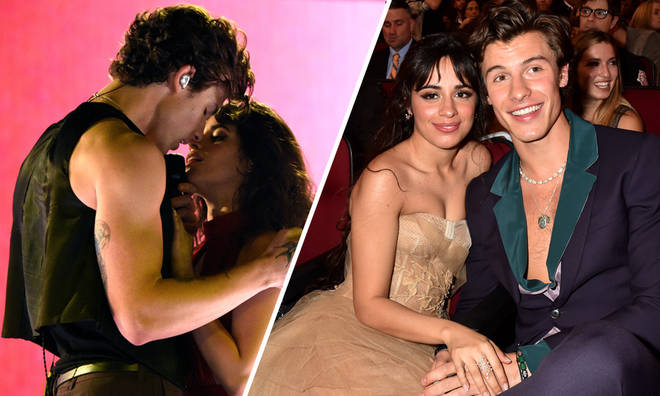 Shawn Mendes and Camila Cabello have gone from BFFs to certified BF & GF, so let's take a look through their journey from friends to much, much more.
Shawn Mendes and Camila Cabello officially turned up the heat in 2019 and took their friendship/musical relationship and turned it into a whole romance – something fans wanted forever but had started to think may never happen.
Their relationship, however, hasn't been without controversy – with accusations of a 'faked' romance for publicity being thrown around on the internet, so let's take a look at through their relationship timeline so far to see what's what.
The Romantic Way Shawn Mendes & Camila Cabello Spent Their First Valentine's Day
Shawn and Camila celebrate Valentine's Day in the UK
The pop stars were spotted having a romantic meal together at The Fat Duck restaurant in Berkshire, a prestigious eatery run by celebrity chef Heston Blumenthal.
They kept their Valentine's Day celebrations off of social media, but that didn't stop paps from snapping their outing, showing Camila looking stunning in a mini blue dress and Shawn in a buttoned-down satin shirt and skinny jeans.
Shawn was also pictured buying his girlfriend's favourite flowers, sunflowers, and chocolate for the occasion.
Shawn and Camila team up for karaoke at a Grammys after party
Proving they're the best of friends as well as boyfriend and girlfriend, Shawn and Camila had so much fun at a Grammys after party, belting out One Direction's hit 'Steal My Girl' with Niall Horan and Lewis Capaldi.
With their arms around each other as they stood on top of the bar, the couple looked as close as ever.
Camila reveals Shawn's favourite song from her new album is 'Should've Said It' - December 2019
Camila's song 'Should've Said It' contains some very telling lyrics about her boyfriend's feelings for her long before they got together, but it's Shawn Mendes' favourite track from the songstress' new album, 'Romance'.
The tune contains lyrics such as: "So you want me now? That's funny/ 'Cause you didn't give a .... back then/ Comin back around, so sorry."
Shawn and Camila perform steamy rendition of 'Senorita' at American Music Awards - 24 November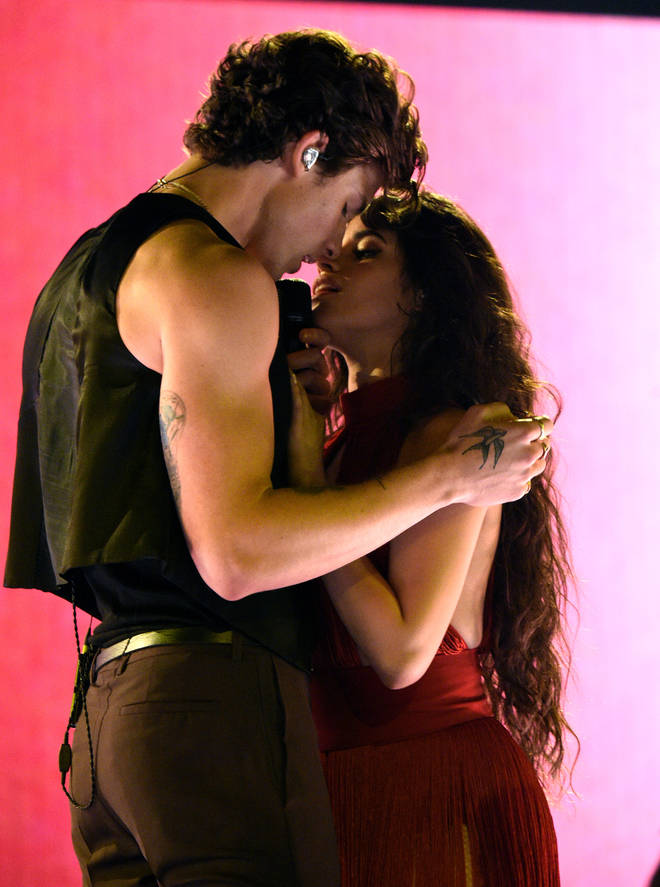 Proving just why they won the Collaboration of the Year award at the American Music Awards, Shawn and Camila left audience members and fellow artists open-mouthed after their raunchy performance of 'Senorita'.
The couple couldn't keep their hands off each other throughout their performance, with Shawn twirling his beautiful girlfriend around the stage before they ended the song inches away from each other's lips – which left Taylor Swift speechless.
They got tattoos together!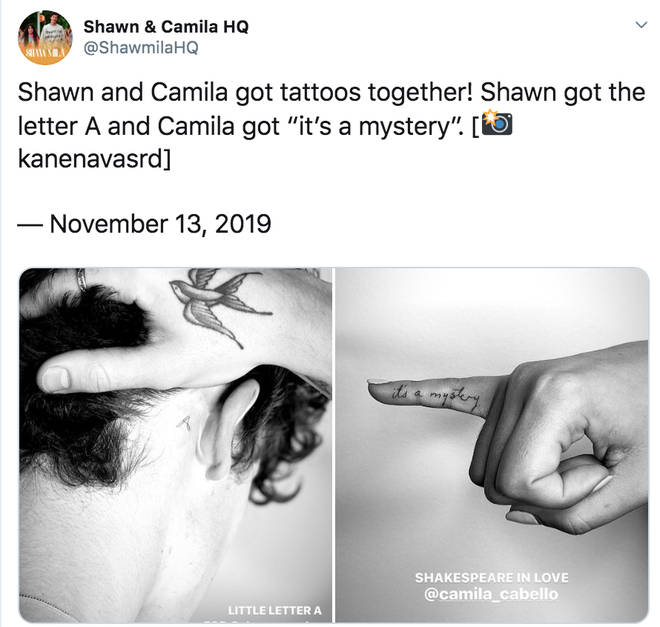 The pair wasted no time spending quality time together since being back in LA, and Shawn, a seasoned tatted man, took Camila for her first ever inking, a quote from Shakespeare In Love which reads 'it's a mystery.'
The 'In My Blood' star got an 'A' tattooed behind his ear in honour of his sister, Aaliyah, something he's told fans he's wanted to do for a while.
Reunited in LA & date night at a basketball game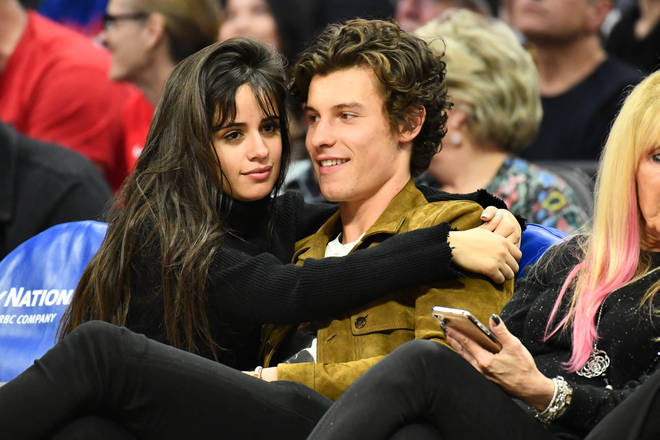 Shawn finally wrapped up the Australian leg of his tour and flew straight back to LA to Camila, where they attended Julia Michaels's 90s themed birthday party along with the likes of Selena Gomez and Niall Horan, before sitting court side at a Toronto Raptors v LA Clippers basketball game.
As can be gleamed from the pictures, they're pretttty happy to be back in each other's company!
Camila and Shawn get bond-touch bracelets - October 2019
Fans couldn't cope with the cuteness when they noticed Camila and Shawn had bond-touch bracelets, handy little gadgets which let the other partner know their loved is thinking of them whenever they touch the bracelet.
Their fans, eagle-eyed as ever, noticed the 'In My Blood' singer rocking the black bracelet in Australia, and Camila sporting the band even whilst all dressed up, and it confirmed what they had suspected for some time now, with one writing on Twitter, "now we know for sure shawn and camila have the touch bracelets."
Another said "SHAWN AND CAMILA USING THOSE BOND BRACELETS- OH MY GOD."
Camila shut down split rumours
After the internet was sent into a craze over Shawn deleting the couple's infamous kissing video, Camila was quick to set the record straight that they were still here and still couple goals.
Camila took to her Instagram story to address a headline that said: "Proof Shawn and Camila are Broken Up."
She posted a screenshot of the headline and jokingly wrote: "Well when THE F*** were you gonna tell me @shawnmendes."
Soon after, he posted a loved up pic of the pair, simply captioning it with a heart emoji - firmly putting those rumours to bed.
Shamila are very much still an item and we are so here for it!
Shawn deletes the video of him kissing Camila
The 'Señorita' duo posted the funny video to hit back at the internet's cruel (but accurate) memes after new photos of the couple kissing were emerging on almost a daily basis, but alas, it seems the Canadian star has decided its ruining the overall vibe of his Insta feed.
Fans took to Twitter to ask Shawn why he deleted the vid, with one asking "how are you gonna delete ur most liked post", and another pleading, "[IT'S] OKAY YOU CAN DELETE THAT VIDEO BUT PLEASE POST SOME CUTE STUFFS OF YOU AND CAMILA RIGHT AWAY" and we agree, more Shawmila content please.
Shawn hints he loved Camila for years – September 2019
When a fan asked for advice on loving someone who doesn't love them back, Shawn implied he's loved Camila for years before they officially began dating.
He told them: "If I told you the whole story with Camila it would take a long time, I would say just fight for what you love".
Shawn shut down paparazzi who asked if romance was a 'publicity stunt'
Whilst walking through an airport in LA, Shawn was quizzed by a pap who called his kiss with Camila 'adorable'. When asked if he'd met Camila's parents, Shawn admitted he's known them 'for a long time' and they get along.
The pap then said 'some people' accused their relationship of being a 'publicity stunt' and Shawn responded: "Definitely not a publicity stunt."
Shawn Mendes arriving in LA today and talking about his recent Instagram post with Camila and their relationship

"Definitely not a publicity stunt " pic.twitter.com/Mb46bGGd7J

— Shawn Mendes Media (@ShawnM_HQ) September 19, 2019
Shawn and Camila shut down haters with a video of them kissing
After going public with their relationship and having no fear in exchanging steamy PDAs, the couple were criticised for the way they kiss with some fans telling them they kiss "like fish". So to shut down the comments they shared a video on Shawn's Instagram of them literally kissing like fish, and it's one of the best clap backs we've seen in 2019.
While they received a mixed reaction for the video, in which they're clearly messing around, many fans branded their response as "iconic".
You can watch the video below...
Camila joined Shawn on stage during his sold out tour show..
Now they've popped the 'Señorita' cherry- there's no reason Cam can't join her BF on stage during his tour, as she just did in Toronto, and their super steamy performance even saw the 'Havana' get a little shy on stage, take a look!
2019 VMAs- 27th August
It was when they released their certified summer banger and number one hit, 'Señorita', along with the steamiest of music videos, that whispers first started they could be more then friends.
Now, they have finally performed together, and it was everything it promised to be- with everyone, A-listers including (we're talking about you, Joe Jonas) were craning their necks to see if they were going to kiss (spoiler, they did not, the teases!)
August 20th, making out in Montreal
The pair have been packing on the PDA all over the Western hemisphere at this point, so naturally it was time to hit up Shawn's home nation of Canada, where they strolled to a café to do some smoochin'.
Shawn shares the steamy rehearsal video of 'Senorita'
Two months after dropping the raunchy song that is 'Senorita', Shawn posted the full rehearsal film for the equally racy music video.
The couple can be seen learning the choreography for the video and larking about on the set, but one thing's for sure – they look closer than ever.
We've no doubt this was the moment they realised there was more to their friendship than they'd first thought.
Camila has been blocking fans who tweet about her and Shawn's relationship as a 'PR stunt'
Yup, proving she is not willing to sit back and let people trash her and Shawn's relationship – she's been unfollowing and blocking negative tweets accusing her of faking her new romance.
Fans revealed the star had been cleansing the toxicity out of her social media and blocking fans who posted about a 'faked' romance.

Camila professes her love for Shawn on Instagram
Despite remaining silent on whether or not they're officially together, fans took Camila's birthday post to Shawn as confirmation they're boyfriend and girlfriend.
Alongside an old snap of herself and her beau adorably playing with her hair she wrote: "Happy birthday to this magic human! I love you."
Shawn's 21st birthday – 8 August 2019
Shawn and Camila couldn't keep their hands off each other during his 21st birthday celebrations, with the couple pictured walking hand-in-hand as they strolled through New York City.
And later that evening they were seen sharing a passionate snog as Shawn prepared to blow out his birthday candles.
As everyone cheered him on, Shawn reached out for Camila's hand before grabbing her face and planting a kiss on her lips.
Camila talks about being in love – 6 August 2019
In her interview with Variety Camila spoke about falling in love, saying she "opened up" when she fell in love – and everyone assumed she was talking about Shawn.
She said: "Falling in love is like an infinite amount of levels and layers and angles. I fell in love and just opened up. Everything was written in present moment." She stops short of offering a name."
And when she was quizzed on how her collaboration with Shawn 'Señorita' came about, the 22 year old explained: "I've known Shawn for such a long time, and it's so much fun getting to work and do things with somebody who means a lot to you."
Miami beach date – 29 July 2019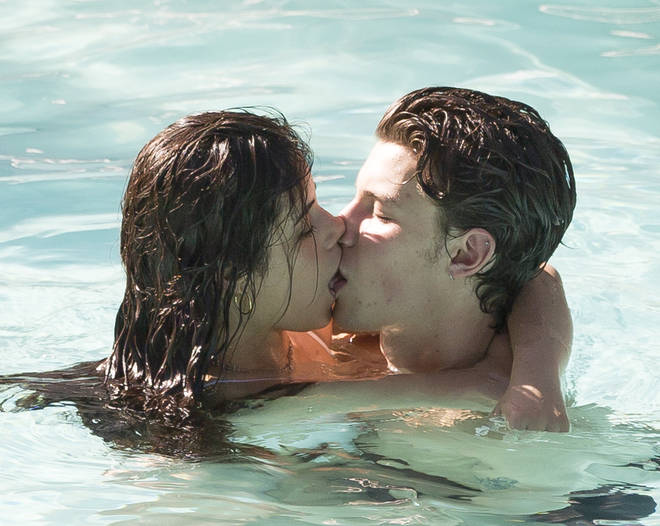 The claims of a 'faked' relationship are getting harder and harder to believe as the pair spent a day literally living out their Señorita music video IRL, spending the day at Miami beach with friends, sipping on coconuts and generally looking the most loved up ever.
Shawn is currently on his world tour, and Camila has been spotted supporting him in the crowd, most recently in Miami, which is also her hometown, but also joined the singer in San Francisco.
Shawn repeatedly refuses to answer fan Q&A questions about his dating life and Camila...
Throughout the duration of his world tour, Shawn has hosted intimate fan Q&A sessions backstage at his concert venues, where they get to chat about all kinds of things from his favourite Harry Potter movie, food, whatever they fancy.... apart from Camila.
Fans have tried to bring it up to him a couple of times now, each time him politely declining to answer, and most recently, walking off from the Q&A- although it was the last question and things were wrapping up.
The 'In My Blood' singer must have felt bad about it, as he tweeted (but then deleted) an apology if he came across rude for dodging the question.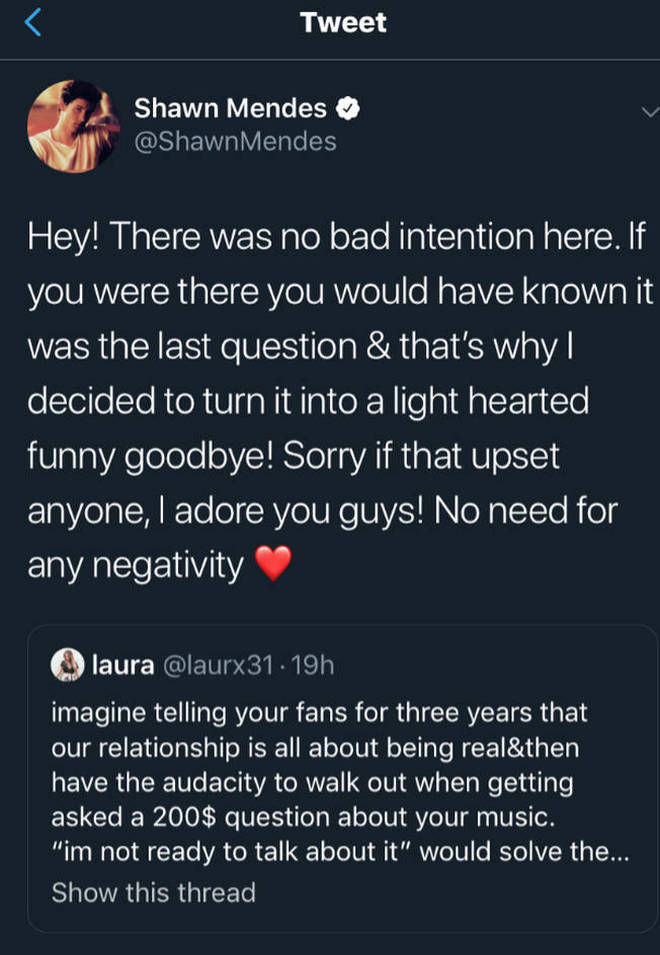 Camila's not-so cryptic tweets – July 2019
Whilst Shawn has refrained from posting anything indicative of him and Camila's budding romance, Camila has been posting some not so indirect messages about love, tweeting: "for me, it was always going to be about love" and a few weeks earlier, "I think you're gonna change my plans".
"for me, it was always going to be about love"

— camila (@Camila_Cabello) July 25, 2019
I think you're gonna change my plans

— camila (@Camila_Cabello) July 15, 2019
Fan footage of them full blown making out – July 13, 2019
And just like that... everyone's suspicions, hopes and dreams were confirmed when the two stars were seen kissing whilst out for a bite of food.
The internet immediately jumped on the footage, and whilst many were already stanning Shamila, others questioned the relationship, saying it looks 'awkward' and 'forced', but as more and more fan vids emerged, it looks like it's the real deal and they're most definitely a couple.
Papped holding hands – 8 July, 2019
These pics are where it really all began, with the two strolling back to Shawn's LA pad, and yes, they were holding hands and playing around- but did that mean they were together?
'Señorita' music video drops, everyone wonders the same thing...21st June, 2019
'Señorita' dropped and we all knew that it going to be one of the songs of summer 2019- but when the music video arrived, everyone collectively gasped because it showed an intense love story between Shawn and Camila's characters, and a whole lot of chemistry.
Now, there's acting, and then there's whatever is going on in that video, and it lead people to question if the good pals had finally decided to take their relationship to the next level... and they didn't have to wait long to find out.
They're back writing music together – December, 2018
Camila was just coming out her own world tour around the Christmas period when she posted a snap showing her and Shawn reunited and what appeared to be them making music together.
Hey, at least we know what they like doing in their down time- spending time with one another, Camila was still reportedly booed up at this point though.
Grammys – January 2018
They have both come so far from the teens on tour together in 2014- and were both doing solo performances at the Grammys, which is absolutely huge, but still found time to see each other backstage, with Camila posting a photo of the pair saying how proud she is of the Vine star turned superstar.
She wrote: "so proud of this amazing human !!!!!! seems like yesterday we were just kids singing ed sheeran songs in the dressing room, now we're kids trying not to throw up cause we're at the Grammys!!!! i love you forever."
Shawn and Camila cover Ed Sheeran's 'Kiss Me' – 2017
Shawn & Camila's cover of Ed Sheeran's 'Kiss Me' posted on Instagram in March 2017 has notched up an incredible 3.5 MILLION views in under one year – which for a 30 second, black and white clip, isn't too shabby!
Even when they weren't with each other, they were supportive AF of each other's careers...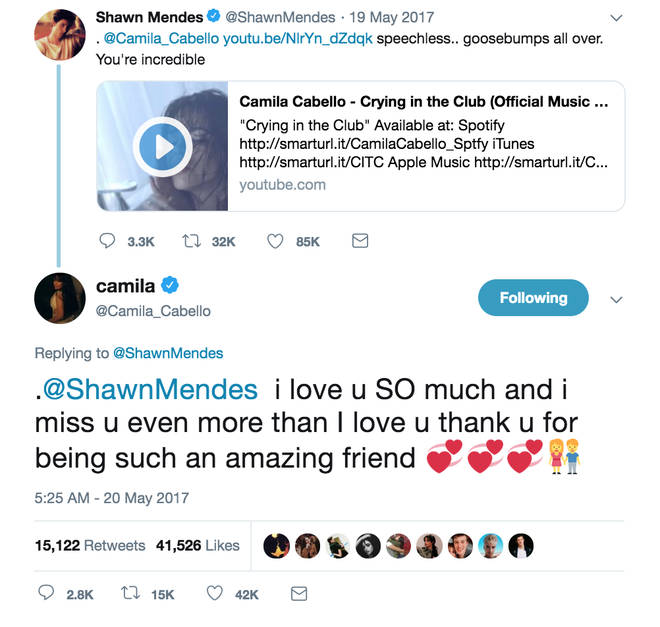 Their infamous 'To Bae or Not To Bae' FaceTime here at Capital FM – 2015
Whilst Shawn popped in for a little visit with Roman, he couldn't help but FaceTime the one and only Camila and of course the call became an instant classic.
The day Camila Cabello shared these Shawn Mendes polaroid photos on her Instagram account...
She even captioned the two photos as 'real friends' along with a Canadian flag! Seriously, why are these two so damn gorgeous together?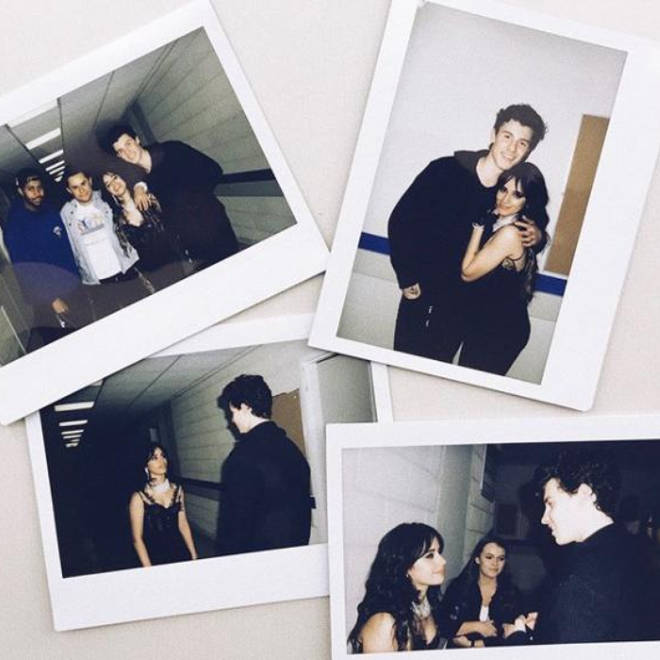 They *promise* nothing had, or would, happen between them on James Corden
Whilst promoting their first ever collaboration, 'I Know What You Did Last Summer', Shawn and Camila took to the sofa with James Corden, who grilled them about their relationship, asking them to at least admit they'd 'made out', which they both denied.
Shawn's exact words were 'not going to happen' as they both shuffled around awkwardly, but back in 2015, they were just mates.
Shawn and Camila's first official collaboration 'I Know What You Did Last Summer' – November, 2015
In 2015, the duo released their single 'I Know What You Did Last Summer'. They went on to perform the single on countless U.S TV Shows, including Live With Kelly And Michael, The Late Late Show with James Corden and The Tonight Show Starring Jimmy Fallon.
In the most adorable of ways Shawn joked, "Every time I try to make a move she just swears me off," adding: "It's never gonna happen." To which Camila countered by saying, "He friend-zones me! He calls me 'kid!'" ... we all definitely believe they're still going to get together one day right?
Shawn Mendes and Camila Cabello become friends on tour - 2014
Shawn and Camila first met at Austin Mahone's 2014 'Live On Tour' concerts where the pair were both support acts for the American singer.
Camila obviously performed with Fifth Harmony whilst Shawn (who was known more for his Vines back then) performed alone, and Shawn said in a recent V magazine interview (that he and Camila did together) that she was one of the only one who spoke to him (heartbreaking), saying:
"You were the only person that talked to me. Like, you were the only one of everybody on that tour who would say words to me."
"Actually, I think if we go into our DM's or something, there's a photo from the day we met, I think."
> Download Our App For All The Latest Shawn Mendes And Camila Cabello News