Shawn Mendes & Niall Horan Friendship Timeline From Duetting To Being Supportive AF
14 February 2022, 15:30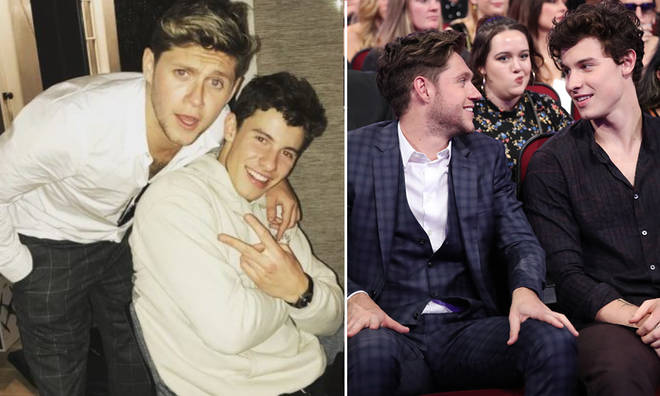 Shawn Mendes and Niall Horan have one of those friendships everyone is jealous of. They make music together, they chill and even do karaoke together!
Shawn Mendes continues to be branded one of the nicest guys in pop, up there with Niall Horan, who has been letting everyone know how proud of his pal he is ever since they met.
'Wonder' star, Shawn and former One Direction member, Niall, go way back to the first tie they met in 2017 and have a shared love of songwriting, playing guitar, oh, and does being superstar heartthrobs count as a hobby, too?
Inside Niall Horan And Harry Styles' Friendship Which Is Stronger Than Ever 5 Years After Hiatus
We're going to count it.
So, let's look through all the adorable moments they've shared together and the support they're constantly providing to one another.
Get ready to sob!
Niall and Shawn watch the Super Bowl 2022 together
On February 13, the talented pair were spotted among the sea of famous faces in attendance at the Super Bowl 2022 in Los Angeles.
Shawn and Niall were sat side-by-side in their coveted seats for the American football match, they even shared a few snaps and boomerangs to the 'Gram!
The hit-makers attended the big sporting even with a group of friends and could be seen on social media dancing and laughing and the game unfolded – they looked close as ever!
Niall and Shawn share the same wellness doctor
In a never-before-seen pic of Niall and Shawn visiting a popular respiratory expert, the pop superstars posed with their doctor.
The wellness account posted the photo with the caption: "Happy Monday from everybody's three favourite heartthrobs."
What's that saying, friends who visit healthcare professionals together will be friends for life? Or something like that.
Niall proves how close he is with Shawn Mendes' mates too
It's a true sign of friendship when you're mates with your mates' mates too, if you know what we mean.
And Niall only cemented himself as one of Shawn's besties when he commented on Camila Cabello's Instagram post of a selfie of all their friends.
"We got Brian," Niall wrote, tagging Brian Craigen and adding hands-up emoji.
Shawn Mendes and Niall Horan play golf together
Proving how close these two really are, Shawn joined Niall for a game of his second biggest love in life: golf. (His first is 1D, obviously).
On a sunny golf course, Shawn shared an Instagram Stories clip of Niall's expert swing, calling it "poor form." Ouch.
What we'd give to hear what they chatted about on the green!
Niall couldn't be prouder of Shawn
Watched my buddie @ShawnMendes doc last night. So proud of the boy. He's smashed it and always so humble. well done to everyone involved. X

— Niall Horan (@NiallOfficial) November 24, 2020
Niall, like the rest of us, raced to our Netflix to watch Shawn as we've never seen him before, unfiltered, in his documentary that followed him on his mammoth 2018 world tour.
The 'No Judgement' singer couldn't help but express the pride he felt watching the 22-year-old flourish on-screen and took to Twitter to tell his millions of followers:
"Watched my buddie @ShawnMendes doc last night. So proud of the boy [sic]."
"He's smashed it and always so humble. well done to everyone involved."
niall I love your friendship with shawn. if there's and award of musician friendship is gonna be you and shawn for the winner

— sofia | 10 (@sapphiredempsey) November 24, 2020
Will Shawn Mendes and Nialll Horan ever collaborate?
Hit-makers songwriters, talented instrumentalists, performers, heartthrobs and you should trust us when we say we could go on and on about the shard talents of these two.
Fans have constantly asked the pair when they're going to get round to collab'ing together, but, unsurprisingly the pair are kind of busy making records, documentaries, planning tours, you get the gist.
However, they've certainly not ruled it out and have said one day they will write a tune together, and that glimmer of hope is all we need.
Of course, being separated by oceans doesn't help these chances right now, but we know when everything is back to normal the pair will reunite.
Niall Horan joins Shawn Mendes for a cover of his hit 'Mercy'
As breaking the internet goes, there's not a whole lot more you can do than get two of the biggest stars in the world together in one room to duet on one of their biggest tracks.
When Niall and Shawn were hanging out together backstage, they decided to pass the time by belting out 'Mercy', harmonies and all.
Fans were besides themselves seeing their two favourites sharing sofa and doing what they do best, sing their hearts out!
The 2017 American Music Awards – where it all began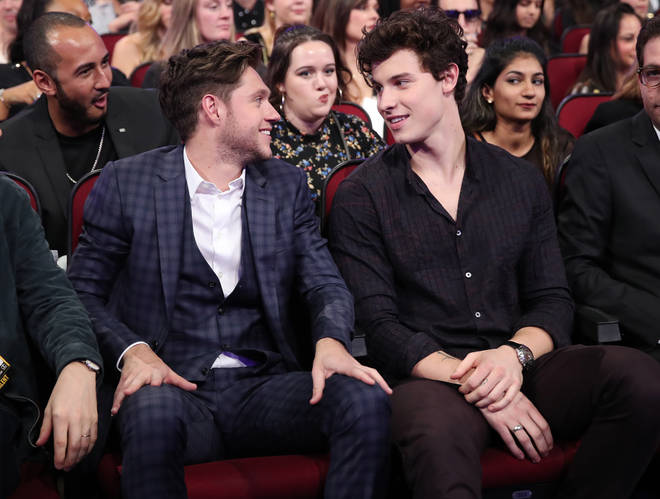 The 2017 AMAs was the very first time Niall and Shawn met after messaging back and forth for a while before finally meeting up at the award ceremony.
The pair, obviously, hit it off instantly as you can tell from this adorable snap of them gazing into each other's eyes.
The rest, as they say, is history.
> Grab Our App For The Latest Shawn Mendes News