Tom Holland And Zendaya's Complete Relationship Timeline
16 March 2023, 17:39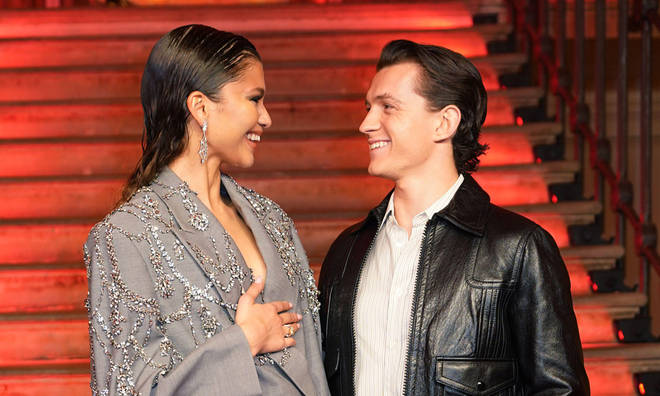 Spider-Man stars Tom Holland and Zendaya were the celebrity friendship duo we were all envious of... and now they're officially dating!
Pictures of Tom Holland and Zendaya, both 26, kissing in 2021 confirmed they were in a relationship after years of insisting they were simply besties.
Tom and Zendaya of course play the iconic Peter Parker and MJ in Spider-Man, with a fourth film soon putting the couple back behind the camera!
Marvel fans have always been rooting for the stars to get together and start dating – and two years ago they officially became boyfriend and girlfriend, with multiple red carpet appearances and public PDAs already ticked off.
Are Tom Holland And Zendaya Engaged?
Fans can see how loved-up the stars are in videos of the couple from their movie promo which continue to go viral because of how much of a cute couple they are.
We're taking a look back at their entire friendship and relationship timeline, from genuine besties to actual boyfriend and girlfriend and all their cute moments in between. How long have they been together and when did they start dating?
Zendaya joins Tom Holland's family in London
In pictures obtained by MailOnline, Zendaya and Tom proved they're just like any other couple in their mid-20s in charge of 'the big shop', heading to Waitrose together while she visited in London.
Zendaya sweetly smiled at her beau after he was stopped by a fan for a photo as they left the supermarket.
Earlier on in the week, Zendaya joined Tom's family for a stroll with their dogs, chatting happily to his dad as he and his mum walked ahead.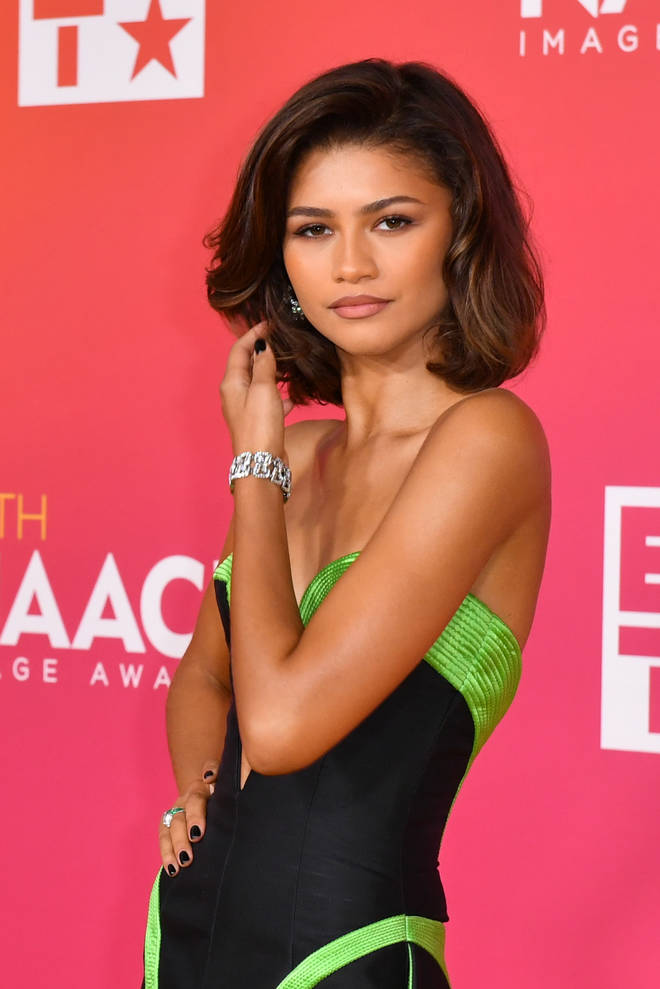 Tom Holland is ever the supportive bf with a cute comment on Zendaya's Insta upload
After Zendaya posted her stunning lewk from the NAACP Awards, for which she wore a black gown with neon green detailing, boyfriend Tom wasted no time in sharing his appreciation for her gorgeous get-up.
Keeping his adoration to a few telling emojis, Tom left a string of heart-eye emojis underneath Zendaya's upload. Naturally, the comments that ensued were filled with reactions like: "Cute!" and "You are a lucky man!"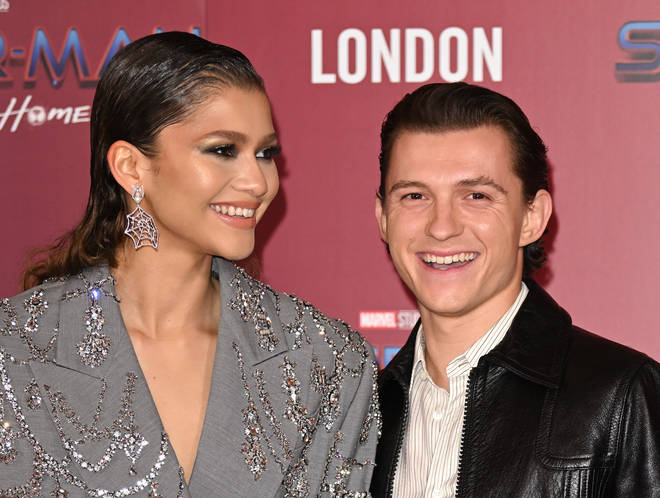 Fans think Tom Holland and Zendaya are engaged
Tom and Zendaya seem as loved-up as ever, so it came as no surprise when headlines started to crop up reporting that the co-stars-turned-partners were engaged!
However, the claims have since been disproved as Zendaya's protective mother put the rumours to rest. She posted to her Instagram Story: "Clickbait typically refers to the practice of writing sensationalized or misleading headlines in order to attract clicks on a piece of content."
It didn't take long for fans to realise that the post was referring to the speculation about the Spider-Man stars becoming 'fiancés'.
Despite the false engagement news, Zendaya and Tom do seem to be getting serious! In November it was reported that the pair was in "settling down mode" – only time will tell!
Tom Holland and Zendaya enjoyed a romantic trip to Paris
Where better to vacation than the capital of love; Paris - fitting for lovebirds Tom and Zendaya.
The pair were spotted enjoying the most romantic trip as they had an elegant date day at the Louvre museum, before enjoying a more low-key date night at the burlesque, where they were spotted by fans getting cosy as they enjoyed the show.
Tom Holland was the first person Zendaya texted aftet historic Emmy win
Zendaya celebrated a historic win during the 74th Emmys when she took home the coveted Oustanding Leading Actress Award in a Drama Series award for her role as Rue Bennett on HBO's Euphoria.
The award made the former Disney darling the youngest person to win two Emmys in the same category and the first Black woman to win Lead Actress twice!
Tom Holland was not present at the ceremony (but Zendaya did take her mum as her date – aw!) as he remains in New York as he continued filming for his upcoming project, The Crowded Room.
But that doesn't mean the loving boyfriend wasn't there in spirit! Zendaya revealed on the red carpet that the first person she would message following a victory would be her other half – adorable!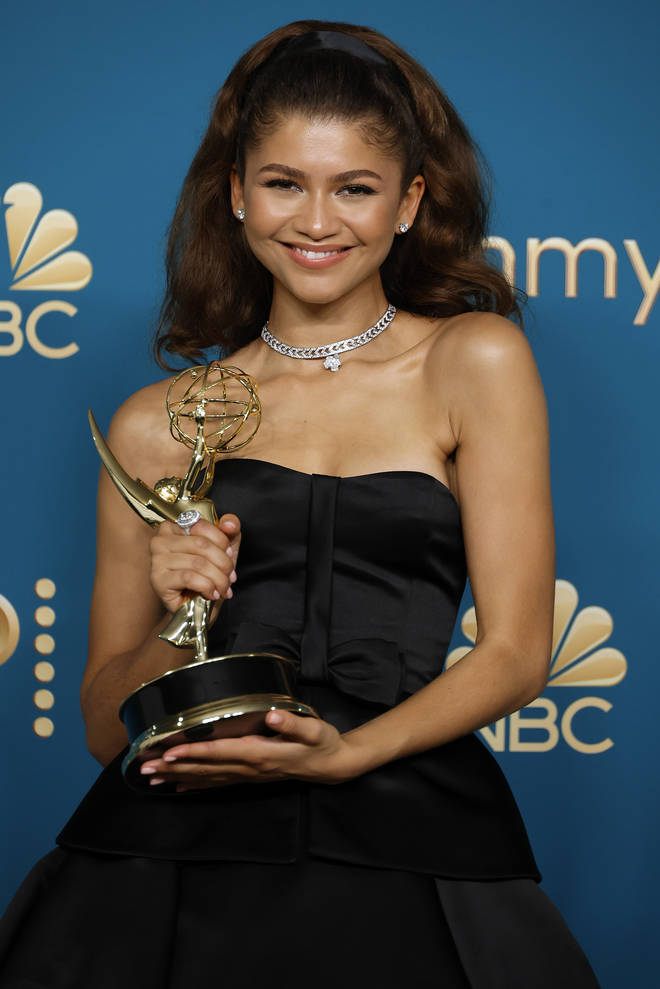 Tom Holland and Zendaya celebrate her 26th birthday
Unlike last year, Tom didn't mark girlfriend Zendaya's birthday on social media after choosing to take a break from the app. Instead, the couple spent some quality time together and headed out for dinner in New York.
Zendaya looked as beautiful as always in a long-sleeve black crop top and jeans while Tom also cut a casual figure in a head-to-toe navy outfit.
The day after her birthday Zendaya took to Instagram to post a throwback picture of herself as a tot in a pool, writing: "I get to spend the day responding to the most beautiful messages (sorry I'm a little late) thank ya'll for filling my heart with so much love, I couldn't be more grateful Here's to 26!"
Zendaya shares adorable birthday post for Tom Holland
Zendaya just warmed our hearts more than we thought imaginable after sharing the most adorable birthday post dedicated to her beau.
Celebrating Tom turning another year older, the actress shared a black-and-white snap of the couple looking loved-up on her Instagram, simply writing: "Happiest of birthdays to the one who makes me the happiest <3."
Words aren't enough for how sweet they are!
Tom Holland tells Zendaya 'you look so beautiful'
In an unearthed video from a press day Tom and Zendaya were doing no doubt for their latest Spider-Man flick, Tom can be heard telling his girlfriend: "You look so beautiful, darling" before they realised the cameras were rolling.
To make things 10 X cuter, Zendaya responded: "So do you."
Awh!
Tom Holland leaves the cutest comment on Zendaya's post
Zendaya undeniably stunned when she posted a gorgeous photo to the 'Gram as she sported a vintage Balmain gown – Tom's reply in the comments was just the cherry on top.
The Marvel man hyped up his woman with one simple word: "First." Holland got his comment in early doors, making everyone laugh in the process – he's not just her boyfriend but a fan too!
The quip from the Spider-Man star quickly racked up all the likes, amassing over 140k within the first day of the post.
Fans couldn't help but comment on the co-stars' adorable love, writing: "Tom being Zendaya's number one fan is my favourite thing ever."
Tom Holland and Zendaya wear matching jerseys at ice hockey game
Just a day after the A-list couple were spotted colour-coordinating their elegant dinner outfits, Tom and Zendaya gave fans another glimpse of how in-sync they are with their styles.
Proving they're the most stylish and loved-up duo around, the Spider-Man co-stars donned matching jerseys during a New York Rangers ice hockey game.
If that wasn't adorable enough, they sported jerseys with each other's names on - (yes, we're casually crying too!)
Zendaya and Tom Holland holding hands during romantic outing sends fans into meltdown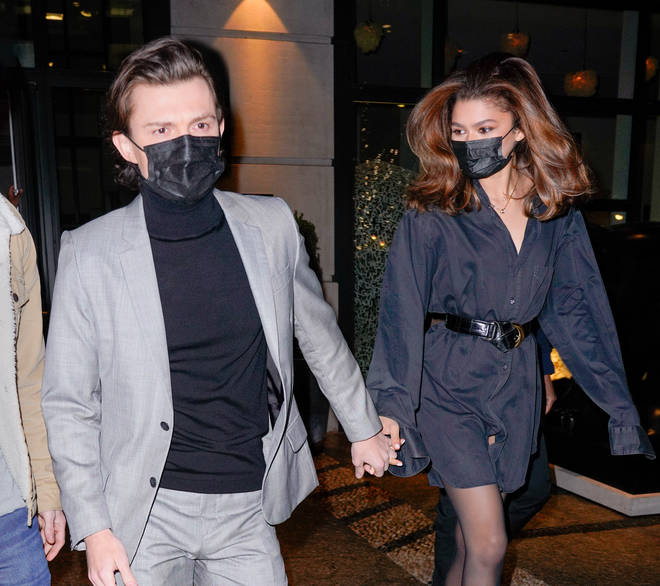 There's never enough Zendaya and Tom Holland content, right?
The pair proved to be more loved-up than ever during an outing in New York City, where they were spotted holding hands.
We don't know what's cuter, their adorable PDA or the fact they were wearing colour-coordinated outfits!
A compilation video of Tom Holland and Zendaya being in sync goes viral
Proving they're the ultimate relationship goals, fans of the A-list couple have found Tom Holland and Zendaya's most adorable moments and put them together in a video montage which has gone viral.
The compilation shows every time the pair have been in sync with each other and fans can't get enough of how much they're always on the same page!
All Of Tom Holland And Zendaya's Too Cute Relationship Photos
If the clip doesn't make you teary, we don't know what will!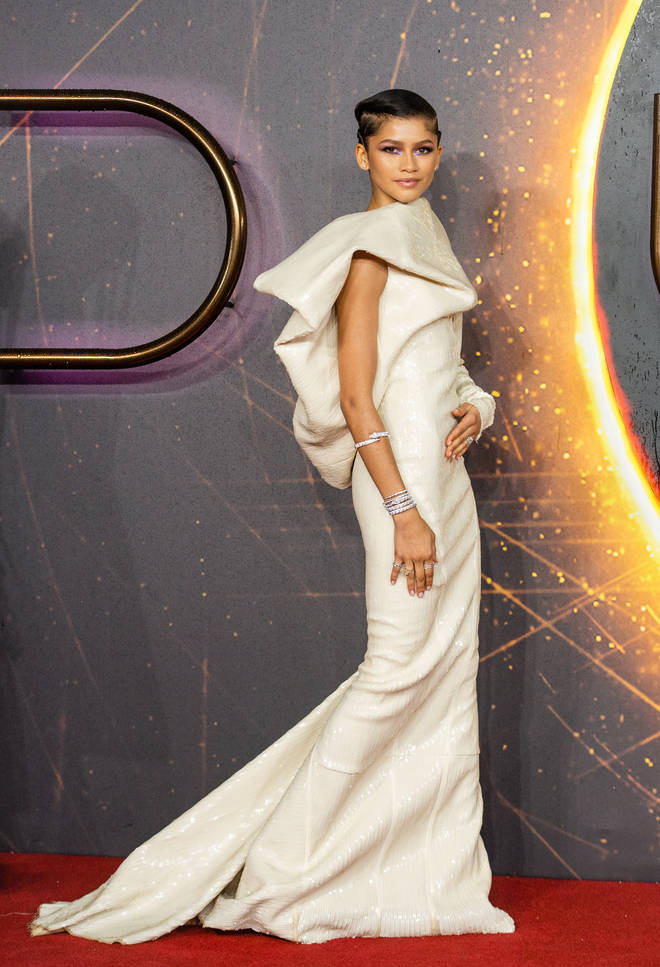 Tom Holland praises Zendaya's fashion award win in adorable post
Tom couldn't help but gush over his beau as she walked away from the CFDA Fashion Awards with a very coveted accolade.
The 25-year-old picked up the Fashion Icon award at the lavish event on November 10th – and Holand had nothing but words of adoration for his girlfriend.
He took to Instagram and professed his pride alongside a stunning snap of the actress: "Naaa stop it. An incredible achievement for the most incredible person [sic].
"Congrats @zendaya and @luxurylaw you guys deserve every bit of this."
This Marvel man sure knows how to be a supportive partner!
Zendaya and Timothée Chalamet discuss her relationship with Tom Holland
During a chat with Buzzfeed about their new movie together Dune, Zendaya and Timothée Chalamet briefly gave a nod to the actress' romance with Tom Holland and it was the sweetest thing!
The co-stars were asked to guess each other's biggest celebrity crush and without hesitation, Timothée quickly responded: "Easy, Tom Holland," which was followed by a very giggly reaction from Zendaya - we will take as agreement!
Tom Holland gives girlfriend Zendaya's red carpet look a shoutout
Proving he's #BoyfriendGoals, Tom posted a tribute to girlfriend Zendya's beautiful ensemble at the Dune premiere, adding a heart-eyes emoji to his caption of the film name.
Zendaya responded with the glossy-eyes emoji, proving even she can't handle his cuteness.
Tom Holland and Zendaya go Instagram official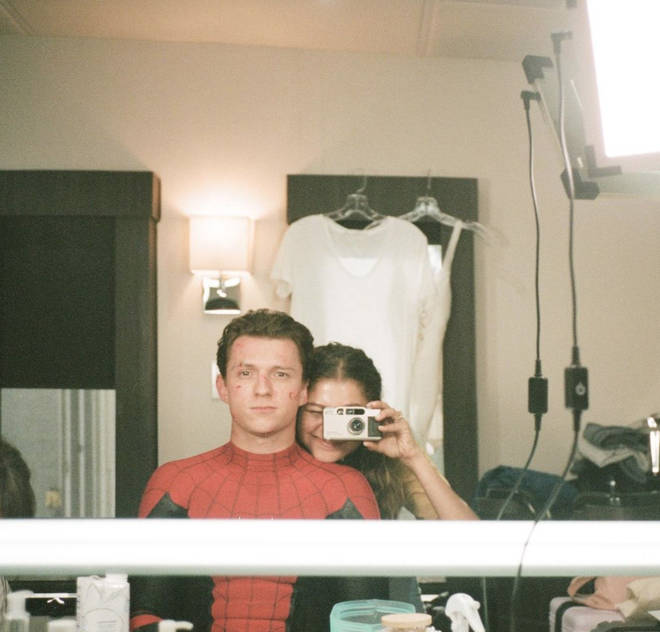 Tom and Zendaya finally confirmed their relationship over on Instagram on her 25th birthday on 1 September.
Alongside a sweet selfie taken during a break from filming Spider-Man he wrote: "My MJ, have the happiest of birthdays. Gimme a call when you're up xxx."
'My MJ!'... Tom, our hearts cannot take it.
Tom Holland and Zendaya attend a wedding together
In mid-August, the young couple were photographed at a wedding in which they attended as a couple!
The secretive duo remain tight-lipped about their romance but, as you know, a picture says a thousand words...
The snap was posted to an Instagram story by fellow ceremony attendee, Esteban Camarillo, and shows the co-stars in an embrace surrounded by fellow guests.
Going to a wedding together is quite the relationship milestone!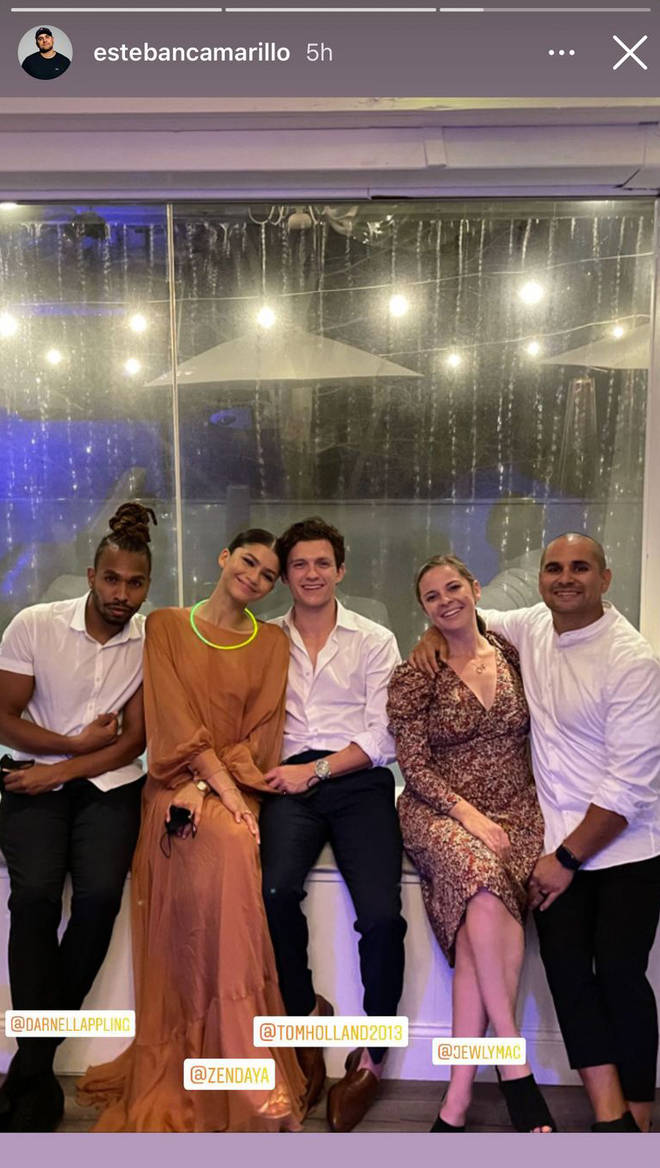 Zendaya and Tom Holland have romantic holiday together
Zendaya and Tom were pictured on their way back home after a short getaway together in Santa Barbara – nothing says serious romance like a vacay.
It's believed they spent the Fourth of July weekend together – which is when they were pictured kissing in the car.
When did Zendaya and Tom Holland start dating?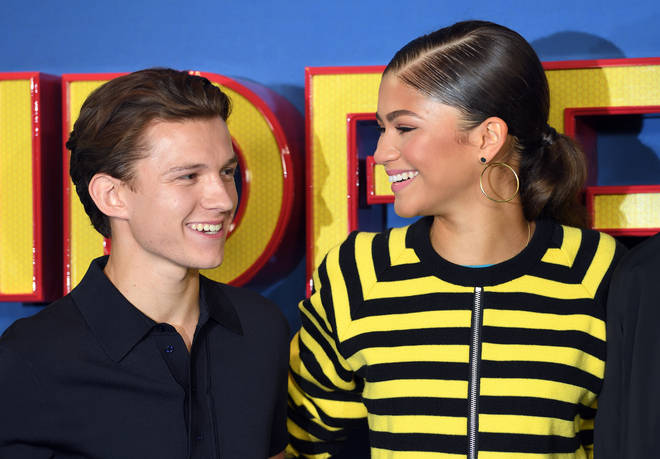 On 1 July 2021, Tom and Zendaya seemed to confirm their relationship status by sharing a kiss while sat in their parked car together.
They were also seen larking around and laughing, proving their friendship is still as close as ever despite taking things to a romantic level.
It wouldn't be the first time stars of the Spiderman franchise took their relationship off-screen, with OG Peter Parker Toby Maguire and Kirsten Dunst enjoying a short romance after meeting on the 2002 film and The Amazing Spiderman's Andrew Garfield and Emma Stone dating for four years until 2015.
Tom Holland and Zendaya film Spider-Man 3 together
Just when you thought the world was running low on Tom and Zendaya content no thanks to the pandemic, our two favourite co-stars were back to work on Spider-Man 3 at the start of 2021.
The stars were papped filming on a snowy set and they looked so happy to be back at work, with Zendaya grinning as Tom walked into a bakery to meet her, which is exactly the reaction we would have if actual Peter Parker was walking our way and we were surrounded by freshly-baked goods.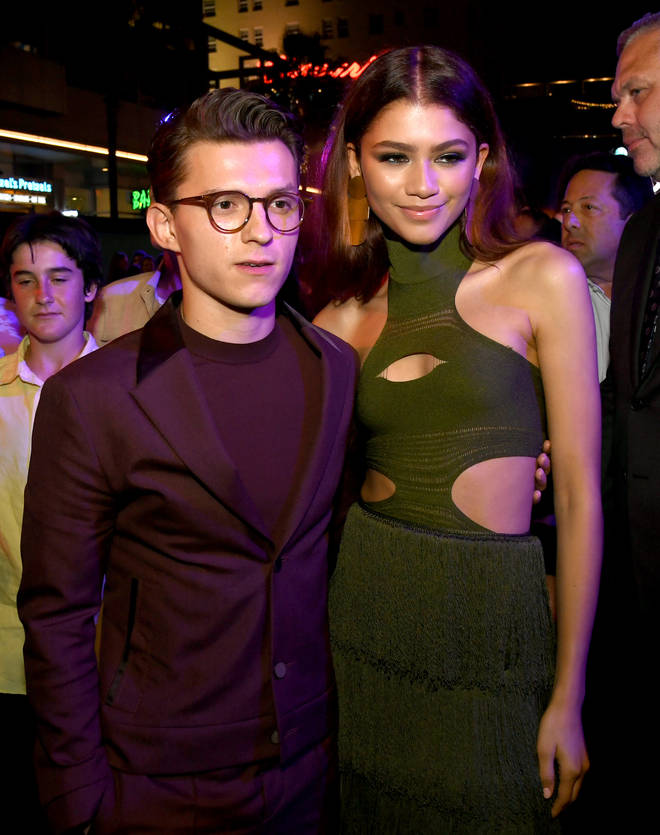 Tom Holland and Zendaya address ongoing dating rumours
We've lost count of how many times these two denied they're dating, but Zendaya made it pretty clear way back in August 2017, during her chat with Variety magazine.
"We are friends. He's a great dude. He's literally one of my best friends. This past how many months we've had to do press tours together. There's very few people that will understand what that's like at 20 years old."
The dating rumours have only fuelled their friendship though, with Zendaya sharing a report about their speculated romance on Twitter and hitting out: "Wait wait...my favorite is when it says we go on vacations together HA! I haven't been on a vacation in years! hbu @TomHolland1996 ???"
Tom quipped back: "Does the press tour count?"
Tom hangs out with Zendaya's parents
Tom was seen hanging out with Zendaya's parents in December 2017, but given these two quickly became ultimate best friends that's nothing out of the ordinary!
Zendaya calls Tom her "favourite person"
In a video to warm even the coldest hearts, Zendaya called Tom her "favourite person" when he surprised children at a hospital in New York by dressing up as Spider-Man to meet them.
It came a few weeks after the pals posed together for the cover of The Hollywood Reporter, cementing their status as the most powerful young actors in Hollywood.
When were Tom Holland and Zendaya cast in Spider-Man together?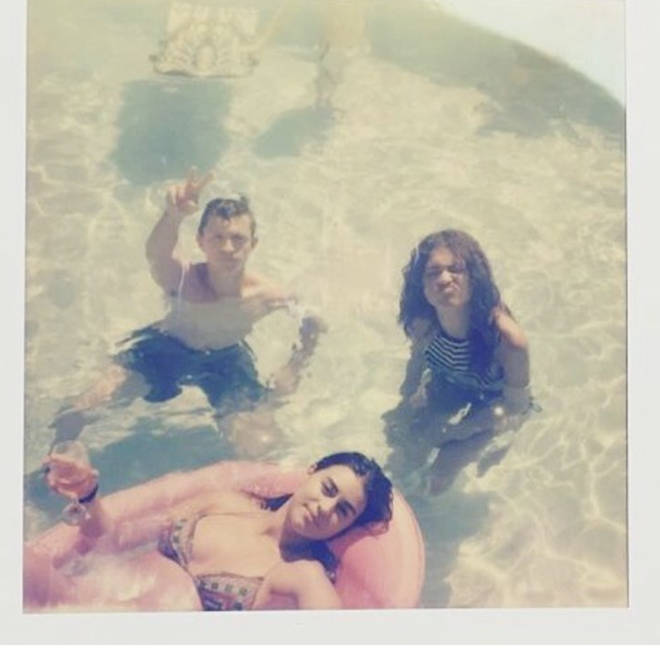 Back to where it all began, Tom and Zendaya were cast in Spider-Man in July 2016.
We knew this friendship would be for real when he posted a photo of them relaxing in a swimming pool, captioning it oh so casually: "Summer Sundays."
> Here Are All The Ways You Can Listen To Capital