Bodg's Biscuit Buddy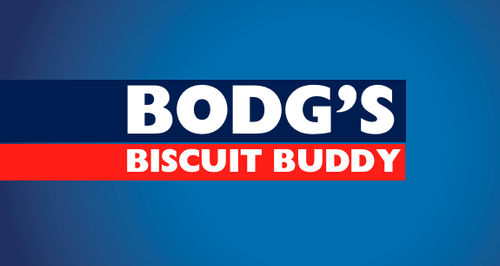 For years Bodg has had an idea, an idea that would forever save us from having soggy biscuits at the bottom of our tea cups and now he's doing something about this idea....
ON MONDAY
Bodg decided to tell the North East about the idea and ask if he should invest his life savings into it?
@BodgMattandJoJo I'd buy a #BiscuitBuddy but financially you'll be wasting your money!

— Rebecca Summerson (@beccasummerson) June 9, 2014
@BodgMattandJoJo love it, I may invest

— Christopher Spencer (@spencersafc) June 9, 2014
My biscuit actually fell into my tea whilst listening to @BodgMattandJoJo, I now support his invention

— Tony (@TonyRatcliffe97) June 9, 2014
@BodgMattandJoJo invest .. al chuck a tenner at it if you do ... Worth a tenner to c that

— Fraidnott (@alnbowes) June 9, 2014
@BodgMattandJoJo DO IT!! nothin worse than biscuit in your tea!! #doit

— Nichole Horsman (@Nicholeyyy) June 9, 2014
@BodgMattandJoJo It's a great invention but don't put all savings into it. Go on dragons den! #BiscuitBuddy #dragonsden

— Em Miller (@Thisismilla96) June 9, 2014
The idea seems to be going down quite well, we've even got some orders coming in for the Biscuit Buddy.
ON TUESDAY
We did what Em from Twitter suggested and pitched the idea to Dragon's Den Kelly Hoppen... Would she invest?
ON WEDNESDAY
Paul from iClick3DPrinting called the show to say he could make the Biscuit Buddy a reality. Hopefully he can. We will have to wait and see.
ON THURSDAY
The Biscuit Buddy has actually arrived and its AMAZING!!!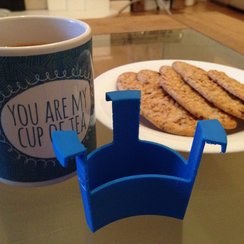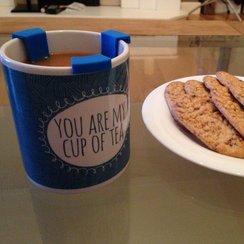 ON FRIDAY

We thought Bodg's Biscuit Buddy was too good not to share with the world so we decided to set up the Biscuit Buddy hotline to find someone who wants it the most. If you want the Biscuit Buddy for yourself leave us a message on 0191 444 2525