9 Reasons Ed Sheeran Is An Absolute LEGEND
7 April 2017, 11:12 | Updated: 10 April 2017, 09:34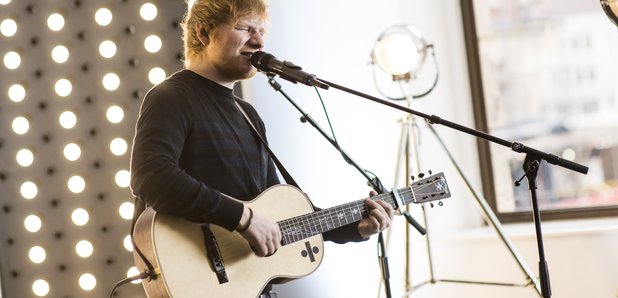 Ed Sheeran is bringing his Divide tour to Newcastle and if you don't fancy spending hundreds on tickets on a re sale website, just stick on Capital Breakfast with Bodg and Matt all this week to win! (Monday 10th – Thursday 13th)
Oh and they will also sort you out with an overnight stay at Hotel Indigo in Newcastle, just in case you want to go out after the gig to try and find Ed in town… (We can neither deny nor confirm that Ed will be out after his gig)
1. Let's just start of by just saying that we think he should DEFINITELY sing our #GeordieGirl version of 'Galway Girl' when he hits the Newcastle Arena!
Forget Galway Girl @edsheeran... GEORDIE GIRL is where it's at! ⚫️⚪️ #GeordieGirl pic.twitter.com/K9jEY32MLQ

— Capital North East (@CapNorthEast) March 24, 2017
2. Yes it's pointing out the obvious, but Ed is the KING of collabs!
Like who expected Stormzy to pop up at The Brits!
Then there was the time he teamed up with Queen Bey herself at the Grammies…
He also managed to make the whole Island of Ibiza rave when Rudimental brought him on stage. It. Goes. Off. It!
And how can we forget about his romance with Taylor Swift. Imagine going to see Taylor and then ED SHEERAN POPS UP!
3. Plus, who else can make 80,000 people take of their clothes in Wembley?
4. That loop pedal though! Ever wondered how he does it? Looks easy, right?
5. He's not only a LAD onstage, but also a true gent off it. I mean this has to be ultimate #WeddingGoals surely?
6. Then there's the small matter of that scar he's recently acquired…
Allegedly he got cut by Princess Beatrice when she was allegedly yielding a sword whilst allegedly trying to knight James Blunt… (*allegedly)
7. Ed has over 60 tatts on his body, but it turns out he isn't the best tattoo artist himself…
8. He has so many famous fans!
Including Harry Styles...
And even Jennifer Aniston!
But Donald Trump though?
9. Oh and he STILL hasn't got a phone! So that's why you never text us back Ed...
Make sure you check out Capital Breakfast with Bodg and Matt to win your way to see him in Newcastle!