Taylor Swift And Travis Kelce Dating: A Complete Relationship Timeline So Far
22 November 2023, 17:18 | Updated: 22 November 2023, 17:30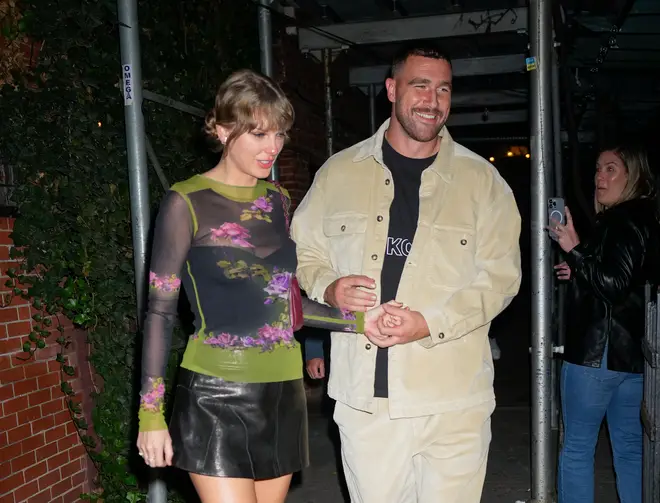 What's the latest news about Taylor Swift and new boyfriend Travis Kelce? Their romance is all the internet can talk about, here's everything you need to know so far.
Ever since Taylor Swift and boyfriend Travis Kelce finally confirmed their relationship after being at the centre of dating rumours for weeks, fans have been desperate for more information about the couple. Just think, the romance started all started when he watched her perform on The Eras Tour and failed to give her a friendship bracelet, much to his dismay.
The rumour mill really went into overdrive when Taylor, who broke up with long-term boyfriend Joe Alwyn earlier this year, was pictured watching Travis play a Kansas City Chiefs Game alongside his mum in a VIP section with her celebrity friends.
Since those first few games, Taylor and Travis appear to have gotten serious, making their debut as a couple on 14th October when they attended an SNL party together hand-in-hand, spending the evening looking 'so comfortable' with each other, according to onlookers.
Travis has also joined Taylor at a few of The Eras Tour shows and at her stop off in Argentina the new couple well and truly broke the internet after Tay was captured running into her boyfriend's arms. Earlier on in the night she'd dedicated a number of her lyrics to Travis, but we've got more on that below.
With the pair are nearing their first holiday season together people are wondering, 'What's their Thanksgiving plans?' Here's the latest on Taylor and Travis and their ongoing relationship, from how they met to when they started dating.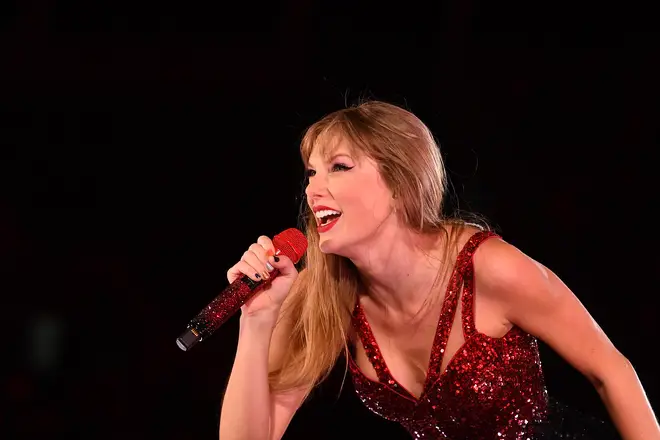 Travis reveals he won't be spending Thanksgiving with Taylor - November 2023
Speaking to his brother Jason on their podcast 'New Heights', Travis revealed that he would be alone eating fast food this year for Thanksgiving. The NFL star told his brother: "I'll be feasting on KFC because I won't have anybody here."
Travis is going to be alone on Thanksgiving as his girlfriend Taylor heads to Sao Paolo for three more shows after the Brazilian leg of her Era's Tour.
Jason extended an invite to his brother to join his family for the holidays but the Chiefs have for a game on Thanksgiving weekend, so the trip the Philadelphia may prove too much for the athlete in his prime.
Swifties are heartbroken that the pair can't spend their first Thanksgiving together - hopefully they will get to have some festive fun together soon.
Travis opens up about 'genius' girlfriend Taylor – November 2023
In an interview with the Wall Street Journal, Travis discussed his relationship with Taylor for the first time, admitting he's never dated anyone with an aura quite like hers – cute!
He opened up on how they first connected, recalling: "She'll probably hate me for saying this, but... when she came to Arrowhead [Kansas City Chiefs' stadium], they gave her the big locker room as a dressing room, and her little cousins were taking pictures... in front of my locker."
Travis added that by the time they had their first date in New York, they'd already been talking so knew they could 'have a nice dinner' and felt 'what goes from there will go from there.'
On the level of public interest in their relationship, Travis said: "Obviously I've never dated anyone with that kind of aura about them, I've never dealt with it... But at the same time, I'm not running away from any of it. The scrutiny she gets, how much she has a magnifying glass on her, every single day, paparazzi outside her house, outside every restaurant she goes to, after every flight she gets off, and she's just living, enjoying life.
"When she acts like that, I better not be the one acting all strange."
He added that they bonded over how close they are with their families: "Her family does a lot of stuff in terms of the tour, the marketing, being around, so I think she has a lot of those values as well, which is right up my alley."
Taylor dedicates her song lyrics to boyfriend Travis – November 2023
Travis joined Taylor at The Eras Tour in Argentina on 11th November, where that viral video was captured of Taylor running into her boyfriend's arms. Earlier on in the show Taylor had playfully pointed out her man in the crowd and even changed some of her lyrics for him, including the now-iconic, 'Karma is the guy on the Chiefs, coming straight home to me.'
Kansas City Chiefs is of course Travis' American football team and his reaction to the lyric change was adorable.
Taylor running into her boyfriend's arms breaks the internet
After closing her show on 11th November, Taylor ran backstage and her adorable reunion with boyfriend Travis was captured by lucky fans sat nearby.
She ran into his arms in a moment that looked straight out of The Notebook and received the loudest screams we've ever heard as Swifties cheered them on.
Taylor shows her support for NFL boyfriend Travis Kelce - November 2023
Despite usually being pretty low-key on Instagram, on November, 6, Taylor Swift liked an Instagram post announcing Travis Kelce as the 'new all-time leading receiver in Chiefs franchise history' after defeating the Miami Dolphins in Germany.
Eager-eyed fans spotted the post was 'liked by Taylor Swift and others', with thousands of them commenting 'Taylor we see you' and 'Taylor is so real for liking this'.
Taylor and Travis are both at the top of their game right now!
Taylor and Travis are pictured kissing - October 2023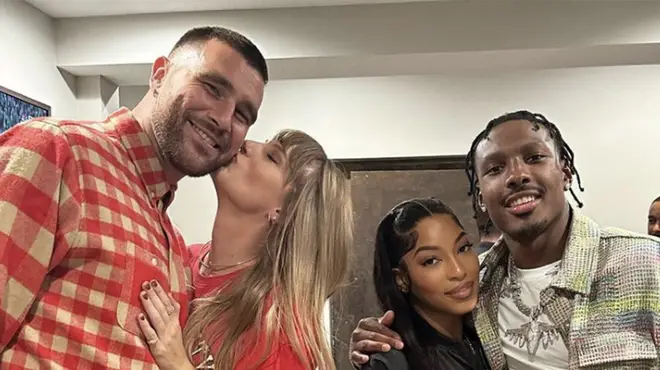 Things are hotting up between Travis Kelce and Taylor Swift as pictures of these lovebird kissing have appeared online.
Chariah Gordon, girlfriend of Travis's teammate Mecole Hardman Jr., posted the cute pic on her instagram after the Kansas City Chiefs vs Los Angeles Chargers game at the Arrowhead Stadium.
Taylor, showing support for her man by wearing a team t-shirt, looked happy as she posed with Travis, Chariah and Mecole.
And Chariah isn't the only Kansas City WAG that Taylor has been enjoying a friendship with, she's also been out to dinner with Brittany Mahomes, wife of the team's quarterback and Travis BFF Partick.
Taylor watches boyfriend Travis in another Kansas City Chiefs game
Taylor headed to yet another Kansas City Chiefs game on 22nd October, making the most of her time off before the Eras Tour resumes. The '1989' singer was spotted in the VIP box with Travis' teammate Patrick Mahomes' wife Brittany, who she even has a special handshake with, cheering on their partners from the sidelines.
In one clip which quickly went viral, Taylor was seen looking seriously concerned for her boyfriend as he took a tumble mid-match! Luckily, he was okay, but Tay's reaction was adorable.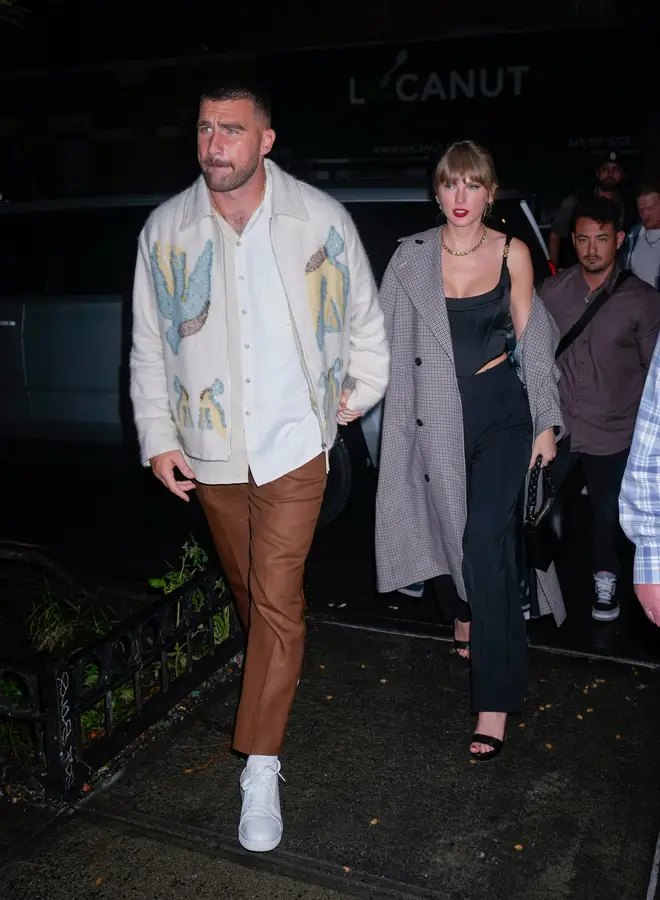 Taylor Swift is 'falling' for Travis Kelce because of how he treats her - October 2023
Both Taylor and Travis have described each other as 'different' to their past relationships. An Us Weekly source said: "Travis is different from anybody Taylor has dated before, and she is falling for him more and more as the days go by."
Meanwhile, a People source revealed: "Taylor's unlike anyone Travis has dated before...It was very unexpected for his friends, but he's so into her and very, very happy."
Travis keeps Taylor feeling "safe and protected," it was revealed as Us' source said he also "goes out of his way to make Taylor feel special in any way he can", an example being surprise gifts: "Taylor couldn't believe the massive bouquet of flowers Travis sent to her just because."
"He makes her feel safe and protected, and at the same time, he supports her independence and success," the source continued. "Things are going really well [for them]."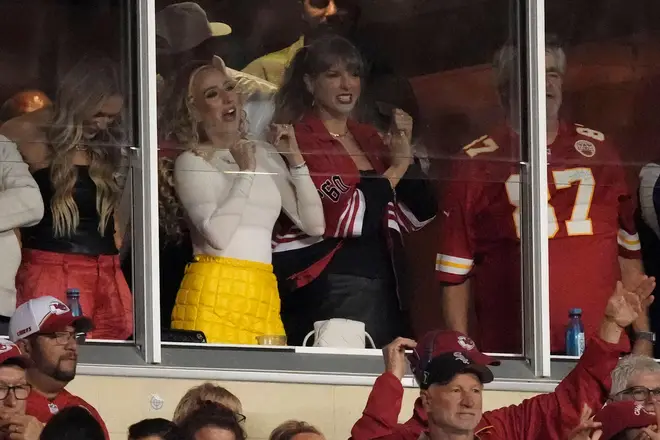 Taylor and Travis hard-launch their relationship – October 2023
Taylor really said 'that's my boyfriend' when she and Travis headed to a Saturday Night Live after party together. Making their official debut as a couple in New York on 14th October, Travis seemed to tell Taylor's bodyguard that he's "got it from here" and proceeded to open her car door, help her out of the car and hold her hand, ever the gent.
We're already obsessed with the first few photos of the new couple, who were hand-in-hand in every one. According to onlookers at the SNL afterparty, they weren't shy in kissing in front of the crowd and apparently had 'so much fun' together, staying out until after 4am.
The first photo of Travis and Taylor is here – September 2023
A few days after Taylor watched Travis' Kansas City Chiefs' game, a picture of the pair looking like an official couple surfaced online showing Taylor with her arm around him as she chatted to a friend.
Travis apparently rented out the rooftop of bar Prime Social so he could throw a party for his friends.
Travis calls Taylor 'amazing'
On the podcast with his brother Travis reflected on his game which went viral thanks to Tay's appearance in the crowd. He told his brother: "I just thought it was awesome how everybody in the suite had nothing but great things to say about her - the friends and family. She looked amazing and everybody was talking about her in great light.
"The slow-motion chest bumps, the high-fives with mom, it was definitely a game I will remember, that's for damn sure."
He even made reference to one of Taylor's songs after they were pictured leaving the match in his 1970s Chevelle 408 Stroker convertible, saying: "And then we just slid off in the getaway car at the end."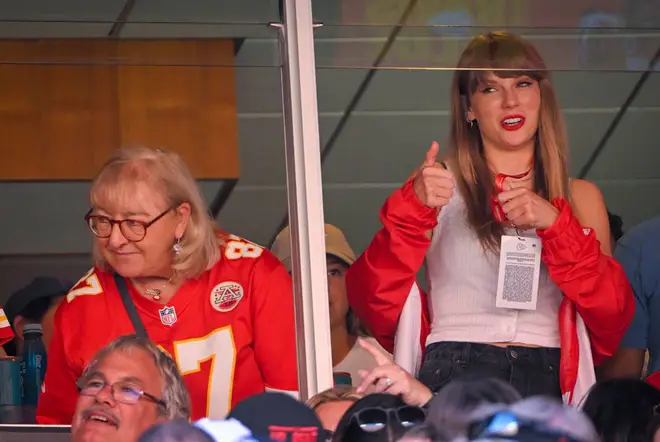 Taylor watches Travis' game with his mum
Taylor spent Sunday 24th September watching Travis' match against the Chicago Bears with his mum Donna. Taylor's excited reactions from the crowd soon went viral as she jumped up and down cheering him on when he scored a touch down.
After the game, they were seen driving away together and later booked out an entire restaurant where they were reportedly joined by some of Travis' team mates.
Tay's attendance in the VIP section came days after Travis appeared on The Pat McAfee Show, admitting he invited Taylor to watch him play. "I told her 'I've seen you rock the stage in Arrowhead, you might have to come see me rock a stage at Arrowhead and we can see which ones a little more lit,'" he recalled. "We'll see what happens in the near future."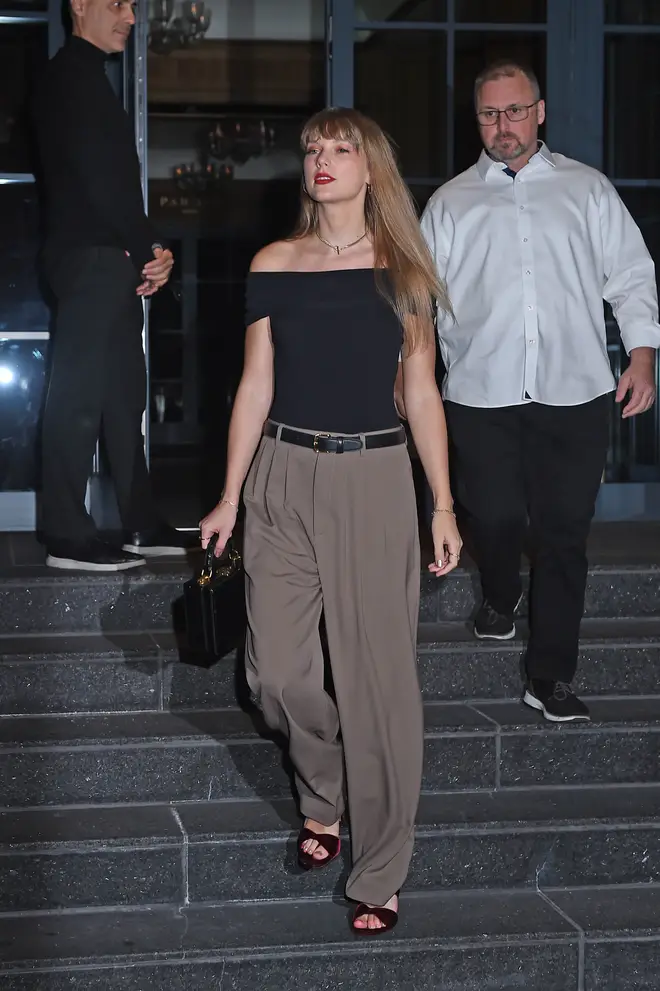 Travis spends his week off training in New York, where Taylor's also hanging – September 2023
Taylor and Travis ignited dating rumours when he jetted to New York on his week off, where Taylor also happened to be.
A source told The Messenger at the time: "Taylor and Travis have been quietly hanging out. She saw him when she was in NYC a few weeks ago."
Travis' brother jokes about Taylor liking his moustache – August 2023
In the podcast he hosts with his brother called New Heights, Travis' brother Jason, who plays for the Eagles, pointed out his new moustache which Travis grows every year during training in honour of his coach Andy Reid.
Jason asked what Taylor would think about his brother's new look, to which Travis responded: "We're not gonna bring up Taylor Swift in this episode. But something tells me she's gonna like it."
Travis tries to get Taylor's attention at The Eras Tour – July 2023
Travis tried shooting his shot Taylor's way back in July at The Eras Tour stop in Kansas City. As per Swift tradition, he made a friendship bracelet for the 'Bejeweled' singer, but he wasn't able to get it directly to her.
On his podcast he recalled what went down and expressed his disappointment at not meeting Tay.
"I was disappointed that she doesn't talk before or after her shows because she has to save her voice for the 44 songs she sings," Travis said. "So I was a little butt-hurt I didn't get to hand her one of the bracelets I made her. I received a bunch of them being there, but I wanted to give Taylor Swift one with my number on."
When his brother asked whether he meant his shirt number or phone number, Travis responded: "You know which one," adding: "She doesn't meet anyone or at least she didn't want to meet me so I took it personal."
Listen live to Capital, and catch up on any shows you missed, on Global Player.