Taylor Swift And Joe Alwyn's Relationship Timeline: Their Real Life Love Story
24 November 2021, 12:49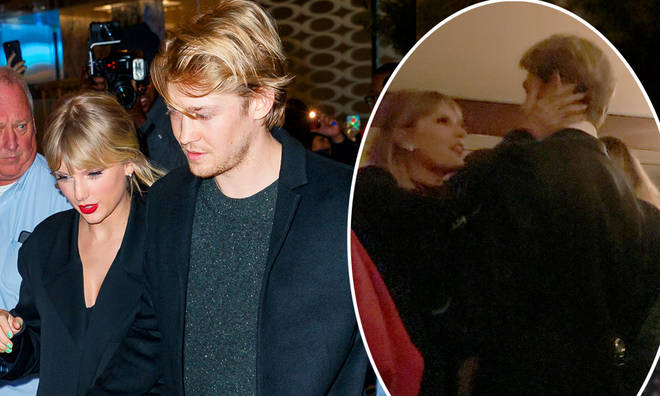 Taylor Swift keeps her relationship with Joe Alwyn out of the spotlight, with fans often wondering if they're secretly married! But how did Taylor and Joe first meet, how long have they been together? Here's a complete timeline...
Taylor Swift and boyfriend Joe Alwyn have successfully kept their relationship out of the public eye, laying low whether they're at one of her many houses in the US or his home in London.
Every now and again Taylor will share tiny anecdotes from their relationship, always making sure not to share too much, and spilling most of her feelings in her music.
'Cardigan' is just one song fans reckon is a love letter to Joe, who has just been cast in the TV adaption of Conversations with Friends, but it wouldn't be the first track she's written about their private relationship.
Taylor Swift Fearless Album: Release Date, Brand New Track List And All The Latest News
But how did Taylor and Joe first meet, are they married, and what do we know about their romance? Here's a complete timeline of their relationship...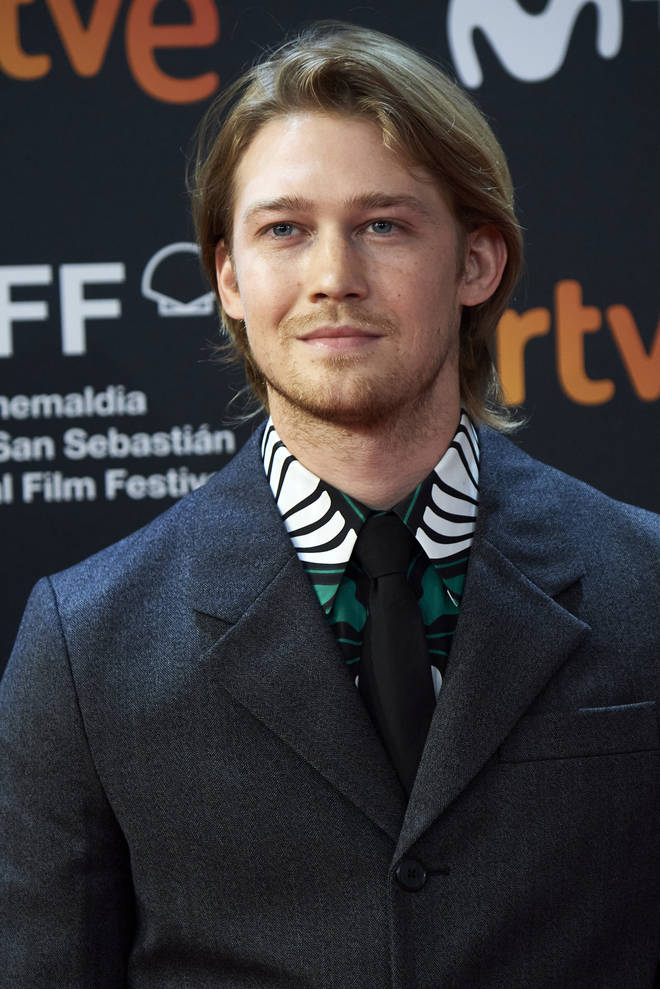 Taylor Swift supports Joe Alwyn on film set for his latest role
Taylor proves time and time again that she is the ultimate supportive girlfriend!
Amidst the 'Red (Taylor's Version)' mania, Swift still took the time to visit her beau on set for his new movie.
Joe is starring in the upcoming film adaptation of Denis Johnson's novel The Stars at Noon, little about the project has been announced.
Margaret Qualley, The Favourite actor's co-star, recently hinted on Instagram that they began shooting the flick in South America.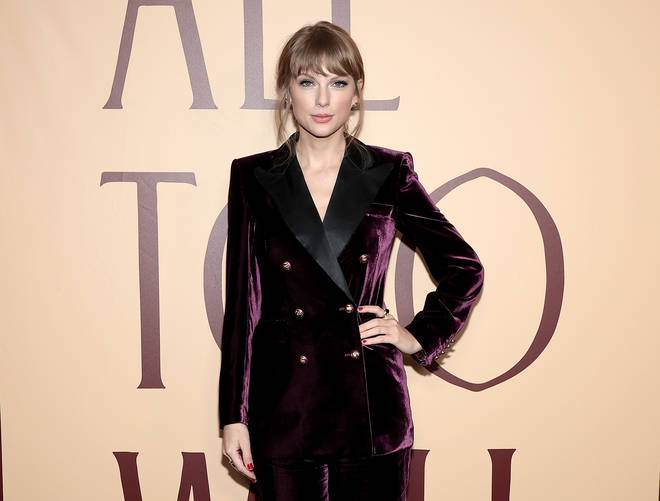 Taylor joins Joe in Belfast as he wraps on Conversations with Friends
Taylor joined her boyfriend Joe yet again on set as he filmed Conversations with Friends in Northern Ireland this September – the latest Sally Rooney novel given a TV series adaptation.
The 'Evermore' singer was spotted at a gig in a local pub, where she also posed for photos with some of the lucky staff members.
Taylor Swift thanks boyfriend Joe Alwyn in Grammys acceptance speech
During The Grammys 2021, Taylor made history after scooping the award for Album of the Year for her album 'Folklore', making her the first female artist ever to win Album of the Year three times!
In true Tay style, the songstress stayed humble and thankful and even gave her boyfriend a shoutout and thanked him for his constant support, as well as his contribution to the album as he helped to co-write several songs on her Grammy-winning album, under the pseudonym William Bowery.
She said: "I will thank all of my collaborators who are on this stage... I want to thank Justin Vernon, I'm so excited to meet you someday."
"Joe, who is the first person that I play every single song that I write and I had the best time writing songs with you in quarantine," she added, before going on to thank her fans, explaining how "forever honoured" she feels.
Taylor Swift praises boyfriend Joe Alwyn for supporting her in voicing her opinions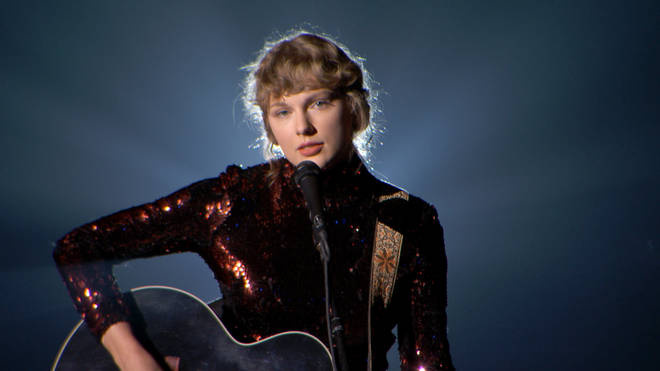 In an interview with Vanity Fair, Taylor opened up about finding her voice to speak out on matters that meant a lot to her.
She only voiced her political opinion in 2018, something which was documented in the Miss Americana documentary, and three years later she spoke about finding the courage to do so.
"The Trump presidency forced me to lean in and educate myself. I found myself talking about government and the presidency and policy with my boyfriend [actor Joe Alwyn], who supported me in speaking out," Taylor said.
"I started talking to my family and friends about politics and learning as much as I could about where I stand. I'm proud to have moved past fear and self-doubt, and to endorse and support leadership that moves us beyond this divisive, heartbreaking moment in time."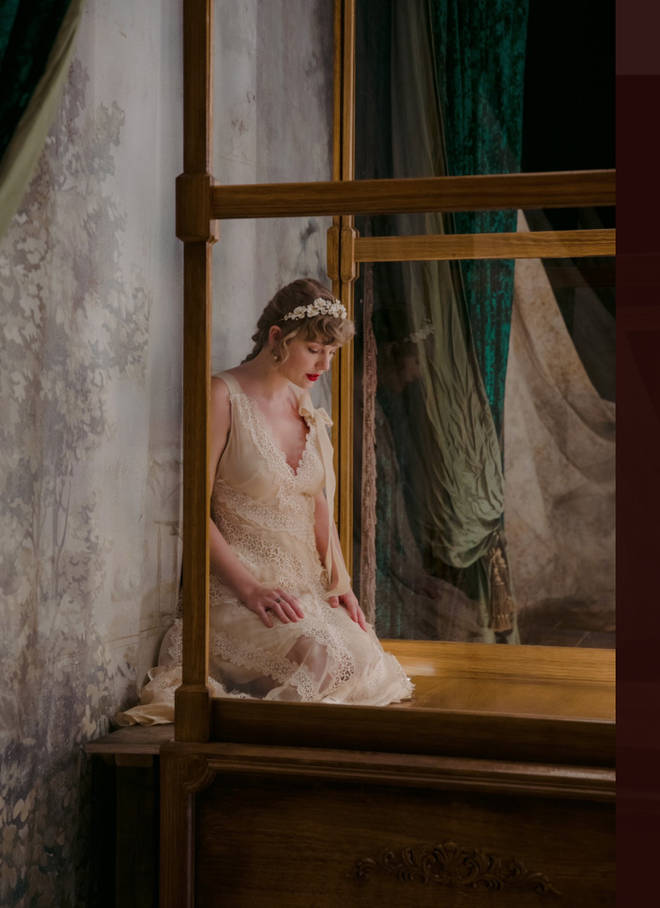 Are Taylor Swift and Joe Alwyn engaged or married?
Rumours Taylor is engaged to boyfriend Joe crop up every time she gives an interview, releases a song, or posts a photo on Instagram.
After she released 'Lover', which heavily hinted at marriage in its lyrics, Taylor continued to have fans zooming in on her ring finger every time she was pictured from then on.
Her new song 'Willow' from surprise album 'Evermore' quickly had fans asking if it's a confirmation she and Joe secretly got married.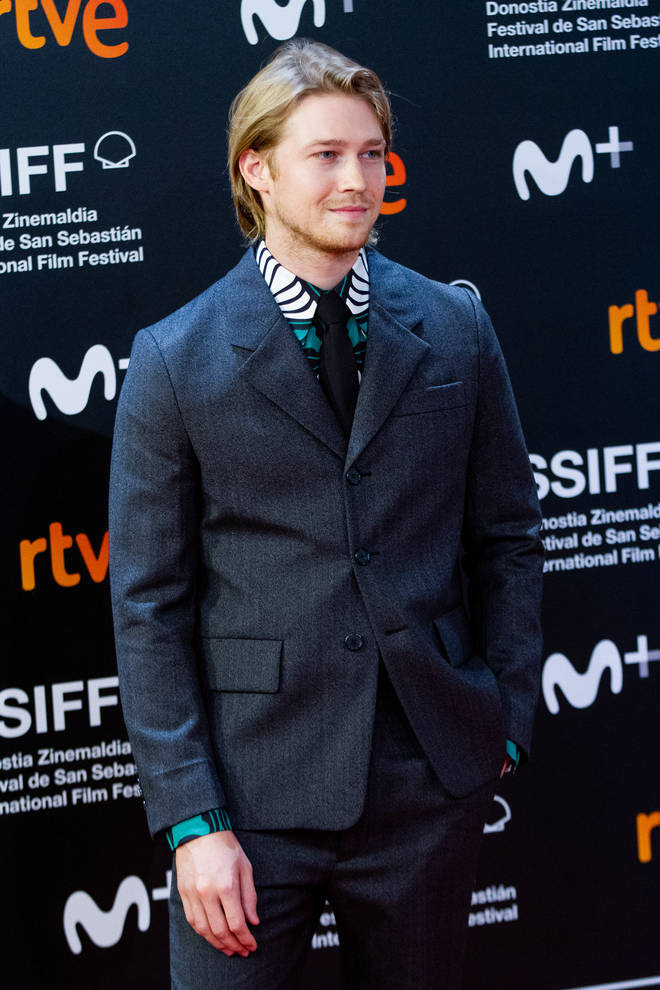 Taylor Swift confirms song 'Peace' is about boyfriend Joe Alwyn
In an interview with Paul McCartney for Rolling Stone magazine, the rock legend asked Taylor about a lyric in 'Peace' which reads: "I want to give you a child".
Taylor confessed it's a song "more rooted in my personal life", after she spent the majority of her songwriting sessions for 'Folklore' finding creativity in books and creating characters.
She recalled: "'Peace' is actually more rooted in my personal life. I know you have done a really excellent job of this in your personal life: carving out a human life within a public life, and how scary that can be when you do fall in love and you meet someone, especially if you've met someone who has a very grounded, normal way of living.
"I cannot control if there are 20 photographers outside in the bushes and what they do and if they follow our car and if they interrupt our lives. I can't control if there's going to be a fake weird headline about us in the news tomorrow."
Paul asked if her boyfriend Joe "understands" her situation and she responded: "Oh, absolutely."
Taylor Swift and Joe Alwyn holiday together in Utah
Taylor and Joe jetted off to Utah once lockdown restrictions eased and the 29-year-old actor posted a rare photo from their adventures, a snap of himself walking through trees overlooking the huge lake.
Joe's superstar girlfriend was the first to like Joe's upload, given that she was probably the one who snapped the candid moment.
According to E! the couple are spent a few days in Utah at Park City before heading home to Nashville where they spent the past few months of quarantine together at Taylor's home.
Joe features on Taylor's album 'Folklore'
'William Bowery' is a credited songwriter on Taylor's 'Folklore' album, and Swifties were adamant it's a pseudonym for Joe after searching the internet and finding no traces of a songwriter under such a name.
Taylor later confirmed the fact her boyfriend helped her out with some of the songs, telling Entertainment Weekly Joe inspired her to write 'Betty' from a male perspective.
She said: "He was the one who originally thought of the chorus melody. And hearing him sing it, I thought, 'That sounds really cool.' Obviously, I don't have a male voice, but I thought, 'I could have a male perspective'."
Taylor Swift and Joe Alwyn kiss at the NME Awards
Taylor and Joe surprised fans by turning up at the NME Awards on 12 February at the O2 Academy in Brixton, and the couple were all over each other as they sat at their table amongst the celebrity guests.
They were also caught on camera sharing a sweet kiss!
When the 'London Boy' singer accepted her award she made it clear she was having a wild time, telling the audience: "This is my first time at the NME Awards, and like, I just feel like everyone here is so shy, so reserved. Are you guys having any fun tonight? Are you going to come out of your shells at all?"
Poking fun at the crowd, Taylor added, "Oh, wait no. This is like the craziest award show I've ever been to."
Taylor and Joe show rare PDA in Miss Americana documentary
Joe makes a small cameo in Taylor's Miss Americana documentary (which hit Netflix way back in January) where we see the songstress throwing her arms around her beau in one scene, and kissing his hand in the back of a car in another.
Fans are loving that they gained more of a candid glimpse at their relationship in her new Netflix film.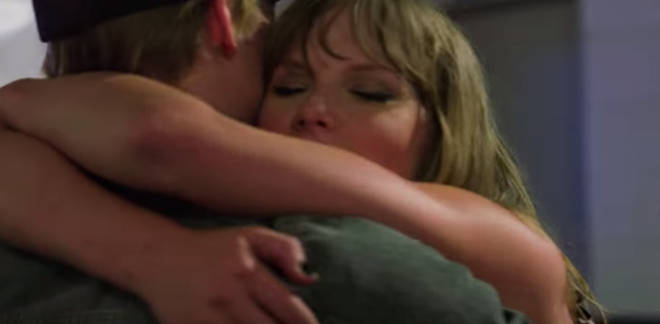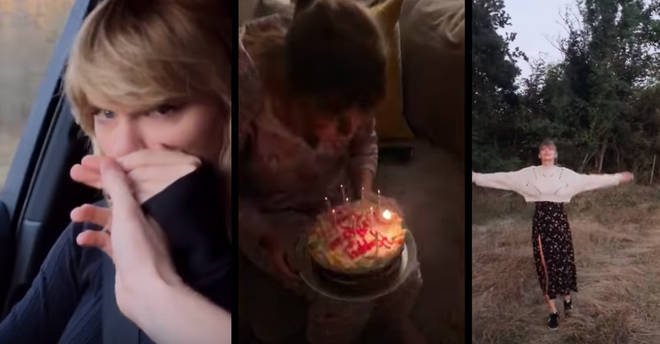 Taylor and Joe make a rare joint appearance at the Golden Globes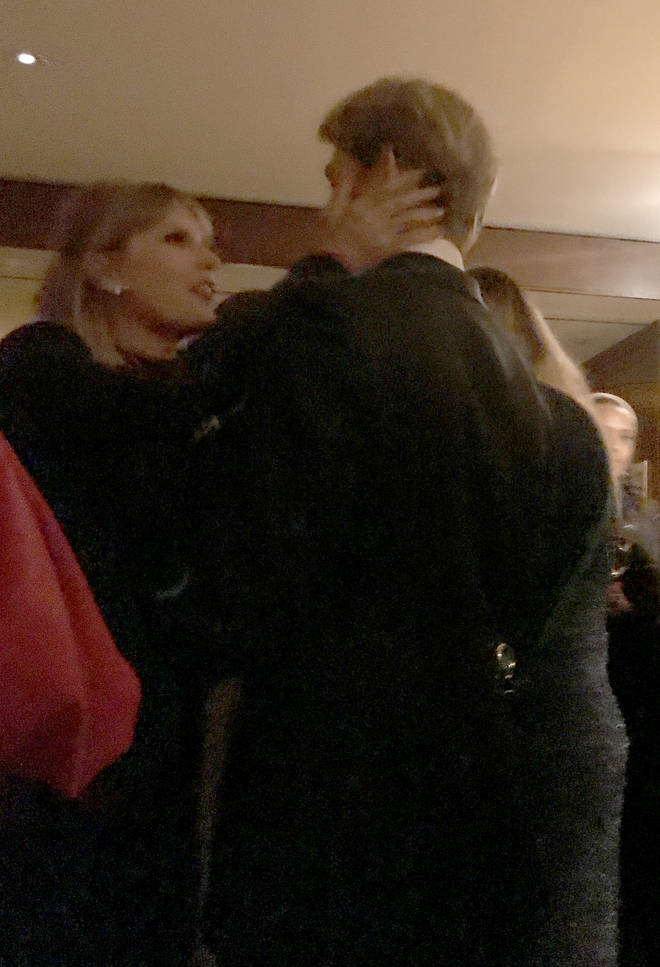 After walking the red carpet separately at the Beverly Hills Hotel, Taylor and Joe were sat together for the Golden Globes ceremony, with a few cameras managing to snap the couple looking completely loved up.
During the evening they were pictured looking totally in love, as the star held her hands to her actor boyfriend's face while they chatted in a complete world of their own at an after party.
They were also photographed chatting intently at their table, with Taylor placing her hand on her beau's leg.
Taylor and Joe spend Thanksgiving in the UK
After hosting a 'friendsgiving' dinner party including model Gigi Hadid, Martha Hunt and Queer Eye chef Antoni Porowski, Taylor jetted to the UK for a cosy weekend with her man at Thanksgiving in 2019.
The 'Me!' singer is thought to have remained in the UK from then after she was spotted shopping at Stella McCartney's London store days ahead of headlining Capital's Jingle Bell Ball.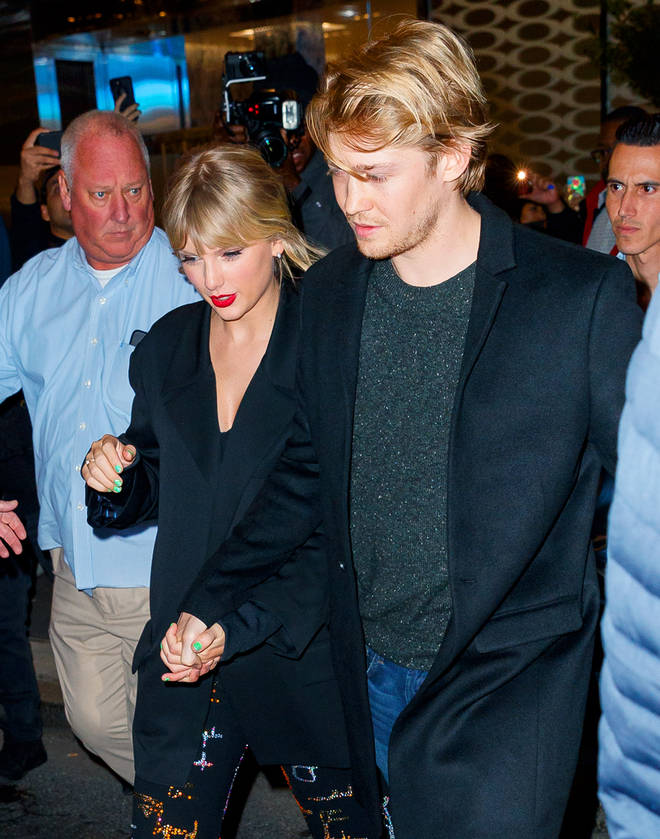 Taylor reveals why she keeps her relationship with Joe so private
Speaking to The Guardian in 2019, Taylor revealed why she doesn't speak publicly about her romance.
She said: "I've learned that if I do [talk about my relationship], people think it's up for discussion, and our relationship isn't up for discussion.
"If you and I were having a glass of wine right now, we'd be talking about it—but it's just that it goes out into the world. That's where the boundary is, and that's where my life has become manageable. I really want to keep it feeling manageable."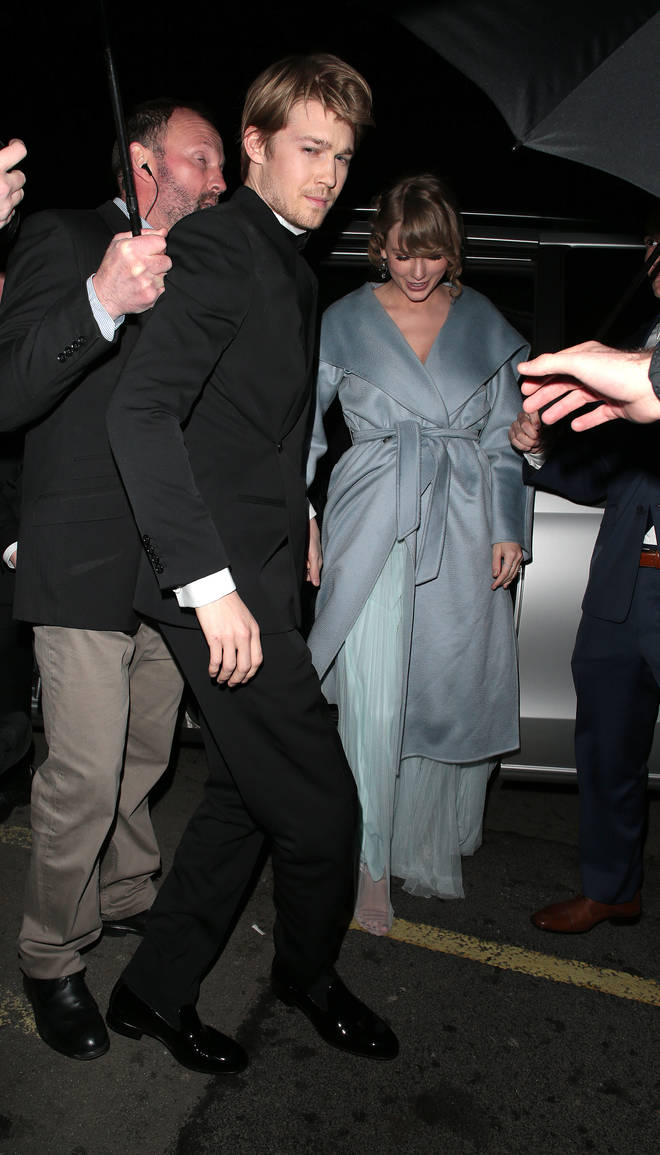 When did Taylor and Joe start dating?
For months, reports on the couple were a minimum as they kept their blossoming romance out of the limelight.
But in May 2017 it was reported they had been seeing each other for months, and Taylor had even introduced Joe to her best friends Selena Gomez and Gigi Hadid.
They were also pictured for the first time together as a couple weeks later.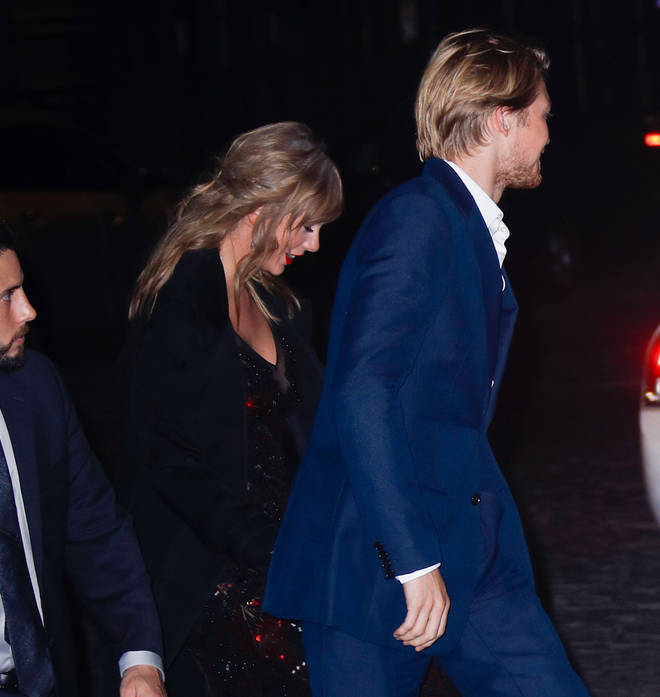 How Taylor Swift and Joe Alwyn Met
Taylor and Joe allegedly first met in 2016 at the MET Gala, and she even sang about their meeting in her track 'Dress' from her 'Reputation' album.
"Flashback to when you met me, your buzzed cut and my hair bleached," seems to refer to their respective looks on that very evening.
> Download Our App For All The Latest News On Taylor Swift