Love Island's Adam Collard's Secret Past As An Extra On Geordie Shore Mocked By The Cast
7 June 2018, 10:38 | Updated: 7 June 2018, 12:04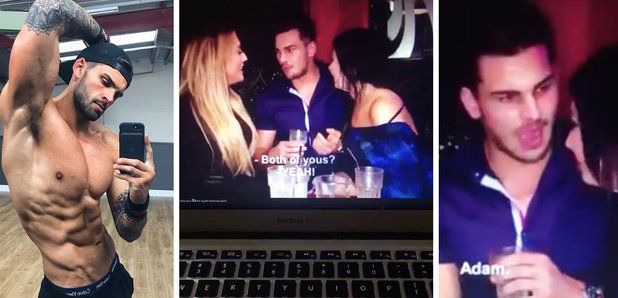 He claimed he turned down the chance to be in Geordie Shore…
Love Island's Adam Collard might have claimed that he turned down the chance to be a Geordie Shore cast member, but the cast have been ripping him after footage of him appearing on the show as an extra was unearthed.
Love Island Fans Think Laura Anderson Is Lying About Her Age & Here's The Evidence
Holly Hagan reposted a video a fan had dug out of Adam appearing on Geordie Shore in 2016 as a guy Charlotte Crosby and Chloe Ferry meet and have a three-way kiss with on a night out:
She posted the scathing reply "The guy who 'turned down' Gshore being an extra on Gshore LOL"
The guy who "turned down" Gshore being an extra on Gshore LOL https://t.co/GNzubA7q9y

— H O L L Y H A G A N (@HollyGShore) June 6, 2018
Thought Adam said Geordie shore were brainless and that he tuned down the show when approached

My point proven https://t.co/hf6niZMK8C

— Marnie (@marnie) June 6, 2018
Adam had previously come out and claimed he'd turned down producers requests to star in Geordie Shore, claiming, "I'm not that type of person. Don't get us wrong, I like going out. But I'm not daft, I've got something between my ears at the same time.
"I wouldn't want the stereotype of 'Oh, let's go, let's get f**ked.' Like, it's not me, do you know what I mean? I wouldn't want to come across that way as well."
Marnie Simpson took to Twitter to expose his lies, saying that Adam had apparently audition for every series of the show but had been turned down by producers:
Well thats a lie.

You auditioned for it every series and got rejected. pic.twitter.com/YZJB2KOp21

— Marnie (@marnie) June 3, 2018
Given that current Geordie Shore star Sam Gowland also started his reality TV career on Love Island, Adam may come to regret slating the show if he does want to be a cast member!
Download Our Shiny New App For All The Latest Love Island Gossip