Experts Have Worked Out How Much Each Kardashian Would Earn If They Weren't Famous
25 June 2018, 16:06 | Updated: 26 June 2018, 10:20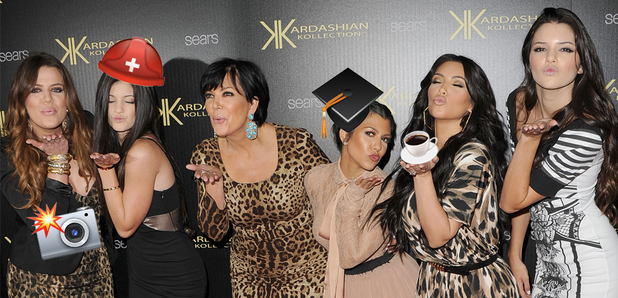 If the Kardashian family never became famous, just what jobs would they be doing, and how much would they earn?
Just for a second, try to imagine a universe where the Kardashians never became famous - no ferraris, mansions or designer clothes... it's pretty hard isn't it?
Kylie Jenner Accidentally Started 2018's Hottest Trend With Her Met Gala Plaster
In an alternative reality where Kris Jenner failed in her momager quest to create the the most famous family on planet earth, what exactly would each sister do for a living, and according to their CVs and skill sets - just how much would they be earning?
Picture: GIPHY
This is what Reboot Digital Marketing (www.rebootonline.com) wondered, and set about using fact and figures to asses the employability of each Kardashian sister - with Kourtney coming out on top! Thanks to her College degree in Theatre AND her minor in Spanish - with jobs such as public relations suiting her, as well as interior designer or nutritionist thanks to her healthy diet she famously sticks to.
Selfie kween Kim came in second and was predicted to earn £31k a year, rather suitably as a Social Media Specialist or a clothing store manager - which totally used to actually be the case when the girls ran their own boutique, DASH! That means it would take 4,200 years to earn her predicted net worth of $175 million *sighs at bank account*.
sorry I'm late to the party guys I was busy cashing my 80 million video game check & transferring 53 million into our joint account

— Kim Kardashian West (@KimKardashian) 8 March 2016
Khloe was most suited to being a writer, estimated to earn £27k, and despite Kylie being the second highest earner in real life, she was predicted to be a good brand manager (due to her being CEO of Kylie Cosmetics) and to earn around £29k.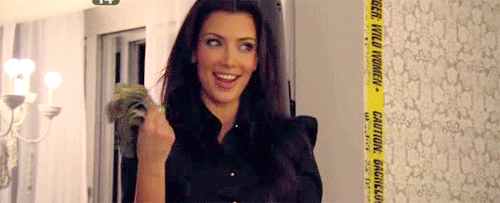 Picture: Giphy
Poor little alternative reality Kendall was ranked with the lowest salary, only estimated to earn £25,000 a model (we wonder where they got that from) or a photographer! Luckily for Kendall, this is all hypothetical and she's actually worth round $18 million, so, no hard feelings yeah?
Download Our Brand New App For All The Latest Kardashian News