Kiosk Keith's Real Identity Has Finally Been Revealed & Now Everyone's Seriously Upset
7 December 2017, 10:51 | Updated: 7 December 2017, 11:04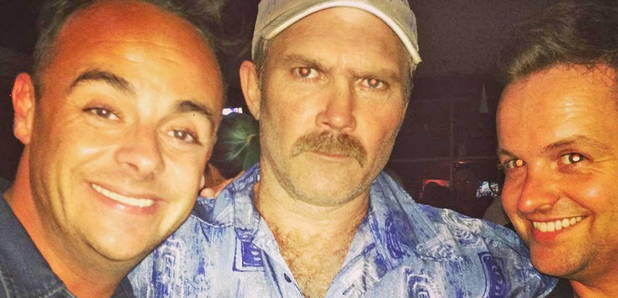 Finding out his real name has made us feel really weird!
For anyone who watches 'I'm A Celeb' non stop, Kiosk Keith has become a bit of a cult hero. The straight faced keeper of the coins has been the mysterious man watching over the camp for years now, however his true identity is finally out.
The man behind the character sounds a lot different to Keith and it shocked us to find out that his real name is actually Raymond!
> We Finally Know What The Campmates Look At In The Bush Telegraph & This Pic Proves It's A Grim Reality

Raymond's ex wife Donna (yep Keith was married) has revealed all to a tabloid although the truth behind Australia's most straight-faced man has kinda shocked us!
Donna told a tabloid, "He just thinks it's funny. It's just a joke. As far as he's concerned, he's an average father who goes to work, does Kiosk Keith and goes home."
"Raymond was employed in the art department – he was just a labourer and he'd done gardening and put the plants in the ground and helped build the backdrops to the some of the scenes and stuff.
"When they brought Kiosk Keith in as a character, they offered him the part. So he just doesn't do Kiosk Keith, he still works as a labourer out there too."

(GIF: Giphy)
She went on to add, "They just get him on screen when they need him to do the shack. They will radio him and say, 'Look, we're doing the shack now, come up' and he goes up and does Kiosk Keith. And then he goes back to work."
What shocked us the most though was the fact that Raymond doesn't get paid any money for playing Kiosk Keith! Donna explained, "He has to stay back sometimes to do some of the games for Kiosk Keith – that's time when he should be at home."
"He's not getting paid the kind of money he should be getting paid for Kiosk Keith – Kiosk Keith's huge." (GIF: Giphy)
Fans were obviously gobsmacked by the revelations and it's upset many Kiosk Keith fans...
Mum just showed me the article doxing Kiosk Keith's identity and I'm literally so upset I wanted it to remain a secret ffs

— Robyn Painter (@rozzypainter) December 7, 2017
kiosk keith doesnt get paid to be on im a celeb. yet amir khan gets paid £400k for possibly 3 weeks

— Clare (@ClareBarbaraL) December 7, 2017
RAYMOND DOESN'T GET PAID FOR BEING KIOSK KEITH, wtf is that a joke lol

— Rebecca (@rebeccahamptoxn) December 6, 2017
> Download Our Fancy New App For All The Latest I'm A Celeb News!
Whilst you're here, check out exactly why Ant's watch is always covered up on the show...