Kourtney Kardashian And Travis Barker's Baby Name And The Meaning Revealed
17 November 2023, 09:15 | Updated: 17 November 2023, 09:29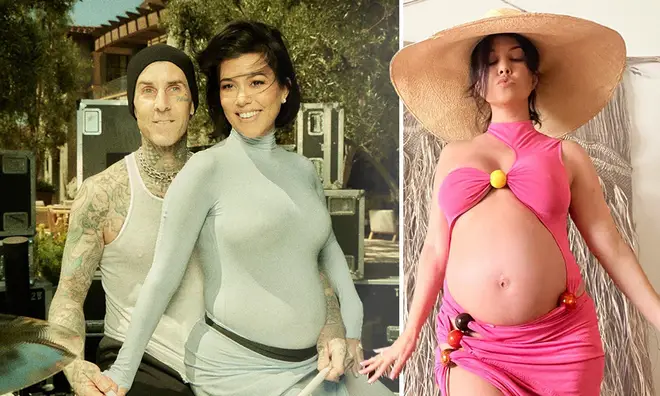 Blink-182's Travis Barker revealed his and Kourtney Kardashian's baby name before she even gave birth - here's why they've picked their unusual name.
Poosh founder Kourtney Kardashian and her drummer husband Travis Barker welcomed their baby boy on November 1, 2023.
Just weeks before the Kardashian star gave birth, fan theories over the baby name were proven right when Travis revealed, on a podcast that their son would be called Rocky Thirteen Barker.
As the eldest sister of the Kardashian-Jenner clan we knew that Kourtney would follow the tradition of unique names. With the baby having cousins named Aire and True it's no surprise that she has gone for a pretty distinctive name.
This is Kourtney's fourth child as she already has Mason, Penelope and Reign with her ex Scott Disick. After officially tying the knot with Travis in Italy in 2022, Kourtney revealed she was pregnant with Travis' baby in June 2023.
Three days after she had given birth, on November 4 it was confirmed by a PEOPLE Source that Kourtney and Travis had welcomed the arrival of their baby boy.
After Instagram pictures from Kourtney's baby shower revealed a note with the name 'Rocky', fans were quick to guess that was the baby boy's name, these pics were swiftly deleted.
What did Kourtney Kardashian name her baby?
Travis and Kourtney named their son Rocky Thirteen! The Blast have secured a copy of the baby's birth certificate which confirms his name as Rocky Thirteen Barker.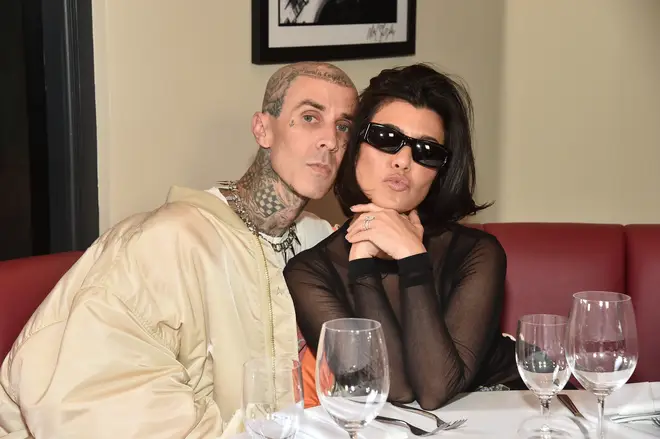 Before the birth of their son, speaking on One Life One Chance podcast with H2O's Toby Morse, Travis Barker had confirmed that their baby boy would be named 'Rocky Thirteen Barker'.
Excited to tell Toby that Rocky was due by the first week of November, Travis said that he and Kourtney had an event in Hawaii that they couldn't get to because it was when Rocky was expected to arrive.
Although the name wasn't previously confirmed, fans expected it since, in an interview for Complex earlier this year, Travis told his daughter Alabama that he loves the name 'Rocky Thirteen'.
Why did Kourtney Kardashian name her son Rocky Thirteen?
Combining tributes to a guitarist and a movie legend with the love for the number 13, Travis Barker and Kourtney Kardashian have named their son Rocky Thirteen Barker.
Speaking in an interview for Complex, Kourtney's husband Travis Barker explained his love for the name 'Rocky Thirteen'. "Rocky George played the guitar for Suicidal Tendencies. And 13 is just the greatest number of all time," Travis began.
"And Rocky, [is] the greatest boxing movie of all time," he added.
Kourtney and Travis's child's first name will be Rocky, named after both the lead guitarist for Suicidal Tendencies, Rocky George, and the boxing film franchise Rocky.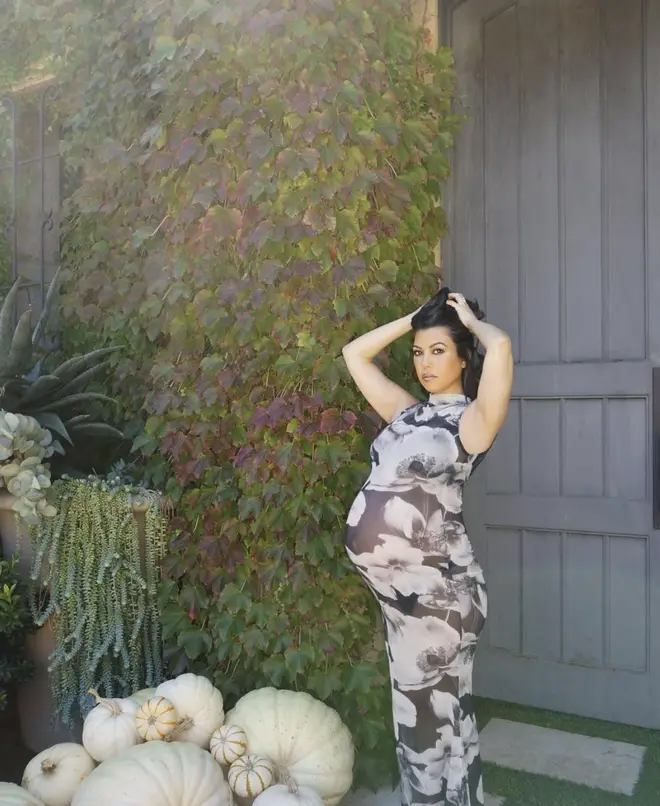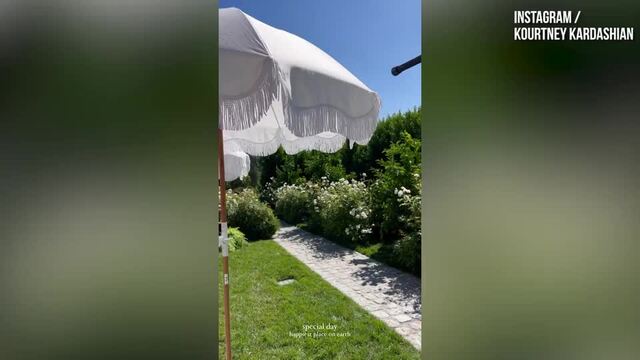 Kourtney Kardashian shows off baby shower
Leonard F. George is known by his stage name Rocky George and was the first African-American member of Suicidal Tendencies, a band in which he was the lead guitarist from 1984 until their first breakup in 1995.
The Blink-182 drummer Travis Barker plans to pay tribute to the guitarist with the name of his and Kourtney Kardashian's son.
The second inspiration behind Rocky's name is Rocky Balboa the star of the iconic boxing film franchise Rocky.
Travis joked to Toby Morse on the One Life One Chance podcast: "He's gonna come out of my wife's vagina like doing front kicks and push-ups."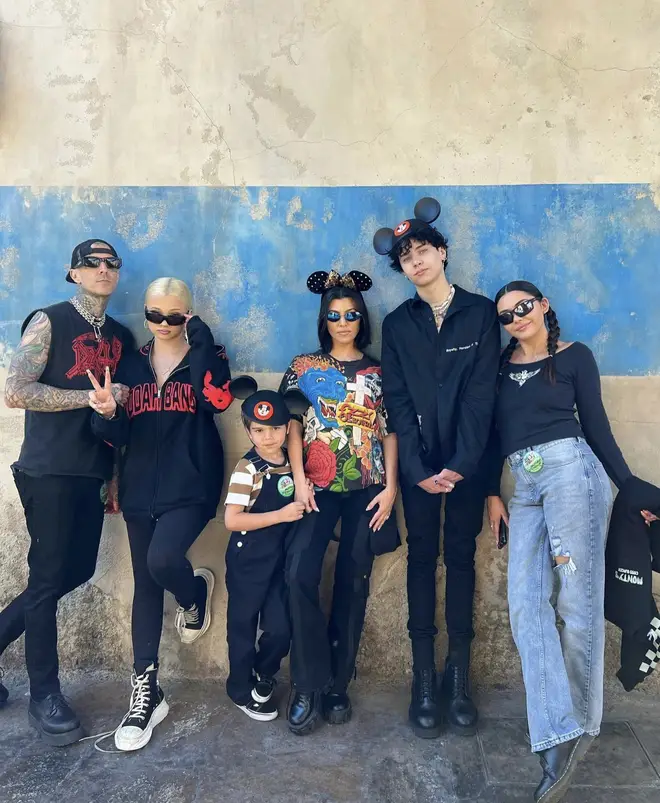 Their baby's second name is thirteen - unlucky for some!
The number thirteen is known as an unlucky number with more than 80 percent of hi-rise buildings in the United States refusing to have a 13th floor, according to the Stress Management Center and Phobia Institute in Asheville.
Friday 13th is believed to be a particularly unlucky day and there's even a name for it!
Paraskevidekatriaphobia is the fear of Friday 13th and it is reported that this phobia results in financial losses of over $800 million annually, since people avoid marrying, traveling or in the most severe cases, even working!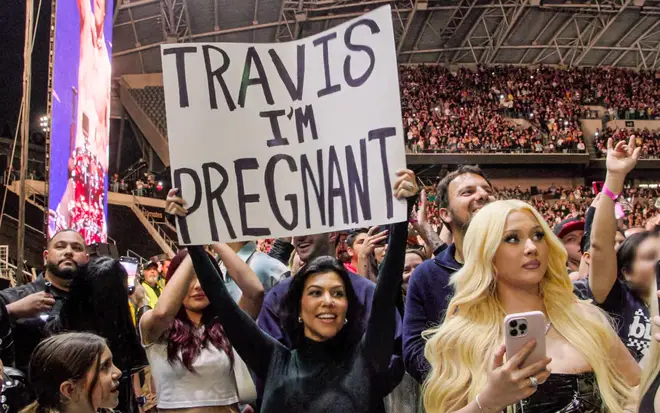 But for Travis the number 13 is the 'greatest of all time'. The tatted drummer is known for his alternative look and dark imagery so really it's all pretty fitting.
He and Kourtney are also known to love Halloween so perhaps the horror film Friday the 13th is part of the inspo here.
This year the pair celebrated the spooky holiday as Lydia and Beetlejuice and last year they dressed up as the murderous dolls, Chucky and Chucky's Bride.
There are also some religious connotations behind the number as in the Bible Judas was the 13th guest to arrive at Jesus' last supper and he subsequently was the disciple to betray Jesus.
Both Kourtney and Travis are very open about their Christian faith so perhaps naming their bundle of joy after this number is their way of redefining the number.
What are the names of Kourtney Kardashian's children?
Kourtney Kardashian has three sons, Mason Dash Disick, Reign Aston Disick and Rocky Thirteen Barker. She has one daughter called Penelope Scotland Disick.
Mason Dash Disick is Kourtney's eldest child, he is 13-years-old and she had him with her ex partner Scott Disick.
Penelope Scotland Disick is Kourtney's second-eldest child, she is 11-years-old and she also had her with ex Scott.
Reign Aston Disick, born in 2014 is her youngest child, he is 8-years-old and is the last child she had with her ex Scott.
Her fourth child, Rocky Thirteen Barker, was born in November 2023. She has had Rocky with her husband Travis Barker.
Listen live to Capital, and catch up on any shows you missed, on Global Player.