People Can't Decide If Kendall Jenner's Met Gala Push Was Acceptable Or Not
8 May 2018, 13:04
You're Kendall Jenner at the Met Gala, you've found the perfect pose and someone gets in the way - what do you do?
The Met Gala is undoubtedly the best opportunity for the biggest stars of the moment to dress to impress and get that perfect snap as the whole world eagerly watches on. So when Kendall Jenner's perfect shot was interrupted by a member of staff unknowingly backing into her, she quickly pushed him back.
Kylie Jenner Accidentally Started 2018's Hottest Trend With Her Met Gala Plaster
It was a pretty gentle push but nonetheless has sparked a debate about whether this was some serious diva behaviour, or if she was simple warning him to not step on her/her very white outfit.
Just watched Kendall Jenner push a PA on the livestream I'm watching but her outfit is toilet paper chic and I'm okay with it pic.twitter.com/VMFY0V7Qjq

— Nico Lauria (@nicolauria17) May 8, 2018
kendall had the audacity to push aside the guy when her outfit is as bland and dull as the sacramental bread. but ok, go off sis.

— baby spice (@sembriafran_) May 8, 2018
Kendall Jenner shows up to the #MetGala in the most bland toilet paper outfit and had the nerve to push one of the handlers out of the way who was just doing his job on the carpet #Rude #ERedCarpet

— Samara (@MizzSamz) May 8, 2018
Ok, I'm not @KendallJenner biggest fan, but she didn't push or shove anyone. Even I can see that and I actively look for reasons to dislike them lol. #sitdown #next #MetGala #nostory

— irishlady (@irishlady251) May 8, 2018
Kendall didn't push the security guard, it was more so placing the hand on his back like "Careful bby you're about to walk into me." pic.twitter.com/pRPx2gh7OC

— Aquafina (@ItsJamesTav) May 8, 2018
If Kendall hadn't warned that guy, we could have been looking at a serious red carpet tumble, which would have been beyond embarrassing. But one thing is for certain, there's no hiding when you're on one of the most famous red carpets in the world, Kenny!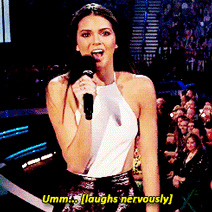 Picture: GIPHY
Download Our Brand New App For All The Latest Red Carpet News
Watch Shawn Mendes be the best date ever to Hailey Baldwin