Love Island 2018 - Check Out All The Contestants For This Series Revealed!
29 May 2018, 07:54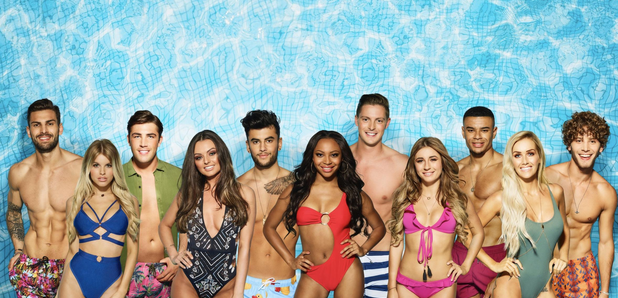 The ITV2 villa line up this year is gonna be one of their best casts yet.
A long hot summer is about to begin on 4th June as Love Island returns to our screens - and the line-up has 100% just heated things up. Check out the full roster of sexy singles set to join Caroline Flack in the resort.
> Jonny Mitchell Says He Can Get You Onto Love Island 2018
Laura Anderson, 29
The Scottish cabin crew has spent most of her life living in Dubai, but is set to hit the 'Love Island' villa for it's fourth season. Laura says she's on the look-out for a "rugged, real man" and wants to woo them with her "stylish hair extensions". Beware though, lads - she's really turned off by arrogance and selfishness.
And what's Laura's big claim to fame? Prior to entering the villa, she'd served loads of A-listers on flights, including Channing Tatum.
Dani Dyer, 21
No - we're not talking about that Danny Dyer, but his daughter, Dani, who you may recognise from her short stint in 'Survival of the Fittest'. After she was forced to leave the show, due to injury, Dani was quickly scooped up for this series of 'Love Island'. The barmaid from East London is worried about actually dating; especially seeing as it's on national television. At least she hasn't appeared on two dating shows so far.
Here's a tip to the lads going in the villa - don't bring up who Dani's father is, because she claims that's her worst date so far, after the man kept telling everyone, including the waitress serving them.
Hayley Hughes, 21
Would it really be 'Love Island' if we didn't have a model from Liverpool? But don't let that fool you - Hayley claims that everyone says she's really outgoing and funny, but she's worried that people won't like the fact that she has no filter. Hayley said "When I say things, I'm not horrible about it; I say what comes to my mind, but I usually deliver it in a nice way".
This isn't the first time Hayley's appeared on ITV - she's actually done an advert for ITVBe before.
Kendall Rae-Knight, 26
Before hitting the villa, Kendall - a retail manager from Blackpool - was with her ex for five years. Now, she's hitting 'Love Island' looking for "something long term". She's also offered some tips for those trying to win over her heart... Simply a glass of rose. "It only takes one!" said the 26-year-old.
Don't worry - she also said she'd be keen on garlic bread, steak, chicken and cookie dough ice cream. BRB. Just gonna pop off to the kitchen,
Samira Mighty, 22
We can all expect big things from Samira. Not only is she mighty by name, but she's mighty by nature. The London-born West End performer says her big personality, energy and her positivity are her best attributes, but she's worried that people will find her a bit stubborn, as she "can be a bit hot-headed".
And if you've hit a few of London's shows, you might recognise her from her roles in 'Mamma Mia' and 'Dreamgirls'.
Niall Aslam, 23
For any Directioner, this hunk will probably be the highlight of the show. Not only is his name Niall, but he looks pretty similar to Zayn. If he sings 'Sign of the Times', we'll be done. Originally from Coventry, the student and construction worker reckons that both his big muscles and his chat is what will make him stand out from the other men in the villa.
Just do Niall a favour and help him stay in the 'Love Island' villa for a while - his biggest concern about entering the show is being the first one voted out, and getting pied constantly.
Eyal Brooker, 22
Here you go, ladies - a tall, dark, handsome model from London. Eyal states he's had quite a few relationships in his past; a mixture of flings to full-length relationships. Eyal's looking forward to hitting the 'Love Island' villa and his ideal date would be going for a "nice dinner, sitting and finding out about this person".
As if he couldn't sound any better, Eyal claims to be a true gentleman. We've found our summer crush.
Adam Collard, 22
He's 22. He's a personal trainer and gym director. He's from Newcastle. We wouldn't judge you for wanting to run to the villa just for Adam alone. He's even described himself as "tall, dark and in good shape", but he has cheated previously, which he does put down to being young and silly.
And his biggest turn off? Put simply, Adam said "If a girl has bad teeth". Well, there you have it, then...
Jack Fincham, 26
"When I walk in a room I always make a statement". Now, that may sound like your usual cocksure geezer, but Jack - a stationary sales manager from Kent - isn't the usual sort. He continued that statement saying "I'm just so clumsy so I'll walk in and knock something over". Expect Jack to bring the banter, as he reckons his comedy is his best attribute.
Well, that and the fact that he can swim the length of the pool underwater. Maybe open with the jokes first, eh, Jack?
Dr. Alex George, 27
You read that right. A man who works as an A&E Doctor is set to play games which involve stripping and whipped cream on national television... And we can't wait. Alex's most recent relationship ended three years ago, so he's eager to find love in the villa, and he reckons it'll be nice to find someone.
He's also keen on making some new friends during his stay in 'Love Island', too. ISN'T HE JUST SO SWEET?!
Wes Nelson, 20
He may be the youngest contestant in the villa, but he may also be the dreamiest. And give us a second to get our tongue around his job title; Wes is a... Electrical and nuclear systems design engineer. (We don't know what that is either.) Wes is set to bring his Staffordshire charm to the villa, and he reckons he'll win over the girls with his cheekbones.
And we're expecting big things from Wes - he's apparently never been on a bad date. There's a first time for everything, pal...