Love Island Spoiler: Alexandra's Kiss Secret Is Exposed Leaving One Islander Feeling Mugged Off
24 July 2018, 15:00 | Updated: 24 July 2018, 15:05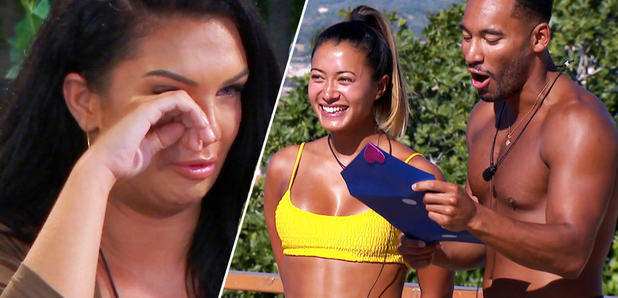 Love Island's next challenge for the couples involves reading headlines and working out who they're about, and for Alexandra, it means coming clean about a secret she's kept from one of the girls...
It's not been an easy week for the Love Island lot, who are still reeling after the dreaded lie detector test, but tonight's challenge isn't going any easier on them as they play a game of 'Shake It Off', which basically reveals a bunch of secrets they don't know yet through guessing which media headline is referring to who.
Love Island's Sam Bird Gets Eyebrow Makeover After Being Trolled Online
Through the game, Alexandra gets exposed for asking Laura's Paul to kiss her, making this the third guy that old Laura has discovered she's had competition for. Oh, and Britney Spears, so four.
Picture: Youtube
However, it seems that Alexandra feels nothing but regret as she tells Laura: "I'm so embarrassed. I'm actually cringing at myself for even saying it. And I just wanted to sweep it under the carpet, because I can't even believe in myself that I said those words."
Seeming to cringe at the situation, she tells Laura she didn't say anything as was 'trying to erase it from [her] mind', and TBH we really hope this doesn't send Laura into another spiral, but looking at her villa history, we don't think that's so likely. Eek.
Download Our Brand New App For All The Latest Love Island News