Love Island's Adam Collard Declared His Love For Zara McDermott With New Tribute Tattoo
25 July 2018, 12:19 | Updated: 25 July 2018, 15:26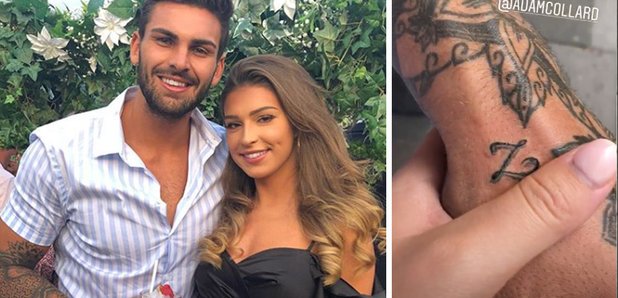 Adam Collard has gone to the ultimate length to prove his love for new girlfriend Zara McDermott is serious.
Most people had their doubts about whether Adam Collard and Zara McDermott could make it outside the Love Island villa but it looks like it's getting very serious for the couple… as Adam revealed his tribute tattoo for his new girlfriend last night.
Did You Know The Love Islanders Were In SO Many Music Videos?
Zara took to her Instagram story to show off Adam's new ink to all her followers, as she gushed about his dedication to her.
It comes after the couple were reunited after Adam was voted out of Love Island and Zara had promised to wait for him on the outside. Fans were initially uncertain about how well the couple would do on the outside as Adam recoupled in the villa, but managed to stay faithful to Zara.
Adam admitted, "It's so much better [being out of the villa]. I can take her on a real date instead of going down to the bean bags. I can actually take her for food and go for nice drinks. It's been amazing.
"Zara's family and her little brother's amazing and I'm enjoying being with her. I think I've been home [to Newcastle] twice in however long I've been back.
"I've probably only been home for 24 hours, so it's definitely a good sign. And I think [moving in together is] something we'll probably look toward soon. I think it's natural to speak about your future, and I think we are being realistic about things.
"I want to move forward with Zara, and I've never felt like this about anyone before. Whether that was because of Love Island or not, it still happened."
> We've Got All Of Your Love Island News And Gossip Over On Our App!