Kylie Jenner's $900 Million Net Worth Is Fake According To Money Experts
19 July 2018, 16:04 | Updated: 20 July 2018, 12:34
Kylie Jenner's $900 million net worth might not be all that it seems, as a celebrity net worth website has done some calculations and don't think the maths quite adds up...
Kylie Jenner hit the headlines when she graced the front of Forbes magazine as this year's highest paid female celebrity with an eye watering net worth of $900 million, but a celebrity net worth website has since claimed the figure is a massive over estimate, with her real worth more likely to be around the $300 million mark.
Kylie Jenner And Boyfriend Travis Scott Finally Address The 'Kardashian Curse'
Celebritynetworth.com has broken down Forbes' estimation of Kylie's net worth- claiming she would only be worth the whole 900 mil, should her company, Kylie Cosmetics, sell for 8x its current profit, something they see as unlikely due to the business' growth slowing down considerably in the last year. Eek.
They say: "No company would pay an 8x multiple for a brand that is clearly waning in popularity" and promise they aren't trying to rain on King Kylie's parade, it's all rooted in fact, saying: "We're not just trying to be haters. We think it would be awesome for Kylie to become a billionaire, but we're choosing to wait and see."
We wonder if Kylie is at all bothered about all of this speculation, or if she's just rolling around in a bed of money?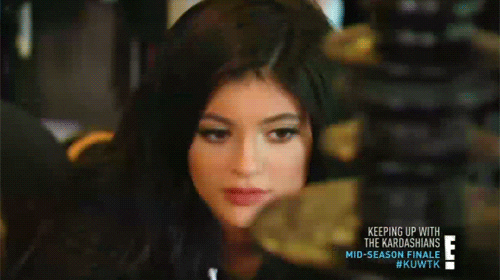 Picture: GIPHY
Download Our Brand New App For All The Latest Kardashian News