Marnie Simpson Might Have Just Accidentally Revealed The Kardashian Bum Secrets They've Denied For Years
2 May 2018, 12:37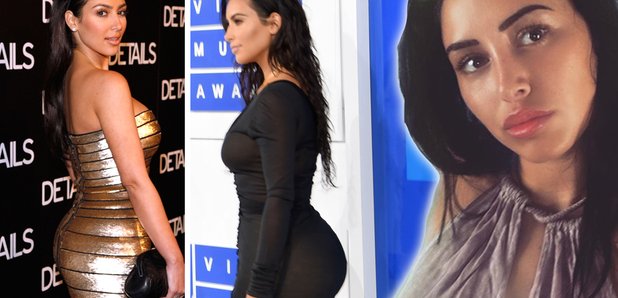 The truth is finally out.
Kim Kardashian and her sisters have always denied that they've ever had any surgical help to enhance their big behinds, but Geordie Shore's Marnie Simpson might have accidentally given the game away for them this week…
Blac Chyna Rumoured To Be PREGNANT With Her 18-Year-Old Boyfriend YBN Almighty Jay
Marnie's currently in Los Angeles where she stopped off to see the Kardashians' favourite plastic surgeon, Dr Simon Ourian – and opened up about getting bum fillers.
Marnie shared a video of the gruesome looking procedure (the SIZE of that needle!!) on Instagram, showing the filler being injected into her bum cheek. She captioned it, "I'm always up for trying out new things and in the hands of expert @simonourianmd1 I discovered this procedure that takes no longer than 15 minutes to perform and is completely painless, using a semi permanent filler to enhance your natural curve and achieve a rounder bottom.
"Everyone Knows I've gained a lot of weight recently so this has helped me achieve a nicer shape without going under the knife. my bum was completely numb so I didn't feel a thing and there is LITERALLY no down time or recovery. perfect !!!!"
Now given that Kim K and her siblings are in Dr Ourian's clinic every other week, it wouldn't be unfeasible to wonder whether they had ever undergone the same procedure to boost their ever increasing backsides – especially as there is no down time like there would be with implants.
It's undeniable Kim's bum has expanded rapidly over the years to create an enviable hourglass silhouette against her slim waist, and she was even forced to have a butt X-ray on Keeping Up With The Kardashians to prove there were no implants in her cheeks.
While implants would show up on an X-ray, fillers generally don't, so while technically Kim might not have been under the knife, she may well have been under the needle to pump up her own posterior. Who knew it would be Marnie of all people to let the cat out of the bag…
> Download Our Brand New Up To Keep Up With All The Latest Kardashian Drama