Olly Murs & Louisa Johnson - 'Unpredictable' (Live At The Summertime Ball 2017)
10 June 2017, 17:39
Olly Murs & Louisa Johnson joined forces for their first ever live performance of 'Unpredictable' & it was an epic #CapitalSTB moment!
Olly's worked with the likes of Rizzle Kicks and Flo Rida in the past, and his recent link up with Louisa Johnson is yet another top notch collaboration from the Essex lad.
'Unpredictable' is a classic pop tune that showcases both Olly and Louisa's individual talents superbly. Having both received their big break as part of the X Factor, the pair have got a fair bit in common (they both come from Essex too), so that's probably why this collab works so well.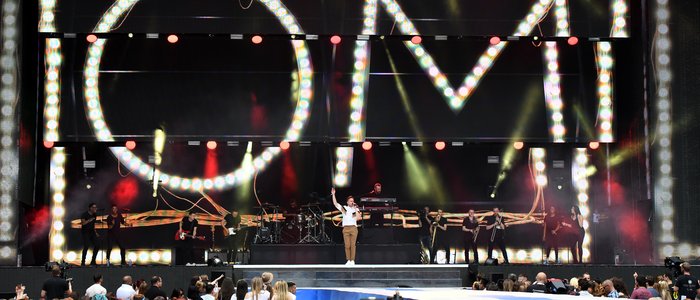 The duo's on stage chemistry was evident for all to see and it'll surely have everyone wondering whether we're likely to these two work on any more tracks with each other in the future. What a way to mark their duo as a #CapitalSTB duo anyway though!
If you didn't manage to make it down to the ball this year, catch up with Olly and Louisa's first ever live performance with the video above. Bring it on!
Olly Murs – Summertime Ball 2017 Setlist
Wrapped Up
Heart Skips A Beat
Kiss Me
Unpredictable (feat. Louisa Johnson)
Dance With Me Tonight
Troublemaker
Olly Murs 'Unpredictable' Lyrics
I'm sick, I like it
There's a moment when we fight
I get so excited
The next move is someone's
Maybe that's what makes it fun
We don't know what's comin'
But you got me and I got you
Couldn't stop this if we wanted to
You got me and I got you
I like us when we're unpredictable
Cause that's when love is so phenomenal
It's better when there's no one in control
We don't know which way it's gonna go
It drives me crazy
We go to bed at night in love
You wake up and hate me
But I just can't fight it
Other people might break up, but that's how I like it
Cause you got me and I got you
It's enough for us to make it through
You got me and I got you
I like us when we're unpredictable
Cause that's when love is so phenomenal
It's better when there's no one in control
We don't know which way it's gonna go
We're better when we're unpredictable
And that's when love is so phenomenal
It's harder when there's no one in control
We don't know which way it's gonna go
I like us when we're unpredictable
Cause that's when love is so phenomenal
It's better when there's no one in control
We don't know which way it's gonna go
No
It's how I like it
It's how I like it
I like us when we're unpredictable
Cause that's when love is so phenomenal
It's better when there's no one in control
We don't know which way it's gonna go
We're better when we're unpredictable
And that's when love is so phenomenal
It's harder when there's no one in control
We don't know which way it's gonna go