Olly Murs - 'Kiss Me' (Live At The Summertime Ball 2017)
10 June 2017, 17:29 | Updated: 10 June 2017, 17:30
After Olly Murs' dazzling performance of Kiss Me' at the #CapitalSTB, we're pretty sure most of Wembley Stadium wanted to do just that!
Recently Olly Murs teamed up with Louisa Johnson for a solid collaboration, but this time around he was all by himself on the #CapitalSTB stage, not that you'd ever know with 80,000 screaming fans in attendance too.
'Kiss Me' is one of Olly's funkiest songs and is always guaranteed to make you wanna get up and shake a leg. When 80,000 people all do that at the same time, it makes for quite the spectacle, so we can only imagine what Olly's view of the crowd was like from the stage!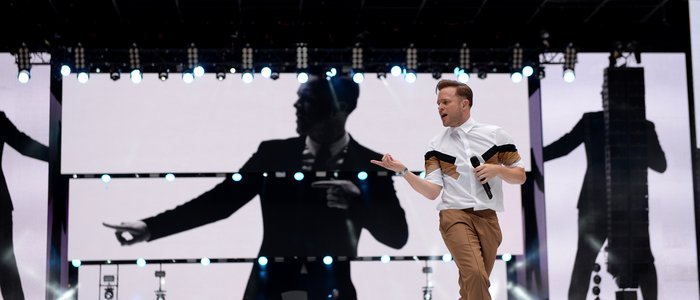 Originally part of the reissue of his fourth studio album 'Never Been Better' back in 2015, 'Kiss Me' was sounding amazing and Olly clearly loved performing it to our sold out crowd – what more could you want from a #CapitalSTB moment eh?
Not lucky enough to be at the ball this year? Well you can now catch up with Olly's top notch set via the video above. Not a bad way get the party started at all!
Olly Murs – Summertime Ball 2017 Setlist
Wrapped Up
Heart Skips A Beat
Kiss Me
Unpredictable (w/ Louisa Johnson)
Dance With Me Tonight
Troublemaker
Olly Murs 'Kiss Me' Lyrics
Kiss me out of the bearded barley,
Lightly, beside the green, green grass
Swing, swing, swing the spinning step
You'll wear those shoes and I will wear that dress
Oh, Kiss me beneath the milky twilight
Lead me out of the moonlit floor
Lift you open hand
Strike up the band, and make the fireflies dance
Silvermoon's sparkling,
So kiss me
Kiss me down by the broken tree house
Swing me , upon its hanging tire
Bring, bring , bring your flowered hat
We'll take the trail marked on your father's map
Oh, Kiss me beneath the milky twilight
Lead me out of the moonlit floor
Lift you open hand
Strke up the band, and make the fireflies dance
Silvermoon's sparkling,
So kiss me
Oh, Kiss me beneath the milky twilight
Lead me out of the moonlit floor
Lift you open hand
Strke up the band, and make the fireflies dance
Silvermoon's sparkling,
So kiss me
So kiss me...
So kiss me