Olly Murs - 'Dance With Me Tonight' (Live At The Summertime Ball 2017)
10 June 2017, 17:46
Olly Murs performed a tonne of his platinum hits at this years #CapitalSTB and 'Dance With Me Tonight' was undoubtedly a real highlight!
When you've got a number of platinum singles in your back catalogue, how do you decide which ones to perform on stage at Wembley Stadium? Well that's the difficult task Olly Murs had at this year's #CapitalSTB.
'Dance With Me Tonight' is one of those platinum hits Olly can call upon and he did just that when he took to the stage in front of 80,000 screaming fans! If there was a song that you literally couldn't avoid dancing to at the #CapitalSTB this year, this had to be it.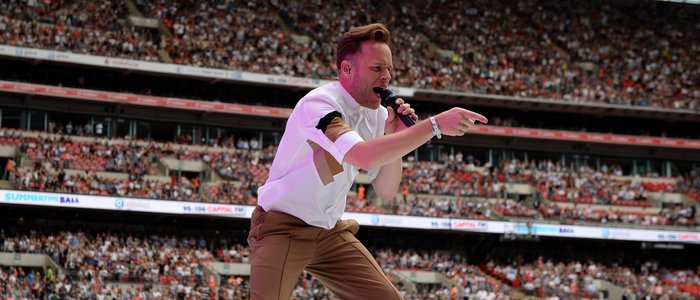 Olly's stage presence is second to none and he made sure every single member of the crowd was getting involved with his performance right from the very beginning. Undoubtedly a #CapitalSTB legend right here.
Weren't lucky enough to attend the ball? Never fear - you can catch up with Olly's bombastic set with the video above. Not a bad way to make cement yourself as a #CapitalSTB icon!
Olly Murs – Summertime Ball 2017 Setlist
Wrapped Up
Heart Skips A Beat
Kiss Me
Unpredictable (w/ Louisa Johnson)
Dance With Me Tonight
Troublemaker
Olly Murs 'Dance With Me Tonight' Lyrics
Ladies and Gentlemen we've got a special treat for tonight
I'm gonna call my friend Olly up here to sing to you ladies
Olly!
Yeah!
Let's go man
Okay
My name is Olly nice to meet you can I tell you baby
Look around there's a whole lot of pretty ladies
But not like you, you shine so bright, yeah
I was wondering if you and me could spend a minute
On the floor up and close getting lost in it
I won't give up without a fight
I just wanna, oh baby
I just want you to dance with me tonight
So come on, oh baby
I just want you to dance with me tonight
We're getting sweaty, hot and heavy in the crowd now
Loosen up and let you hands go down, down
Go with it girl, yeah just close your eyes, yeah
I feel the music moving through your body
Looking at you I can tell you want me
Don't stop keep moving till the morning light, yeah
When I saw you there, sitting all alone in the dark acting like you didn't have a care
I knew right then, you'd be mine, we'd be dancing the whole damn night, like
Oh baby, I just want you to dance with me tonight
So come on, oh baby
I just want you to dance with me tonight
Break it down now, shake it like that, now bring it all back
To dance with me tonight
One more time, one more time, come on now
Do your thing, everybody sing
I just wanna, oh baby
I just want you to dance with me tonight
So come on, oh baby
I just want you to dance with me tonight