Olly Murs - 'Wrapped Up' (Live At The Summertime Ball 2017)
10 June 2017, 17:31
Showing exactly how it's done, Olly Murs' performance of 'Wrapped Up' proved he's a #CapitalSTB legend!
Over the course of his career, Olly Murs has racked up a slew of top ten hits and 'Wrapped Up' is one of them – so of course the crowd went absolutely wild when he performed it!
'Wrapped Up' was initially released back in 2014 as part of Olly's 'Never Been Better' album and as soon as he bounded onto the stage to perform it, the audience were in heaven! He's not afraid to throw a few shapes either and Olly's smooth moves were in full effect from the off.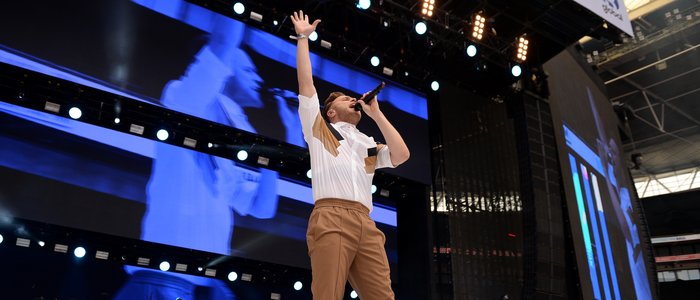 He knows how to impress a crowd too and Olly's big cheesy grin never fails to add that little bit of cheekiness to his set. If you've never seen Olly perform live before, trust us – this is vintage Murs.
Didn't manage to attend the ball this year? Never fear - you can now watch Olly Murss lively set with in the video above. Who wouldn't wanna do that, right?
Olly Murs – Summertime Ball 2017 Setlist
Wrapped Up
Heart Skips A Beat
Kiss Me
Unpredictable (w/ Louisa Johnson)
Dance With Me Tonight
Troublemaker
Olly Murs 'Wrapped Up' Lyrics
Now excuse if I sound rude
But I love the way that you move
And I see me all over you now
Baby when I look in your eyes
There's no way that I can disguise
All these crazy thoughts in my mind now
There's just something about you
You got the lock
I got the key
You know the rest
You know just where I wanna be
Don't ever stop controlling me
I kinda like it when you bring me to my knees
You got me wrapped up
Around your finger
I'd do anything for your love now
And when you touch it, the feeling lingers
Takes me up so I high I can't come down
(You got me wrapped up baby)
I don't ever wanna give up
All this spell you got me under
I see fireworks when we touch now
(There's just something about you)
Your body fits on mine like a glove
Let them say whatever they want
It's too late cause you're in my blood now
(There's just something about you)
You got the lock
I got the key
You know the rest
You know just where I wanna be
Don't ever stop controlling me
I kinda like it when you bring me to my knees
You got me wrapped up
Around your finger
I'd do anything for your love now
And when you touch it, the feeling lingers
Takes me up so I high I can't come down
(Girl, you got me wrapped up)
You got me so, so wrapped up
There's just something about you
You wrapped up
You got me so, so wrapped up
There's just something about you
My princess so intelligent
Make me wanna reapply to school for the hell of it
I'll be the student, you be the teacher
Ms. Sophisticated, such a pleasure to meet ya
Yeah, but here's the only issue since we met
You kinda turned my world upside down
And I don't really mind Spiderman kissing you
As long as you're planning on sticking around
The happiest boy in the world award goes to me
Not a chance nobody came close to 'em
I kinda knew you was troublesome
You got me wrapped around your finger like bubblegum
Everything that you do
Every way that you move
There's just something about you
There's just something about you
Everything that you do
Every way that you move
There's just something about you
Girl you got me wrapped up
Around your finger
I'd do anything for your love now
And when you touch it, the feeling lingers
Takes me up so I high I can't come down
(Girl, you got me wrapped up)
You got me so, so wrapped up
There's just something about you
You wrapped up
You got me so, so wrapped up
There's just something about you