Olly Murs - 'Troublemaker' (Live At The Summertime Ball 2017)
10 June 2017, 17:52
Luckily he didn't cause any trouble at the #CapitalSTB, but Olly Murs' performance of 'Troublemaker' was pretty wicked!
Whether he's working with another artist or performing to a sold out crowd of 80,000 people at Wembley Stadium, Olly Murs is always an epic performer.
'Troublemaker' is one of Olly's biggest ever hits and so it made sense that he finished his #CapitalSTB set with it this year! From a cheeky chap catching out eye on the X Factor to the notable live performer he is today, Olly's been on an incredible journey and his performance totally proved that.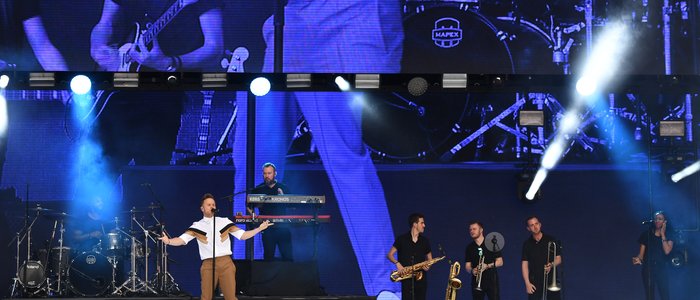 Vocally, Olly is a winner – he's got moves for days – he's a pretty handsome chap too isn't he? So we're pretty sure he's the perfect all round guy and the way some of our #CapitalSTB artists were checking him out during his set, it seems they think exactly the same!
Weren't lucky enough to attend the ball? Never fear - you can catch up with Olly Murs's breath-taking set with the video above. Not a bad way to make your #CapitalSTB debut!
Olly Murs – Summertime Ball 2017 Setlist
Wrapped Up
Heart Skips A Beat
Kiss Me
Unpredictable (feat. Louisa Johnson)
Dance With Me Tonight
Troublemaker
Olly Murs 'Troublemaker' Lyrics
You're a troublemaker (You're a troublemaker)
You ain't nothing but a troublemaker girl
You had me hooked again from the minute you sat down
The way you bite your lip
Got my head spinnin' around
After a drink or two
I was putty in your hands
I don't know if I have the strength to stand
Oh oh oh, trouble troublemaker yeah
That's your middlename, oh oh oh
I know you're no good but you're stuck in my brain
And I wanna know, why does it feel so good but hurt so bad
Whoa, my mind keeps saying "Run as fast as you can"
I say I'm done but then you pull me back
Whoa, I swear you're giving me a heart attack, troublemaker
It's like you're always there in the corners of my mind
I see a silhouette every time I close my eyes
There must be poison in those finger tips of yours
'Cause I keep comin' back again for more
Oh oh oh, trouble troublemaker yeah
That's your middlename, oh oh oh
I know you're no good but you're stuck in my brain
And I wanna know, why does it feel so good but hurt so bad
Whoa, my mind keeps saying "Run as fast as you can"
I say I'm done but then you pull me back
Whoa, I swear you're giving me a heart attack, troublemaker
Why does it feel so good but hurt so bad
Whoa, my mind keeps saying Run as fast as you can (Troublemaker)
I say I'm done but then you pull me back
Whoa, I swear you're giving me a heart attack, troublemaker
Maybe I'm insane
'Cause I keep doing the same damn thing
Thinkin' one day we gonna change
But you know just how to work that back
And make me forget my name
What the hell you do I won't remember
I'll be gone until November
And you'll show up again next summer, yeah
Typical middle name is Prada
Fit you like a glove girl I'm sick of the drama you're a troublemaker
But damn girl it's like I love the trouble
And I can't even explain why
Why does it feel so good but hurt so bad
Whoa, my mind keeps saying "Run as fast as you can" (Troublemaker)
I say I'm done but then you pull me back
Whoa, I swear you're giving me a heart attack, troublemaker
Why does it feel so good but hurt so bad
Whoa, my mind keeps saying "Run as fast as you can" (Troublemaker)
I say I'm done but then you pull me back
Whoa, I swear you're giving me a heart attack, troublemaker