Louisa Johnson - 'So Good' (Live At The Summertime Ball 2017)
10 June 2017, 19:41
She's been one of the most successful X Factor winners in recent years and Louisa Johnson proved exactly why with her epic performance of 'So Good' at the #CapitalSTB!
After taking home the X Factor crown back in 2015, Louisa Johnson has gone from strength to strength and her brilliant performance at the #CapitalSTB was proof of that.
'So Good' was the very first song Louisa released following her X Factor winners single and it sounded just as good at Wembley Stadium as the first time we heard it! Vocally, Louisa Johnson is up there with the best and she made sure everyone knew it with an amazing live set.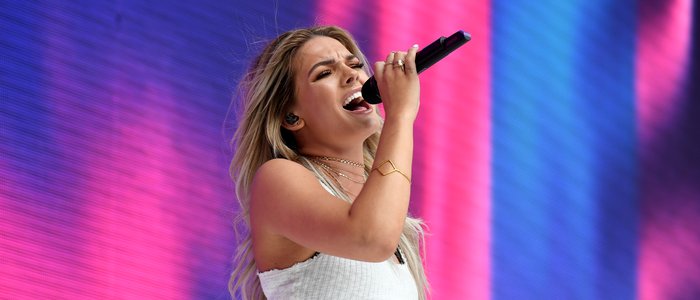 After collaborating with the likes of Clean Bandit and AJR in recent times, Louisa proved with her on-stage display that she has all the ability as a solo artist to make a huge impact and we loved watching her perform!
Not lucky enough to attend the ball this year? It's ok, cos you can catch up with Louisa's exciting set via the video above. Just make sure you turn it up nice and loud!
Louisa Johnson – Summertime Ball 2017 Setlist
Best Behaviour
So Good
Louisa Johnson 'So Good' Lyrics
I said about five minutes away
One more stop and I will be off this train
I'm free any day of the week
Always losing some sleep
I told myself I'll be back by ten
Trying to save myself for the weekend
But I know me, I hate to miss a party
Don't say, don't say I didn't warn you
Don't say I didn't warn you
I live for the moment
I wasn't supposed to go out tonight
I should be at home
I got work at 9
Shouldn't be out here doing what I like
But it feels so good, so good
I was only gonna be an hour or two
I guess that now I'm here I'm going down with you
But it feels so good, so good
Angel on my shoulder is giving up on me
No listening to him and I can hardly speak
The music they play makes me this way
I think it was only 10
How did it get to 3
It's like I'm in my own time machine
But you know me, I never leave
Don't say, don't say I didn't warn you
Don't say I didn't warn you
Just live for the moment
I wasn't supposed to go out tonight
I should be at home
I got work at 9
Shouldn't be out here doing what I like
But it feels so good, so good
I was only gonna be an hour or two
I guess that now I'm here I'm going down with you
But it feels so good, so good
Everyone I know is here
Drinking sours, crying tears
Living out the best years
So keep on toasting shots, cheers
People know it feels
So good
I wasn't supposed to go out tonight
I should be at home (I should be at home baby)
I got work at 9
Shouldn't be out here doing what I like
But it feels so good, so good (so good, so good)
I was only gonna be an hour or two (yes, I know)
I guess that now I'm here I'm going down with you (I'm here now)
But it feels so good, so good (so good, so good)