Louisa Johnson - 'Best Behaviour' (Live At The Summertime Ball 2017)
10 June 2017, 17:59
Louisa Johnson made sure all eyes were on her as she took to the #CapitalSTB stage to perform her standout single 'Best Behaviour'!
Whilst Louisa's collab with fellow X Factor alumni Olly Murs is currently the talk of the town, it was her live version of her most recent solo single that caught everyone's attention at the #CapitalSTB.
'Best Behaviour' was once described by Louisa as "quite up tempo, so you can dance to it" and all 80,000 people at Wembley Stadium proved that was true as the Queen of the X Factor showcased her supreme talent on stage.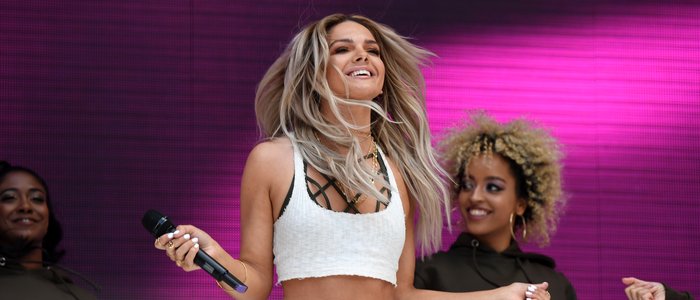 Looking as flawless as ever on the #CapitalSTB stage, the 19-year-old made sure all the sass we've come to know and love from her was front and centre in her lively performance – what more could we ask for?
Didn't manage to get to the ball this year? Not to worry - you can get up to speed with Louisa's superb set by checking out the video above. Lucky you!
Louisa Johnson – Summertime Ball 2017 Setlist
Best Behaviour
So Good
Louisa Johnson 'Best Behaviour' Lyrics
Got me on my best
Got me on my best
I got eyes, yeah I'm human
But it's only a view
'Cuz I don't wanna ruin
Loving you, loving you
I got habits to let go
It's what I gotta do
'Cuz I don't wanna mess up
Loving you, loving you
Baby I swear to you I'm dedicated
Give me your trust and I'll try not to break it
Oh you, got me on my best behaviour
I'm on my best behaviour, I
Know that you're good for me, I
Wanna be good to you
I'm on my best behaviour, I
I'm on my best behaviour, I
Know that you're good for me, I
Wanna be good good
I know that you're good for me, I
Wanna be good to you
I know that you're good for me, I
Wanna be good good
I got hands, yeah I'm human
And it's tempting to touch
But I won't ever do it (do it)
Use your love, use your love
Got my past on the phone now
But I'm hanging it up
'Cuz I don't wanna go out
Lose your love, lose your love
Baby I swear to you I'm dedicated
Give me your trust and I'll try not to break it
Oh you, got me on my best behaviour
I'm on my best behaviour, I
Know that you're good for me, I
Wanna be good to you
I'm on my best behaviour, I
I'm on my best behaviour, I
Know that you're good for me, I
Wanna be good good
I know that you're good for me, I
Wanna be good to you
I know that you're good for me, I
Wanna be good good
Now you got a heart of porcelain
I'm trying not to crack it in my hands
I'm now that your good for me
I wanna be good to you
Got me on my best behaviour
Oh you, got me on my best behaviour
I'm on my best behaviour, I
Know that you're good for me, I
Wanna be good to you
I'm on my best behaviour, I
I'm on my best behaviour, I
Know that you're good for me, I
Wanna be good good
I know that you're good for me, I
Wanna be good to you
I'm on my best behaviour
I'm on my best behaviour
I know that you're good for me, I
Wanna be good good