Frank Ocean Keeps Cancelling Festival Appearances - Should UK Fans Be Worried?
5 June 2017, 16:38 | Updated: 5 June 2017, 16:42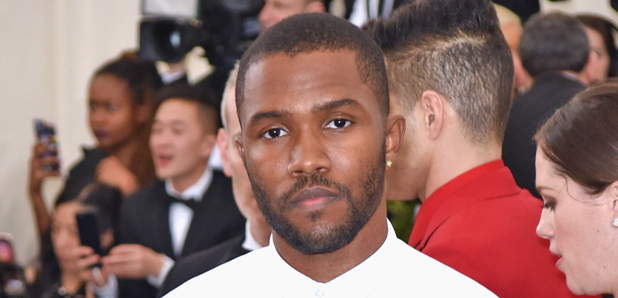 We take a look at the reasons why the 'Slide' singer keeps cancelling his shows...
Catching Frank Ocean performing live has become almost impossible in recent years and it seems that 2017 is no different. He's already cancelled two festival dates this year and has now gone and dropped another date from his schedule.
The 'blond' singer claimed that production delays were the reason he'd had two cancel the two previous shows - one at Hangout Festival, Alabama and another at Sasquatch! Music Festival - and it seems that production delays are once again focing him to cancel a third festival.
> Sean Paul Reveals New Song With Shakira & Explains How Excited He Is To Work With Her
Primavera shared a statement about the cancellation on their Facebook page...
But fans who are attending two festivals in the UK where Frank Ocean is scheduled to perform, Parklife and Lovebox, are pretty nervous that he may cancel those too...
Frank Ocean better not cancel Lovebox festival on me. Definitely worried now

— Fiach McDermott (@MacDermarco) May 29, 2017
Frank Ocean keeps on cancelling shows. If you've booked tickets for lovebox just for him, this is your warning.

— Aiden Langan (@AidenLangan95) May 27, 2017
Frank Ocean better not cancel his set at #Lovebox like he did primavera #dontbeawastemanfrank

— Rebecca Gordon (@RebeccaCGordon) May 30, 2017
Frank ocean has now dropped out of 4 shows in the last 4 weeks, guarantee parklife will be next

— Brian Martin (@BrianPMartin_) May 27, 2017
Me, if frank ocean cancels parklife or lovebox pic.twitter.com/gO7Ntim4OD

— KWAME (@KWXME) May 27, 2017
So we decided to break down what might happen in the near future...
Will Frank Ocean cancel Lovebox?
At the moment, there's absolutely no reason why Frank Ocean would cancel his scheduled appearance at Lovebox. The date has been booked for a long time and considering that the festival isn't until 14th July, there's plenty of time to iron out those 'production controls'.
Will Frank Ocean cancel Parklife?
As with Lovebox, there is no indication that Frank Ocean won't be taking to the stage at Parklife. This one is a little nearer, beginning on 10th June, so fans would be entitled to be a bit worried considering all the recent cancellations.
Is there another reason Frank Ocean is cancelling all his shows?
As we said, production delays have been revealed as the reason why the shows are being cancelled, but many people think there could be more to it. Performance anxiety and many other things have been suggested, but as the official statements all say it's to do with production that's what we'll have to accept.
> WATCH: Bruno Mars' Evolution From Baby Elvis To Global Superstar Is Mesmerizing
You may also like...