Ariana Grande Justifies Reason For Her Illegal Pet Pig After Being Called Out On Twitter
9 October 2018, 14:06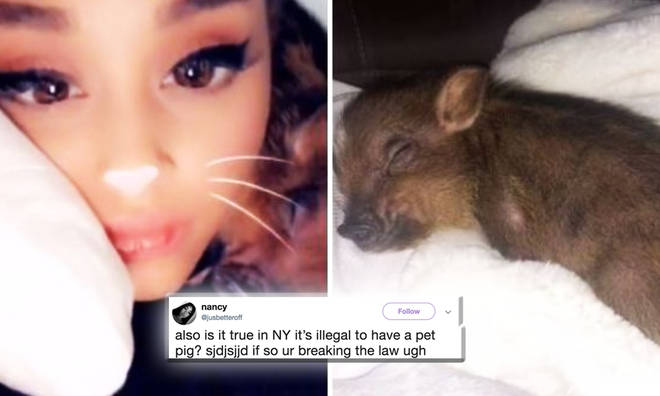 When Ariana Grande wants a pet pig, Ariana Grande gets a pet pig, but when one fan pointed out they're illegal to keep in New York, the singer came back with a pretty good justification.
Ariana Grande has been pretty active on Twitter again recently, sharing snaps of her in the studio and of her tiny new pet pig, Piggie Smalls, and answered a fans question about whether she is allowed the pet, as pig's aren't thought to be allowed as pets in New York, where the singer lives.
The Real Reason Behind Ariana Grande's Cryptic NSFW Post Finally Revealed
The fan asked Ari: "Is it true in NY it's illegal to have a pet pig? If so ur breaking the law ugh love that", ever the supportive of the singer, and perhaps unexpectedly, Ariana replied explaining the whole situation.
SHE'S AN EMOTIONAL SUPPORT PIG I NEED HER.

— Ariana Grande (@ArianaGrande) October 9, 2018
The 'God Is A Woman' is a known animal lover, and currently has ten pooches after adopting the former dog of Mac Miller, who past away last month from a drug overdose, and her fiancé, Pete Davidson recently revealed in an interview that the singer wanted a pig and 'an hour later it was just there'.
As well as tweeting about Piggie Smalls, Ari was open and honest about her future music and videos, keeping Arianators firmly on their toes, even suggesting she'll tour 'Sweetener' at the same time as a new album she is working on, AG5.
She even managed to throw shade to her song with Nicki Minaj and Jessie J 'Bang Bang' at the same!
i ...... need to shoot one. don't kill me i took some time off bc i was real sad and we didn't expect the record to pop off like this. i love u. don't kill me pls. i'm on it. promise.

— Ariana Grande (@ArianaGrande) October 9, 2018
i think that sounds really nice. lots of new materiaaaaal + oldies (the oldies we like). i mean unless y'all wanna hear bang bang again.

— Ariana Grande (@ArianaGrande) October 9, 2018
good my love we started another idea i really like today

— Ariana Grande (@ArianaGrande) October 9, 2018
Whatever it is Ariana is working on, which seems to be her next album, we're super excited for it and if it's Piggie Smalls which is helping her feel better, then more to it!
>Download Our Brand New App For All the Latest Ariana Grande News