Taylor Swift's Eras Tour Is A Celebrity Hot-Spot: All The Famous Faces Seen At Her Shows
16 May 2023, 15:54
All of the celebrities that have attended Taylor Swift's Eras Tour; Selena Gomez, HAIM, Shania Twain and many more...
Taylor Swift is wowing audiences night after night on The Eras Tour, and it turns out that she has very many famous fans!
Not only is she breaking records as she fills stadiums all over the US but her show is attracting multiple A-listers – everybody wants to see Taylor sing her 44-song, 3 hours set (why wouldn't you?).
Is Taylor Swift Going On Tour In 2023 & Are There UK Dates Yet?
Here Is Every Song On Taylor Swift's Eras Tour Setlist
Selena Gomez, Matty Healy, Gigi Hadid, Sabrina Carpenter and so many more have been spotted at the pop star's concerts – here are all the celebrities that have attended Taylor's tour so far...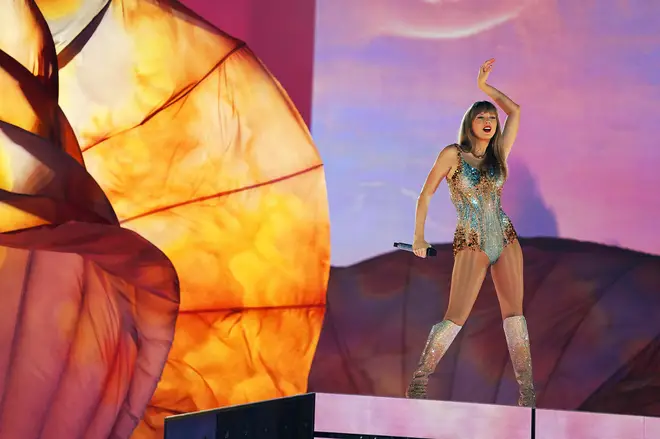 Jennifer Lawrence accepts friendship bracelets from Taylor's fans
Jennifer Lawrence pulled quite the crowd when she was spotted by Swifties in the VIP area during the special Mother's Day show in Philadelphia on May 14.
Can you imagine seeing Taylor play live and meeting JLaw all in one night? Talk about hitting the jackpot!
Country icon Keith Urban and Nicole Kidman go on an Eras Tour date night
Keith Urban and wife Nicole Kidman looked loved up as ever whilst they partied away to Taylor's discography in the VIP tent.
The country musician, who is a long-time friend and collaborator of the 'Midnights' songstress, had nothing but words of adoration in a post shared to TikTok.
He wrote: "Shoutout to Taylor, her team, and ALL the Swifites who showered us with sooooo many friendship bracelets. [sic]"
Seems like that had quite the night!
Blake Lively brings her kids to Auntie Taylor's show and it's too adorable
It's no secret that Blake Lively is one of Taylor's dearest friends, so fans were elated to see the Gossip Girl star singing along in the VIP tent.
Blake brought her three youngest kids to one of the Philadelphia shows and she had a proud mum moment when Taylor introduced 'Betty'; which of course, includes the names of her children.
The pop star said into the mic: "There are a few of the characters that I actually, fun fact, named after real people in my life who I love more than anything. And their names are James, Inez and Betty."
This isn't the first emotional moment the actress has had during one of her friend's concerts, back in 2018 she jumped for joy when the voice of her baby boy James was used in the intro of 'Gorgeous'; you can watch both adorable moments in this TikTok.
Sabrina Carpenter cries at Taylor's 'Enchanted' performance
Sabrina Carpenter had a very relatable experience at The Eras Tour when she cried during 'Enchanted' – we would do exactly the same.
The songstress took to he Instagram Stories to gush over the magical night, writing in a series of posts, "don't hmu unless you are HER".
Lena Dunham gets a special Eras Tour shout-out
Taylor made sure to give her good friend Lena Dunham a special shoutout on her May 13 Philly show – which just so happens to be Lena's birthday!
The pop star made one of her surprise acoustic songs of the night 'Forever & Always' to fulfil a personal request from her pal, too cute!
Matty Healy joins Tay's BFF Gigi Hadid and Lily Aldridge
Amid rumours Taylor is dating The 1975 frontman Matty Healy, the rocker was spotted at her concert in Nashville on 6th May just days after reports emerged about their new relationship.
And it seems Tay's pals approve of him too as Gigi was seen with her hands on Matty's shoulders as they danced along to the country songstress' biggest hits. Model Lily Aldridge was also spotted in the star-studded VIP booth.
We've lost count of how many times he's been to the show since, their rumoured romance is heating up!
Billy Joel brought his kids to The Eras Tour
Music legend Billy Joel his two young daughters to Taylor's concert Tampa, Florida and it looks like they had the best family outing!
The 'Uptown Girl' singer even brought his kids backstage to meet the woman of the moment and got a photo – aw!
Taylor brings Aaron Dessner on stage as a surprise
Not only did Aaron Dessner show support for his good friend and frequent collaborator, but he performed with Taylor too!
Dessner, a musician who notably plays in the bands The National and Big Red Machine, took to the stage two nights running when the Eras Tour was in Tampa, Florida.
They performed 'The Great War' and 'man woman', both for the first time ever, and it seemed they were both overjoyed at finally performing their shared tracks to a live audience!
"You guys are watching the greatest performer on Earth do the greatest show of all time," Aaron said to the stadium – we love their friendship!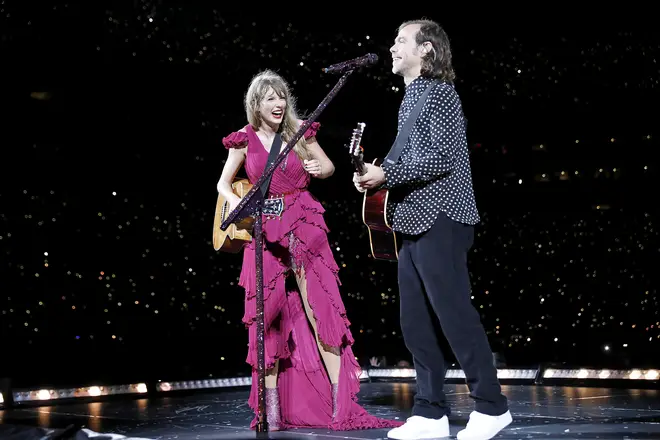 Selena Gomez and her little sister Gracie dress as Taylor Swift
It's no secret that Swifties like to dress on theme when attending a Taylor show – and Selena Gomez is no different!
The 'Lose You To Love Me' singer showed up in support of her best pal and watched an Arlington, Texas concert on April 1, and she brought her little sister Gracie along!
Both paid homage to the woman of the moment, Selena wore a 'folklore' cardigan paired with Taylor's iconic braided buns, and Gracie channelled 'Speak Now' with that unforgettable purple dress!
Of course, Selena had to give Taylor a shoutout on Instagram after yet another jaw-dropping performance, she wrote: "Thank you bestie for having me and my sissy transport into your mystical, euphoric and special world. Proud to know you! love you forever and always."
Laura Dern
Laura Dern attended the opening night of Taylor's tour in Glendale, Arizona on March 17 – what a night to witness!
It's well known that the actor and pop sensation are good friends, and who can forget their scene together in the intro for the 'Bejewelled' music video?
Laura shared a snap of her arm-in-arm with Taylor after the show and it was obvious that was pretty proud of her pal! She wrote: "Celebrating our amazing buddy's first show of tour. Extraordinary. Found family. #ErasTour"
Shania Twain
Country royalty and one of Taylor's very own idols, Miss Shania Twain, swung by The Eras Tour – no big deal!
The music legend posted to her Story showing off some moves to the smash-hit 'Blank Space' and captioned the video "What a show" – we couldn't agree more Shania!
Emma Watson, Stone & Roberts
The internet went into a tailspin when not one, not two, but three famous Emmas rocked up to Taylor's tour.
First came Emma Stone who had the pleasure of seeing the very first night of The Eras Tour, then Emma Roberts went viral for shooting a video as she danced along to 'Style'.
The holy trinity of Emmas was completed when none other than Emma Watson was spotted enjoying her Swiftie-self at night number one in Las Vegas!
HAIM
Speaking of Emma Watson, she was seen partying away with none other than HAIM at the Las Vegas concert.
Of course, fans will be seeing them again as they take to the stage as Taylor's support act from July 22 for the final nine shows of the tour.
Ellen Pompeo
Ellen Pompeo, who plays Taylor's favourite Grey's Anatomy character Meredith Grey, brought her daughter to a Las Vegas performance!
She posted to her Instagram Stories throughout the night and it looked like the cutest mother-daughter date ever!
> Here Are All The Ways You Can Listen To Capital