Ariana Grande's Songs And Lyrics About Husband Dalton Gomez
18 May 2021, 17:23 | Updated: 18 May 2021, 17:26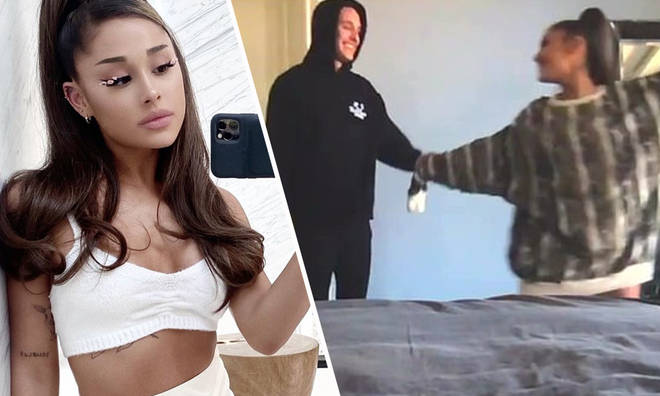 Ariana Grande is known for drawing lyrical inspiration from her love life, including her boyfriend - now husband -Dalton Gomez.
Ariana Grande and Dalton Gomez have got married after almost 18 months together and enjoyed an 'intimate' ceremony at the pop star's $6.75million Montecito mansion.
Just like Taylor Swift, Ariana writes and creates her songs from her own experiences and her most recent album 'Positions' documents her happy new chapter with her now-husband, as well as sweet references to her late ex-boyfriend Mac Miller.
Ariana Grande's Wedding Dress: 5 Styles Fans Think She May Have Worn
Most of Ariana's songs on 'Positions' are about her love for new boyfriend Dalton Gomez, so we've rounded up some of the most adorable songs and lyrics she sings about her new love.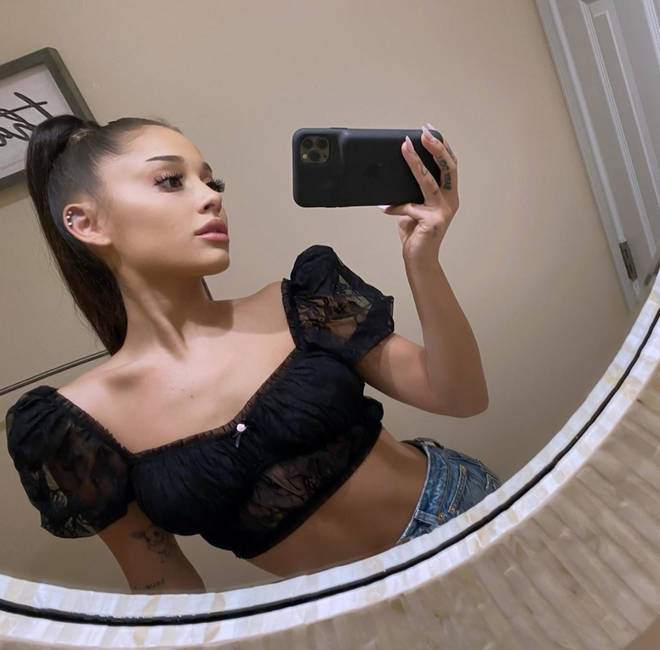 Ariana gets cheeky about sex life with Dalton on '34+35' and 'Nasty'
Ariana brags about her and Dalton's bedroom antics in the raunchy second single from 'Positions', '34+35', and it's a similar vibe for 'Nasty'.
With lyrics such as 'Got the neighbours yelling 'earthquake!' / 1.5 when I make the bed shake,' in '34+35' Ari really didn't hold back with this naughty anthem.
And in 'My Hair' and 'Nasty' she takes a more intimate approach, serenading Dalton with lyrics such as:
Promise I'ma give it to you like you never had it
I do it so good, it's gon' be hard to break the habit
You're like a whole constellation (Yeah)
Swimming like you on vacation (Yeah)
Promise I'm still gonna love you when you wake up in the AM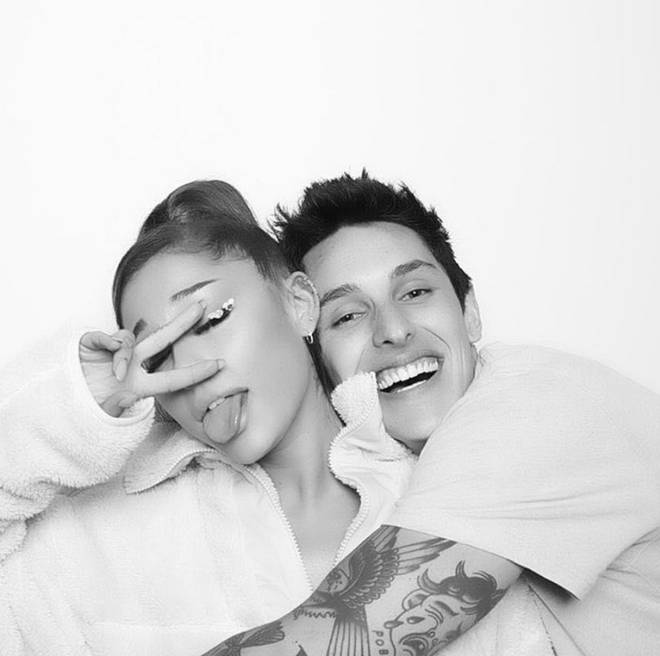 Ariana sings about the start of her new relationship with Dalton in 'Off the Table' and 'Six Thirty'
Teaming up with The Weeknd once again, Ari channels her newfound love into 'Off the Table', singing about her fears of whether she's ready to love again after a rough couple of years.
She sings:
Do I sit this one out and wait for the next life? (Next life)
Am I too cold? Am I not nice?
Might not be quite yet healed or ready
Should I be goin' too steady? (Too steady)
But I just wanna know is love complеtely off the table?
Although she may have been hesitant at the start, Ariana's clearly super loved up with her new boyfriend.
It's a similar vibe on 'six thirty' as Ari questions whether Dalton will be in it for the long run:
What you gon' do when I'm bored
And I wanna play video games at 2 AM?
What if I need a friend? Will you ride 'til the end?
Am I enough to keep your love?
When I'm old and stuck, will you still have a crush?
If their few Insta posts are anything to go by – Dalton is as besotted as Ari is with him.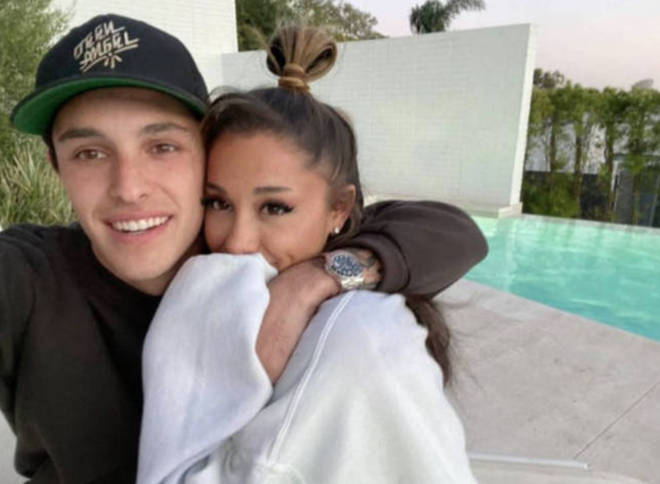 Dalton is helping Ariana move on from her previous heartbreak in 'Safety Net' and 'Love Language'
Ariana has suffered a lot of heartbreak in her young years, and 'Safety Net' has some of the cutest lyrics about her feelings for her new relationship.
You're making me forget my past
Never thought I'd feel like that again
I came to peace with my path
Now you got me off track
Dalton is a real estate agent who lives his life out of the spotlight, meaning they've been able to get to know each other away from the public eye – especially as he moved in with the singer to spend quarantine with her earlier this year.
She also makes a lot of references to how calm he keeps her, singing in 'Love Language': If you're gonna keep speaking my love language / You can talk your s**t all night / You the medication when I'm feeling anxious / That's the kind of s**t I like.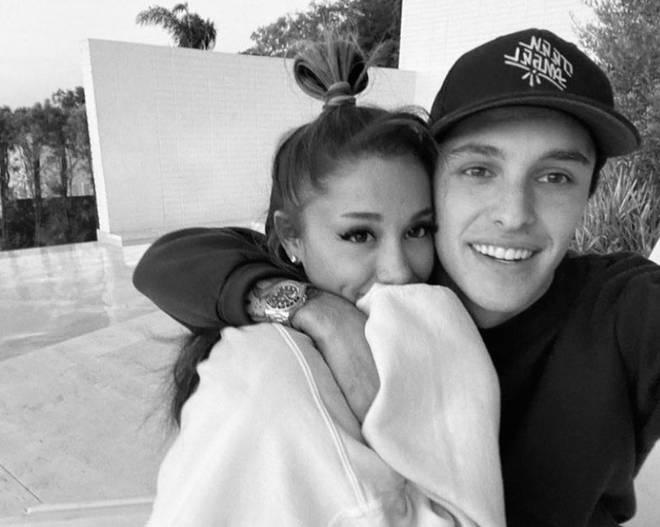 'POV' shows just how close Ariana and Dalton have become in less than a year
Rounding off the album showing just how happy she truly is, 'POV' is the love letter to Dalton fans are singing with tears in their eyes.
The beautiful lyrics include:
I wanna love me (Ooh)
The way that you love me (Ooh)
Ooh, for all of my pretty
And all of my ugly too
I'd love to see me from your point of view
And the penultimate track 'Obvious' is just as heart-warming, with Ari pretty much calling Dalton 'The One' when she sings: 'Others that I've had had to impress me before / But I knew you were the real thing / When you walked through the door.'
Prior to 'Positions', Ariana dropped a couple of songs in the first half of 2020; 'Stuck With U', which was her collaboration with Justin Bieber, and 'Rain on Me' with Lady Gaga.
Ari and Justin penned 'Stuck With U' during the coronavirus lockdown, sharing a short clip of herself and Dalton dancing to the tune in the music video, which was a montage of loved-up couples.
Although songwriter Whitney Phillips was the original writer, Ari and Bieber apparently sent edits of their own while working on the song, so it's likely her new relationship inspired at least a fragment of the romantic tune.
> Here Are All The Ways You Can Listen To Capital