The Best Times Leigh-Anne Pinnock's Spoken Out For Everything That's Right
23 September 2019, 14:08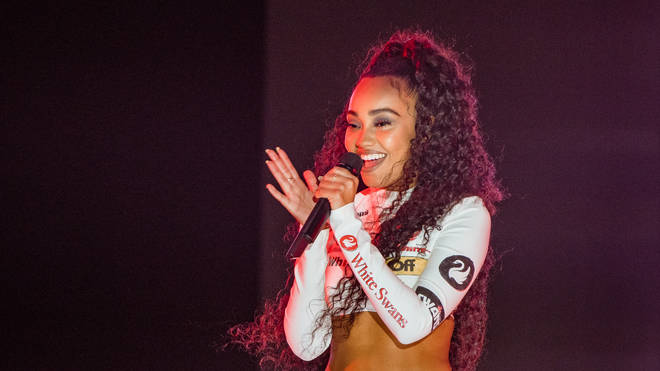 When Leigh-Anne Pinnock's not singing power anthems on stage, she's speaking out for what she believes is right.
Leigh-Anne Pinnock knows what's up. She's helped speak out about a series of important issues, including confidence, racism and diversity.
We've found a few of our favourite moments the Little Mix star defended what she believed is right, proving that she is a certified G-O, double D, E-S-S-S.
On dealing with trolls

Earlier this year, the 'Woman Like Me' singer joined Lorraine to discuss how she dealt with trolls, who hurled abuse towards her.

"I feel like, me personally, I'm in a much better place now," said Leigh-Anne after she chose to accept her own advice by ignoring the hateful messages she'd received. "I'm so proud of who I am."

Leigh went on to thank her Little Mix bandmates for the support, similarly to how Jesy Nelson praised the band following her documentary, Odd One Out.

On inbuilt racism

Leigh-Anne Pinnock opened up to Rollacoaster magazine, revealing how it took her so long to feel completely comfortable in her own skin.

Continuing, the 27-year-old said "Sadly we live in society that is inbuilt with racism and I just hope that by speaking up on my personal experience, I can help raise some awareness on this f**ked up situation.

"I really did feel invisible and replaceable for a considerable amount of time within the band," she continued, speaking about the racist remarks she'd faced.

Recently, Leigh-Anne shared an important message to her 4.9 million Instagram followers, defending a young model who faced criticism over her hair style.

"Her hair is beautiful as it is and naturally styled, we need to lead by example and teach young black girls to love the hair they were born with and to understand how beautiful that is...styled, unstyled and natural," wrote Leigh.

She finished by congratulating the girl, and sharing her excitement with the future of her modelling career.

On self-acceptance

Taking to Instagram, Leigh-Anne wrote about her journey of loving her own skin, and being able to accept herself.

In the emotional post, she wrote about how she would often try to change things about herself to feel accepted, but now she's learned that "it's enough to just be [her] and [Leigh-Anne's] so incredibly proud of this skin [she's] in."

Her fellow bandmates, such as Jade Thirlwall, liked the post, supporting their friend.

On lack of diversity

While it may be one of the most watched shows on television, Leigh-Anne Pinnock had some choice things to say about Love Island - mainly aimed at its lack of diversity.

Last year, Leigh wrote on Twitter "How many weeks in and we are yet to see hardly any diversity in Love Island I'm tuning off!", using the hashtags #disappointed and #diversity, to Little Mix's 11.8 million followers.