MAFS UK's Arthur Drops Clue He And Laura Are No Longer Together
23 October 2023, 16:38 | Updated: 25 October 2023, 12:22
Arthur Poremba has hinted that he and MAFS UK wife Laura Vaughan have split up since the experiment was filmed.
Married at First Sight UK is weeks away from ending and viewers are constantly looking for clues about all the new couples and whether they're still together.
Laura Vaughan and Arthur Poremba became a favourite couple on the experiment, with many fans dubbing them the 'Posh and Becks' of the series, rooting for them to stay together. However, one of Arthur's recent Instagram uploads seems to point to the fact he and Laura are no longer together after all.
After he celebrated his birthday in London this weekend, Arthur posted a photo from his celebrations including some of this year's MAFS UK cast members, as well as a few of last year's.
Wife Laura was absent from his pictures, while most of his other castmates were in attendance, including Peggy and Georges, Paul and Tasha, and Luke and Jay.
He captioned it: "A Few from last nights celebrations with some of my fav people."
It comes after Arthur was reported to have been seen 'passionately kissing' a mystery woman at a nightclub in London during his birthday night out. According to MailOnline, Arthur spent 'the entire night' with a mystery brunette, at a restaurant and then at a nightclub with all of his friends.
If true, Arthur's flirty evening seems to confirm he's ended things with wife Laura who he was matched with on the show. And the scandal doesn't stop there; co-star Tasha was forced to deny being in a relationship with Arthur after she posted a photo of them holding hands to wish him a happy birthday.
Tasha wrote: "So there has been a lot of comments on this picture and I just want to clarify I only posted this picture because it was the only one I had of Arthur as it was his birthday celebration after all.
"Laura is one of my closest friends and I would never disrespect her. Arthur is also a really good friend of mine which is what you are seeing in this picture there is nothing more to it!"
She added: "We all missed you so much the other night my angel," and the hashtag #TeamLauraandArthur.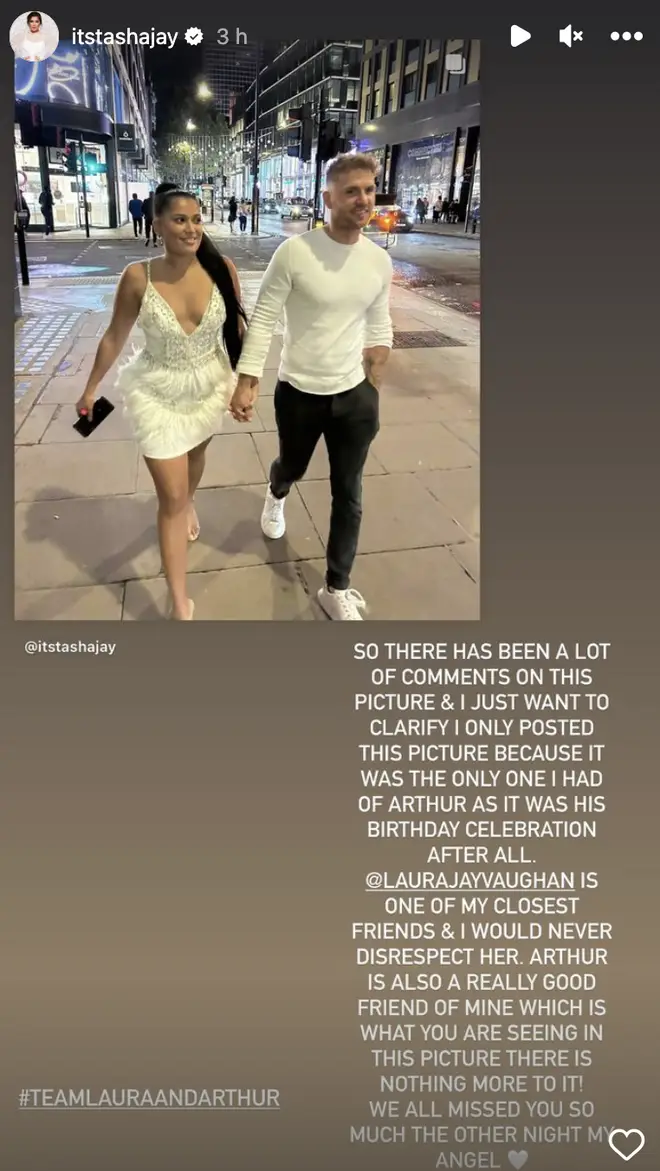 Laura shared Tasha's post to her own Instagram Stories, but she must stay silent on whether her and Arthur are still together after filming the show until the series has aired.
The final episode is expected to air on Thursday 16th November, where couples will have their last commitment ceremonies of the experiment.
Listen live to Capital, and catch up on any shows you missed, on Global Player.