WATCH: Soz, But You'll Legit Get A Stitch From Laughing At The Most Hilarious Moments From #CapitalJBB
11 December 2017, 16:34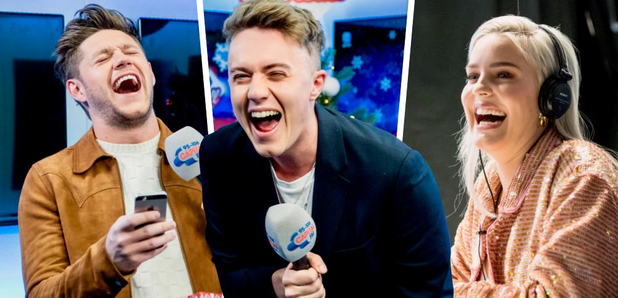 WARNING: You will LOL.
Oh, so you thought the #CapitalJBB was just about huge performances, incredible dance routines and the biggest stars taking to the stage at The O2?
Well, think again, because the likes of Roman Kemp, Marvin Humes and Rob Howard were catching up with the Ballers, and getting up to some real mischief.
> Watch ALL The Live Performances From The Jingle Bell Ball 2017
From some corny music video reenactments to the dodgiest kissing we've ever seen, we promise you'll crack up at these incredible backstage moments from Capital's Jingle Bell Ball with Coca-Cola.
The weekend kicked off by Roman Kemp acting as Santa, delivering presents to all the Ballers. The only problem is... Jax Jones REALLY didn't want his present.
Rita Ora dialled her good pal, Chris Martin, and decided to shout 'Home Alone' quotes at him. (Even if she didn't totally know what 'Home Alone' actually was.)
You may have noticed that James Arthur did his entire #CapitalJBB performance with his flies undone. No, this wasn't a forgetful James after a visit to the loo... It was all Roman's doing.
I forgot all about the flies challenge, ended up flying low the whole set and then the f*ckin daily mail wrote a story about it @romankemp

— James Arthur (@JamesArthur23) December 10, 2017
We made the mistake of letting Anne-Marie lose with an earpiece, and setting Roman Kemp the challenge of grilling Niall Horan. We're so sorry, Niall. You should be ashamed, Anne-Marie!
Speaking of Niall, Roman dared the 'Slow Hands' singer to post a phone number to Twitter, allowing you to #DialNiall. And yes - you lot drained the mobile's battery within about 0.2 seconds.
Dua Lipa (sort of) did a Stormzy, and got locked in the lads' bog. Luckily for her, she had a phone to record the entire moment. (And by "luckily for her", we mean "luckily for us", 'cause... LOL.)
We used a fair ol' bit of our budget on big, puffy white coats and snow-in-a-can just so that we could get The Script to re-enact that iconic East 17 music video.
@CapitalOfficial #CapitalJBB, #TheScriptJBB
New Xmas cover coming! M pic.twitter.com/4ZEUUllsHX

— the script (@thescript) December 10, 2017
And we couldn't throw a #CapitalJBB without gifting one of our favourite men, Ed Sheeran, a cute, pink bicycle, could we? We're just relieved he didn't have another biking accident. PHEW.
> There's Still Time To Catch Up On All Of The Best Moments From #CapitalJBB, Over On Our App!
Did you hear Liam Payne shout "pterodactyl" on the #CapitalJBB stage? Well, here's why...