Zayn Malik Releases Nicki Minaj Song Days After Requesting Cardi B Collab
15 November 2018, 15:22 | Updated: 15 November 2018, 16:13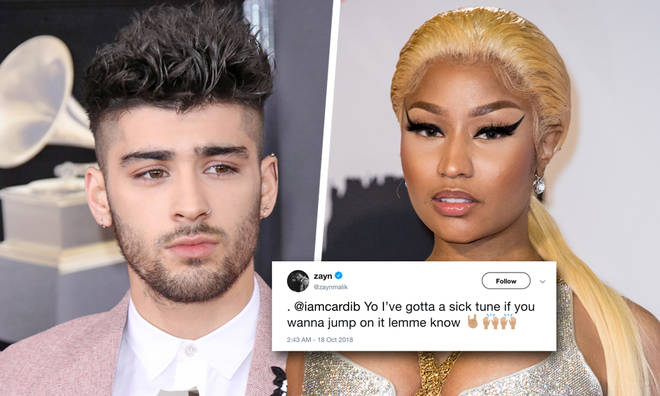 Zayn Malik released his new song 'No Candle No Light' with Nicki Minaj after he recently tweeted long-time rival Cardi B asking for a feature.
It's no secret that Nicki Minaj and Cardi B have been embroiled in a long-running feud which boiled over to a physical altercation at New York Fashion Week, but it appears that no one told Zayn Malik.
> Zayn Recently Mentioned One Direction On Instagram For The First Time Since Leaving
Zayn has just released a brand new song called 'No Candle No Light' with Nicki Minaj and he's done it only a few weeks after tweeting Cardi B and asking her for a collab.
Taking to Twitter before he released 'No Candle No Light', Zayn wrote, '.@iamcardib Yo I've gotta a sick tune if you wanna jump on it lemme know'.
People had claimed that Zayn was messaging Cardi B about 'No Candle No Light' but fans have revealed that the Nicki Minaj collab was actually recorded over a year ago.
One Twitter user asked Nicki Minaj about her collab with Zayn Malik back in 2017 and she responded by describing it as, 'My favourite song of all time'.

Plenty of fans have also highlighted the fact that Zayn has released a song with Nicki Minaj only a few weeks after his ex girlfriend Perrie Edwards and the rest of the Little Mix ladies teamed up with the 'Queen' rapper for their hit song 'Woman Like Me'.
But aside from all the talk on Twitter around the circumstances of the song, it's an absolute banger!
Zayn featuring Nicki Minaj - 'No Candle No Light' Lyrics
[Intro: Nicki Minaj]
Young Money!
[Verse 1: Nicki Minaj & ZAYN]
Hand on your hand, chest on your chest
Tangled in bed but I'm feeling you less
You know my love ain't free, why do you make believe?
Why do you sell me dreams? SMS in the morning like
We gotta, we gotta, we gotta face it
The fire, the fire ain't no longer blazing
[Pre-Chorus: ZAYN & Nicki Minaj]
I-I-I woke up on the wrong side of ya
You-ou-ou don't even know that I left, do ya?
Can't handle my love, can't handle your lies
No friendzone to my love, quit burning all of my time
I-I-I woke up on the wrong side of ya
[Chorus: ZAYN & Nicki Minaj]
No candle, no light for you
No candle, no light for you
No candle, no light for you
[Verse 2: ZAYN & Nicki Minaj]
I can't do it, no, baby, I can't do it
I only end up losing, who are we really fooling?
It's agree to disagree, some things ain't meant to be
But I wanted you and me, SMS in the morning like
We gotta, we gotta, we gotta face it
The fire, the fire ain't no longer blazing
[Pre-Chorus: ZAYN & Nicki Minaj]
I-I-I woke up on the wrong side of ya
You-ou-ou don't even know that I left, do ya?
Can't handle my love, can't handle your lies
No friendzone to my love, quit burning all of my time
I-I-I woke up on the wrong side of ya
[Chorus: ZAYN & Nicki Minaj]
No candle, no light for you
No candle, no light for you
No candle, no light for you
[Bridge: ZAYN & Nicki Minaj]
We gotta, we gotta, we gotta face it
The fire, the fire ain't no longer blazing
[Chorus: ZAYN & Nicki Minaj]
No candle, no light for you
No candle, no light for you
No candle, no light for you
[Outro: Nicki Minaj]
Switch up the lane, switch up the lane
Watch all ya gyal just switch up our lane
This one is yeah, is a Nicki and ZAYN (ZAYN, ZAYN)