Nicki Minaj & Cardi B's Feud Explained – A Timeline Of The Rappers' Difficult Relationship
30 October 2018, 12:29 | Updated: 14 November 2018, 14:22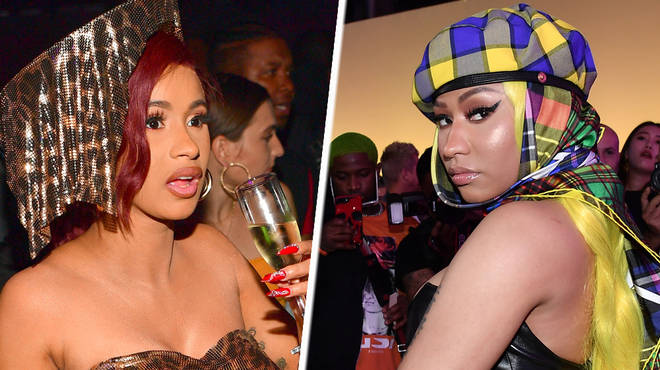 Why are Cardi B and Nicki Minaj feuding? How did the US rapper's argument start? Here's everything you need to know about the fight from Little Mix to music.
It's no secret that Nicki Minaj and Cardi B aren't the best of friends, but their feud has been rumbling on for a long time – but what started it all?
Following their most recent outburst, which even involved Little Mix, fans have taken to look into the history of the fall out.
Little Mix Defend Nicki Minaj After Cardi B Claims She Was Original 'Woman Like Me' Collaborator
Here's everything you need to know about their complicated relationship:
Early 2017
Cardi B bursts onto the rap scene with her hit track 'Bodak Yellow' and people start comparing her to Nicki Minaj. Rumours of a feud start brewing around this time.
May 2017
Nicki Minaj references her beef with Cardi on Katy Perry's 'Swish Swish', rapping "Silly rap beefs just get me more checks / My life is a movie, I'm never off set / Me and my amigos (no, not Offset)", namedropping Cardi's boyfriend, Offset.
May 2017
Cardi B vents about her "idols becoming rivals" on Instagram Live, which many take to be a dig at Nicki, saying, "I hate this s**t, I really, really do. A b***h like me, I was happier when I was macking in the hood. This s**t right here is so fake.
"When I used to be a regular b***h from the Bronx, when somebody used to be fake to me it was cool because I could approach a b***h and punch her right in her closure... Now that I'm in the industry, you don't work like that, just have to watch s**t go. You gotta see people play you and just say nothing like a d**k. That s**t is so whack, like that s**t be breaking my heart because the people, your idols, become rivals."
July 2017
A fan video emerges of Nicki dancing to 'Bodak Yellow' during a nightclub appearance in Miami.
August 2017
Nicki fires shots on 'No Flag', a track with Cardi's boyfriend Offset, 21 Savage and London On Da Track. She raps, "Lil' b***h I heard these labels tryna make another me/ Everything you getting little h*e is cause of me." Nicki later denies that it is aimed at Cardi.
September 2017
Cardi drops a verse on G Eazy's 'No Limit', a track that Nicki had already turned down the chance to feature on.
September 2017
Nicki congratulates Cardi on Twitter for getting a Billboard Hot 100 number 1 with 'Bodak Yellow' She tweets, "Congratulations to a fellow NEW YAWKA on a RECORD BREAKING achievement. Bardi, this is the only thing that matters!!! Enjoy it". Cardi replies, "Thank you!! This means sooo much coming from you!!"
Congratulations to a fellow NEW YAWKA on a RECORD BREAKING achievement. Bardi, this is the only thing that matters!!! Enjoy it💕💞🎀 @iamcardib

— QUEEN (@NICKIMINAJ) September 25, 2017
October 2017
Nicki and Cardi both jump on Migos' 'Motorsport' and fans immediately try and work out if their verses have any hidden meanings.
November 2017
Nicki Minaj jumps on Bad Bunny's 'Krippy Kush' remix and claims she got the feature over Cardi. Cardi later denies this ever happened.
December 2017
Cardi addresses the 'Motorsport' beef, adding that Nicki's final verse on the song was actually different to what she had originally heard from the rapper.
April 2018
Cardi addresses the beef in an interview the dat before her album, 'Invasion Of Privacy' was released, saying "I just feel like it's really internet made-up, I don't really have the time for that. If you not f**king my man, or if you're not taking my money from me, if you're not stopping my money, then I don't really give a f**k about you.
"I spoke to her before, in person. So I always say I don't want anybody sneak-dissing me. If it's something that we can talk it out, then we can talk it out, because it's not always rah rah this or rah rah that."
April 2018
Nicki reveals the 'Motorsport' drama affected her during a Beats 1 interview, explaining, "Y'all all still jumped around that just to paint Nicki as the bad person so that you could play the victim. That really, really hurt me.
"I really, fully supported her and up until this recent interview I did, I had never seen her show me genuine love in an interview and I can imagine how many girls wish they could've been on a song with Nicki Minaj.
September 2018
Cardi and Nicki come face to face at the Harper's Bazaar event at New York Fashion Week and after a shouting match, Cardi got into a fight with Nicki's friend, Rah Ali, and famously threw her shoe at her. Cardi then posts on Instagram, "I let you talk big s**t about me!! I addressed you once in person, I addressed you a second time in person, and every time you copped the plea!!
"But when you mention my child, you choose to like comments about me as a mother, make comments about my abilities to take care of my daughter is when all bets are fuckin off!! I've worked too hard and come too far to let anybody f**k with my success!!!! B***hes talk all that s**t in they raps but in real life they p**sy!! This s**t really is for entertainment!!"
September 2018
Nicki claims Cardi built her career off "sympathy and payola", but what is payola? Well, that's when artists or their management pay radio stations or other promoters to push music they otherwise wouldn't. Cardi vehemently denies this.
October 2018
Cardi goes on a huge rant on Instagram, calling Nicki out for multiple reasons and also claiming that she was originally meant to be the rapper on Little Mix's 'Woman Like Me', playing a video clip of the song minus the rap verse.
Little Mix then hit back at the claims, showing 'receipts' that they always wanted Nicki on the track and not Cardi.
The two rappers then call a truce… but how long will this one last?!
> Want Tickets To Capital's Jingle Bell Ball Before Anyone Else? Download Our App Now To Access Pre-Sale!