This Shawn Mendes Fan Snatched Her Wig In Front Of Him & Left Him Shook
8 November 2018, 18:05 | Updated: 8 November 2018, 18:08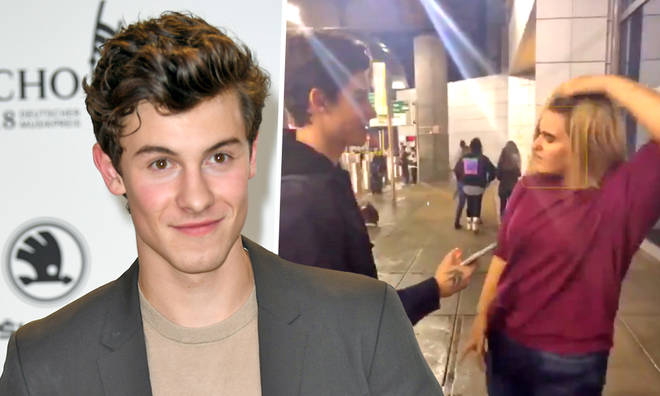 Shawn Mendes complimented a fan's hair recently, before she revealed it was a wig and shocked him to his core and the video is priceless.
Shawn Mendes recently surprised fans when it was revealed he's performing at the Victoria's Secret Fashion Show 2018 - but the 'Lost In Japan' star got a surprise of his own when a fan snatched her wig before his very own eyes recently.
> This Fan Got A Tattoo Of A Shawn Mendes Voice Memo He Recorded For Her
Whilst taking a picture with the Canadian superstar, Shawn fan Monika captured the moment he complimented her hair before she removed the blonde locks and left him stunned.
As you can see in the video above, Shawn greets Monika and appears to comment that her hair 'looks awesome' before she catches him by surprise and literally snatches her wig in front of him.
Shawn's reaction is absolutely hilarious and he actually steps back in shock, prompting Monika to brilliantly caption her video with the tweet 'welcome to the live show I call: SNATCHED'.
After other fans asked Monika for the footage from her own phone so that they could see Shawn's reaction up close, she was kind eough to post that too and it's equally as good as the original - check it out below.
After Monika shared the video on Twitter, fellow Shawn Mendes fans flocked to reply to the incredible footage with messages like 'Haha this will be remembered forever and iconic!' and 'I'M WHEEZING THAT WAS SO UNEXPECTED'.
Shawn's built up an amazing relationship with his fans over the years and has posed for some seroiusly memorable pictures, but this has got to be one of the most iconic we've ever seen.
Pretty sure Shawn will remember this moment for the rest of his life, so thank you Monika for helping engineer this magical moment with Mr Mendes.
> Download Our Free App For All The Latest Shawn Mendes News!