Little Mix's Original X-Rated SOTME Lyrics Shaded Gigi Hadid Alongside Zayn
15 November 2016, 17:06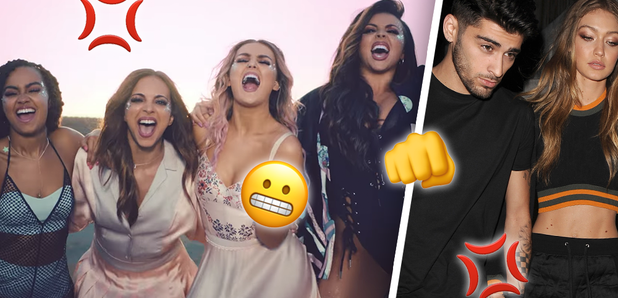 The ladies toned things down to avoid a 'Parental Advisory' sticker being slapped on their album cover.
After its release last month, Little Mix's 'Shout Out To My Ex' quickly became one of our favourite pop songs of the year.
The sassy track is an anthem for anyone who's had a rough break-up, and, let's be honest, it's fierce and empowering AF!
> James Corden Threatened To Call The Police On Little Mix After They Prank Called Him!
While it's been widely speculated that the track is about Perrie Edwards' not-so-clean breakup with former One Direction star Zayn Malik, the girls have been pretty coy about the specifics of the lyrics - even just saying it's about exes in general.
But now things get REALLY interesting, as the track's ORIGINAL lyrics have been revealed... and they're even more savage!
> Listen To EVERY Track On Little Mix's New Album - 'Glory Days' - Right Now!
While there might be some not-so-subtle references to Zerrie in the released track, an early draft of the lyrics seems to throw Zayn's new girlfriend, model Gigi Hadid, in the mix.
"Heard he been f----ng some model chick, yeah that s--- hurt I'll admit, but f--- that boy I'm over it."
Savage!
> Little Mix 'Glory Days' UK Tour Dates 2017 - Tickets On Sale Now
So why did the girls drop those lyrics?
"We had to make it clean," Perrie revealed to News AU. "We didn't want to have the parental advisory sticker on our albums and singles. Even though our fans are our age, 20 or over 18, we still have a lot of young fans. But it does feel good to swear, doesn't it?"
The ladies will be dropping their FIERCE new album, 'Glory Days', this Friday - and we can't wait!!
You May Also Like...