LISTEN: Little Mix's New Album 'Glory Days' Is Out Now!
17 November 2016, 17:15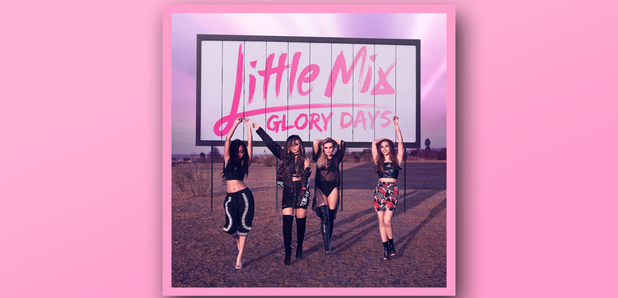 This will be the ladies' fourth studio album!
Update: 17th November 2016
IT'S FINALLY HERE! While it doesn't drop officially in the UK until midnight, it's started to roll out to iTunes and Spotify users around the globe. Listen to it in full right here!
Update: 11th November 2016
We've managed to get hold of a sampler for the album... and it sounds SO good!
What Is The Name Of The Album?
The album will be called 'Glory Days'.
Having had such huge success in the UK and over in America, these really are glory days for the four ladies, so it's a pretty fitting title we think!
The ladies have just shared this video, which gives us a bit more information about what we can expect from 'Glory Days'...
... And the party just doesn't stop! We've got something AMAZING to tell you lovely lot! #LM4EraStartsNOW #GloryDays the girls x pic.twitter.com/4bVbEYqGmR

— Little Mix (@LittleMix) October 13, 2016
What Is The Release Date?
'Glory Days' will be released on Friday 18th November.
That's a worldwide release date, so wherever you are on the planet you'll be able to grab a copy.
You can pre order the album on iTunes from Friday 14th October.
The album will also be released with a 'Get Weird Tour' DVD, so there's loads of new Little Mix stuff to look forward to!
Preorder 'Glory Days' - Preorder 'Glory Days (Deluxe Film Concert Edition)
What Is The Tracklist For The Album?
Update 24th October: We have a setlist!
Touch
F.U.
Oops (feat. Charlie Puth)
You Gotta Not
Down & Dirty
Power
Your Love
Nobody Like You
No More Sad Songs
Private Show
Nothing Else Matters
Beep Beep [Deluxe]
Freak [Deluxe]
Touch (Acoustic) [Deluxe]
As well as three bonus tracks, the Deluxe edition even comes with a bonus DVD, featuring the girls' live show from 2016's 'Get Weird' tour at London's Wembley Arena.
Grown
Hair
Wings
Lightning
DNA
Secret Love Song
OMG
Salute
Little Me
Move
How Ya Doin'?
Love Me Like You
Weird People
The Beginning
Black Magic
...that's not it! (obviously ) Here's the #GloryDays deluxe track list! What are you excited to hear? https://t.co/DGU6qEB1Ml the girls x pic.twitter.com/ISTBEedB3p

— Little Mix (@LittleMix) October 23, 2016
What Can We Expect The Album To Sound Like?
Well the Little Mix ladies have shared a poll on Twitter to ask fans what they want 'Glory Days' to sound like...
5 days and counting until the #LM4 era official begins!! What vibe do you want from the girls' new music? LM HQ x

— Little Mix (@LittleMix) October 11, 2016
We have a sneaky suspiscion there will be tracks that encompass all of these different styles, but until we hear more music we'll just have to keep our fingers crossed.
As this fan suggested, WE WANT IT ALL!
@LittleMix i want it all packed in one album.

— KΛΤΥ MINΛJ (@BiLLKatyCat) October 11, 2016

Update 18th October: The LM ladies have been working with Digital Farm Animals and Ryan Lewis (as in Macklemore & Ryan Lewis), so we're waiting for some upbeat EDM sounds and possibly some rapping come November 18th! DJ Freedo has also been involved with the record, who was responsible for the production on Zara Larsson's debut hit 'Lush Life'.
Preorder 'Glory Days' - Preorder 'Glory Days (Deluxe Film Concert Edition)
What Does The Album Artwork Look Like?

The Little Mix ladies shared this tweet recently which shows the 'Glory Days' album artwork in all its glory...
Here's the shiny new artwork for our 4th album #GloryDays! You can pre-order from TOMORROW Available worldwide 18.11.16 the girls x pic.twitter.com/GVT4KUCZZa

— Little Mix (@LittleMix) October 13, 2016
The huge billboard...the sassy poses...we just need to hear this album like NOW!
There's also a deluxe edition of the album whcih you have to see too...
AND….the deluxe #GloryDays album also includes the full #GetWeirdTourDVD We can't wait for you guys to hear our new music the girls x pic.twitter.com/Dis48zHM3w

— Little Mix (@LittleMix) October 13, 2016


Which Artists Will Be Featuring On The Album?
After the huge success of last year's 'Secret Love Song' with Jason Derulo, the girls are calling on another huge US solo star to help out on their new album!
'We Don't Talk Anymore' singer Charlie Puth features on the album's fourth track, 'Oops'!
Fifth Harmony were suggested as being possibilities to feature on the album.
When asked whether a collaboration would be something they'd do, Perrie said, "Yes! Imagine the sass' before Jade added, "The hair whips would be off the scale."
Preorder 'Glory Days' - Preorder 'Glory Days (Deluxe Film Concert Edition)
You may also like...