Someone Is Using Simone Battle's Twitter Account To Troll Little Mix Two Years AFTER Her Death!
24 October 2016, 17:10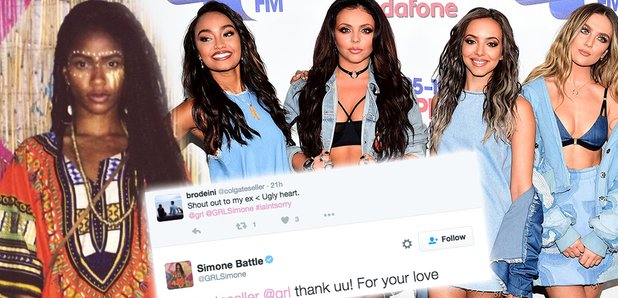 As far as Twitter trolling goes, this is seriously dark...
#Mixers across the world lost all chill last week when Little Mix dropped their EPICLY sassy comeback jam, 'Shout Out To My Ex'.
The track became an instant empowerment anthem, but people were quick to point out the song's similarities to G.R.L's 2014 track, 'Ugly Heart'.
Even the band themselves jumped on the trolling train by throwing some serious shade at Jesy, Jade, Leigh-Anne and Perrie on their official Twitter account...
16 October 2016
Little Mix have since responded to G.R.L's stinky side-eye and we thought that was the end of it, but now the story's taken another unexpected turn... former band member Simone Battle has thrown in her 2 cents, two years after her death!
"Stop Trying To Get Publicity!" Little Mix Respond to GRL Comparisons In Really Awkward Interview

(Pic: PA)
If you're not familiar with her story, Simone took her own life in September 2014, aged just 25.
Since her death, however, her verified Twitter account has remained active with no real explanation - and has now been interacting with fans shading the world's biggest girlband!
@colgateseller @grl thank uu! For your love

— Simone Battle (@GRLSimone) October 24, 2016
One explanation for this could be that The Simone Battle Foundation - which was set up by the singer's mum after her death - is still using the account, or somebody in the band's management is keeping her memory alive through the use of social media.
Most of the account's Tweets and interactions focus on remembering Simone, however this one just doesn't sit right with us - especially as the messages appear to come from Simone herself.
'Shout Out To My Ex' went straight to the top of the Vodafone Big Top 40 this weekend, and is the lead track from Little Mix's upcoming fourth studio album, 'Glory Days'.
You May Also Like...