G.R.L Just Gave The Most Brutal Side-Eye To Little Mix For 'Copying' Their Song
18 October 2016, 16:07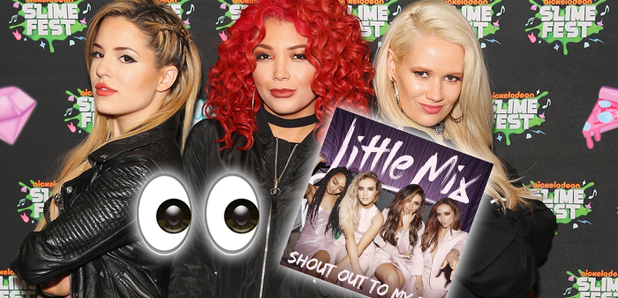 Little Mix's 'Shout Out To My Ex' is ruling the airwaves as we speak, however it seems as though not everyone is happy about the new single.
If you haven't heard 'Shout Out To My Ex' yet then the first thing you MUST do before reading any further is check it out...ok....done? Good we can begin...
On Sunday evening Little Mix finally made their new single available to download after a scintillating performance on the X Factor, however fans of L.A trio G.R.L were quick to point out the similarities between 'Shout Out To My Ex' and G.R.L's 'Ugly Heart'.
In fact the girls themselves actually tweeted their own play on the #ShoutOutToMyEx hashtag...ouch....
October 16, 2016
Little Mix haven't responded as of yet but surely they've seen people talking about it?! People have been tweeting about it a LOT.
Okay, but we all agree Shoutout To My Ex is exactly the same song as Ugly Heart, right? #Shoutouttouglyheart

— Jason (@JasonAntill) October 17, 2016
music inspires music
art inspires art
stop saying LM plagiarized, it's not the same, similar yes #ShoutOutToUglyHeart #ShoutOutToMyEx

— m loves cal (@tomlinsonslatte) October 17, 2016
As much as I love Little Mix but it's kinda deep they copied GRLs backingtrack #ShoutOutToUglyHeart

— Aqsa (@AqsaAmin2000) October 16, 2016
Have a listen to the two singles below and let us know what you think...
Here's Little Mix performing 'Shout Out To My Ex' on the X Factor.
And here's G.R.L's 'Ugly Heart'...
Hmmm, one thing we can agree on is that they're both pretty banging pop anthems!
You may also like...