Fyre Festival 2 Is Officially Happening And Presale Tickets Have Sold Out
23 August 2023, 11:04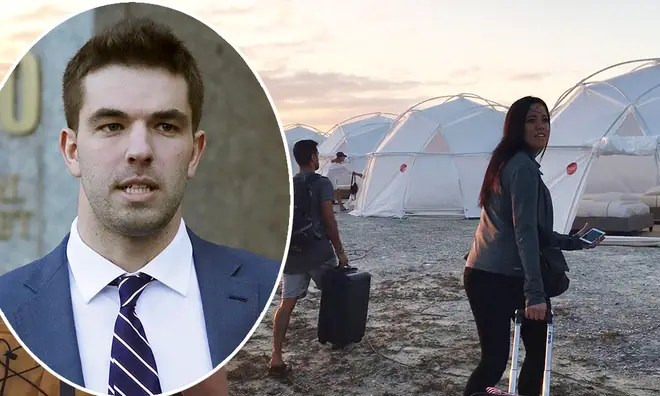 After the first Fyre Festival went viral for being promoted as a 'luxury' getaway to becoming the most disastrous weekend, creator Billy McFarland wants to give the event another go.
Fyre Festival is getting a reboot after organiser Billy McFarland put together a 50-page plan to revive the event while in solitary confinement for seven months. Billy was infamously jailed in 2018 after pleading guilty to numerous fraud charges relating to the 2017 festival.
Despite the chaos surrounding the original festival, which led to McFarland being jailed for six years, Fyre Festival 2 is really happening – and it's set to take place in 2024 somewhere in the Caribbean.
A precise location and line-up hasn't yet been confirmed but McFarland is already expanding his ideas around the event, confirming there will be 'events and pop-ups around the world' in the run-up to the weekend.
He also confirmed he's recently signed a deal 'with one of the biggest production companies' to bring the chaos to the stage, in Fyre Festival the Broadway musical.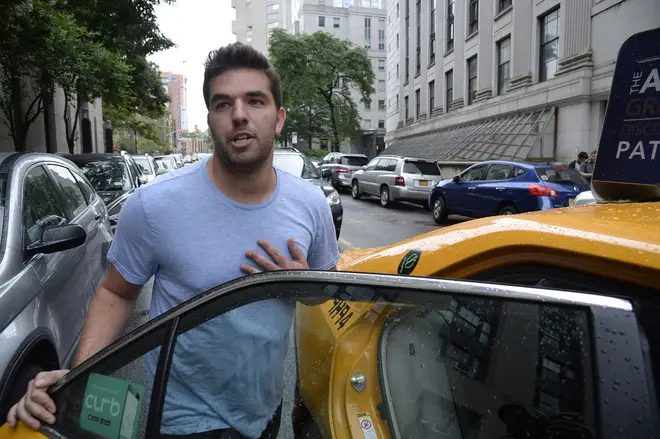 In a video shared on his social channels, McFarland said: "Finally, today we're announcing Fyre Festival 2… We've decided Fyre Festival 2 is coming back to the Caribbean. We're targeting Fyre Festival 2 for the end of next year."
Tickets have already gone on sale, for $499 (£390), and more will be released in the coming months costing around $7,999 (£6,250). And despite the carnage of the original event, presale tickets have already sold out.
The first event was branded 'more like Lord of the Flies or The Hunger Games', after music fans were led to believe it would be a luxury experience, promoted by the likes of Bella Hadid, Emily Ratajkowski, Allesandra Ambrosio.
Ticket holders were led to believe there would be yachts, villas and wellness retreats on site. Instead, there was no electricity, running water and medical care and the only food available was bread and cheese. People's luggage was also dumped all over the place.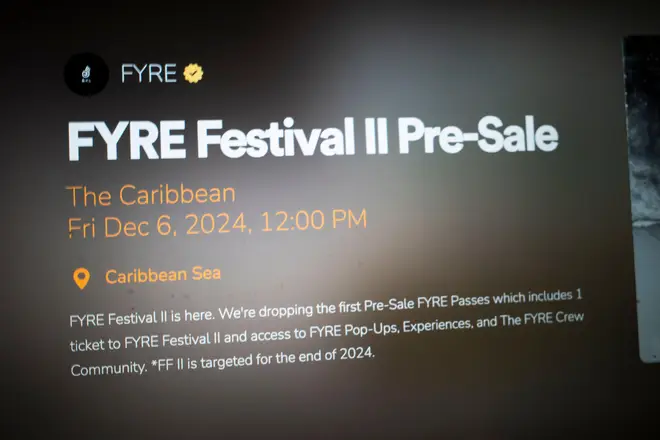 Things only worsened when the island was hit by a tropical storm, ruining the few tents that were set up.
McFarland co-founded the event, which caused more than $26 million in losses, with Ja Rule, but the rapper was dismissed from the lawsuit when he was cleared of any wrongdoing. It couldn't be proved that his promotion of the event on social media directly led to ticket purchases.
After the carnage, McFarland was arrested and admitted to defrauding investors of $26 million and over $100k in his fraudulent ticket-selling scheme. He was released in 2022 but has already begun his plans to revive the event.
He said in an Instagram statement on Tuesday: "This time we have incredible support. I'll be doing what I love while working with the best logistical and infrastructure partners. In addition, all ticket sale revenue will be held in escrow until the final date is announced."
After the first ticket drop sold out, people are joining a waitlist for any future releases.
Listen live to Capital, and catch up on any shows you missed, on Global Player.