Kardashian Sisters Have An Epic Twitter Fight As 'KUWTK' Airs Kim & Kourtney's Bitter Row
6 August 2018, 11:14 | Updated: 6 August 2018, 11:54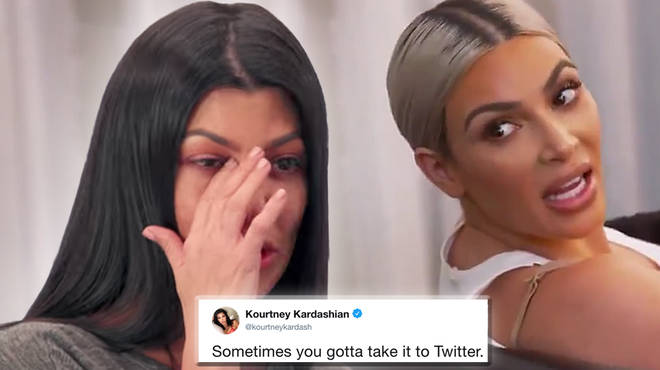 After the trailer for KUWTK exposed Kim and Kourtney's furious arguments, people may have thought it had all been put behind them, until a massive Twitter argument kicked off revealing the extent of their feud...
Kourtney Kardashian and sister Kim have been open about the series of enormous rows they've had, allowing the 'Keeping Up With The Kardashians' to film them as they come to blows over work commitments and parenting.
Although most of us assumed the sister's had put their differences aside, an enormous Twitter row kicked off by Kourtney last night as the show premiered has shocked many into realising the extent of their differences.
Experts Have Worked Out How Much Each Kardashian Would Earn If They Weren't Famous
It all started when Kourtney started to live tweet the episode, recalling how 'chilling' it was watching their fight back and re-asserting that she chooses to be a parent first before work, which riled up both sisters, pretty intensely.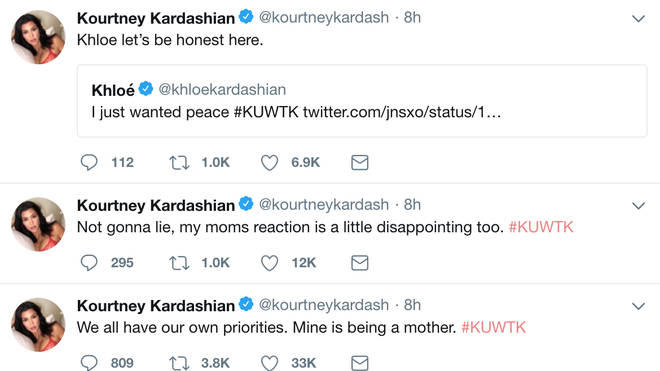 And mine is not? The shoot was with our kids!!!!! My #1 priority is being a mother as well and I can work too, so can you! https://t.co/3bApFwwjcr

— Kim Kardashian West (@KimKardashian) August 6, 2018
The savagery of the first episode can be summed up by a quote from Kim, where she said about Kourt: "I'll be 10 billion times ruder to her until she cries when she sees me". We really wouldn't want to get on the wrong side of KKW.
Khloe was then dragged into the mix when she replied to a fan that she 'just wanted peace' but Kourt wasn't having any of it...
And i do. But i wasn't wanting MORE work, i already felt spread thin. Being a good mother also has different meaning to each of us. You're an amazing mother, I'm not taking that away from you. https://t.co/ZMpEo5nlwL

— Kourtney Kardashian (@kourtneykardash) August 6, 2018
The fight began when Kourtney was being 'difficult' about scheduling in a family photoshoot, causing Kim to flip out on her and brand her "the least interesting to look out". It is said that the pair are still (clearly) working through their issues, with Kourtney having skipped out on Kim's baby shower for Chicago a few months ago.
This is a serious throwback to the earlier series where the sisters would fight constantly, in a weird way, it's kind of cute knowing they're still the shady queens we know and love, right?!
>Download Our Brand New App For All The Latest Kardashian News