Are Khloe Kardashian And Tristan Thompson Together?
28 September 2023, 11:26 | Updated: 28 September 2023, 11:35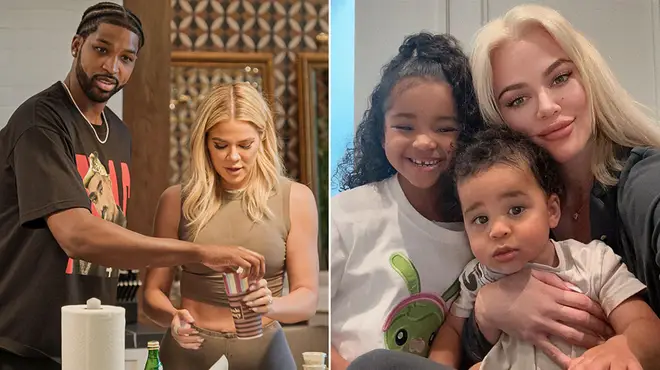 Kardashians star Khloe continues to unwrap her complicated relationship with the father of her children Tristan Thompson, but are they actually together now? And why did they split up originally? Here's the low down.
Khloe Kardashian and Tristan Thompson's relationship, whether romantic or platonic for the sake of their children, will always be one of the most dramatic and complicated situations for the Kardashian family.
And with a new season of the Kardashians airing on Disney+, viewers are getting a further insight into how Khloe and Tristan work, with many still confused as to whether they're an item or not.
With two children together, True, five, and Tatum, one, the pair are trying their best to figure out co-parenting but is the romance between them really dead? Could they still work together as a couple?
Read more: Kardashians: When And What Time Is The New Episode Premiering On Disney Plus?
Read more: The Kardashians' Net Worth 2023: Who's The Richest Family Member?
Here's everything you need to know about Khloe and Tristan's relationship including the key moments from when they got together to when they broke up and THAT Jordyn Woods cheating scandal.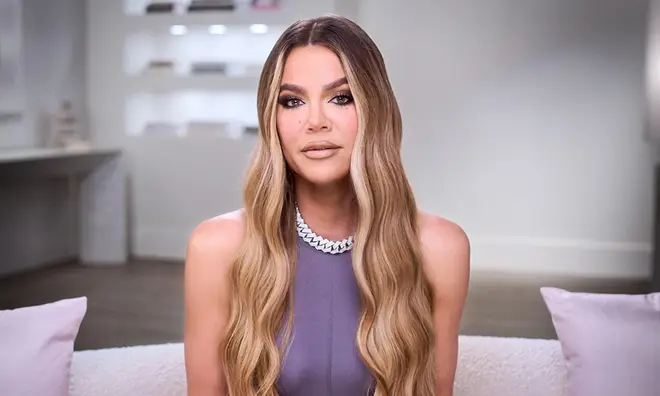 Are Khloe Kardashian and Tristan Thompson together?
Khloe has been clear with her fans in stating that her and Tristan are not dating, stating on the new season of the show: "Me and Tristan are not together."
However, he is a part of her family and will do what she needs to support him.
At the end of season 3 of the Kardashians, it was revealed the sports star, and his younger brother Amari ,who he is the legal guardian of, were living with her after Tristan had house renovations going on. In season 4, Khloe confirmed they were still living under her roof.
"All you have is your family, and Tristan and I are going to be family for the rest of our lives," she said.
How many children do Khloe Kardashian and Tristan Thompson have together?
Just like her older sisters Kim and Kourtney, Khloe is hard at work navigating a co-parenting relationship as they have two children together.
They welcomed True Thompson on 12th April 2018, and Tatum Thompson on 28th July 2022, via a surrogate.
Tatum was conceived around the same time Khloe broke up with Tristan for the final time so they welcomed their son as exes.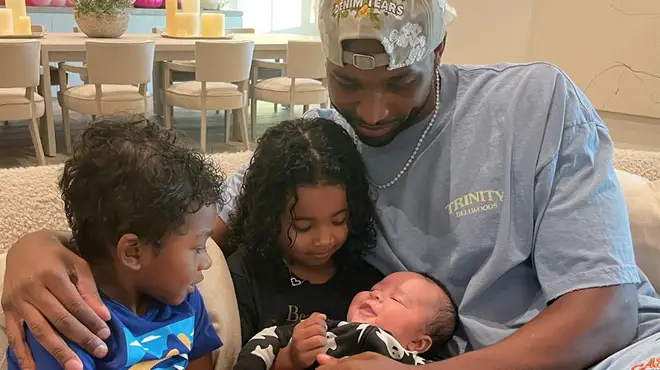 When and why did Khloe Kardashian and Tristan Thompson split up?
Their relationship fall out expands over a number of years after they reconciled following Tristan's first cheating scandal.
Khloe and Tristan are first rumoured to have split around April 2018, the month she welcomed their first daughter and the first cheating allegations emerged.
A video of Tristan in a club surfaced online of him with a woman he later takes back to a hotel room.
However, Khloe vows to stand by Tristan and for the sake of their newborn daughter despite more cheating allegations surfacing.
In February 2019, they officially break up for the first time following the Jordyn Woods cheating scandal.
The basketball player is caught on video cheating with younger sister Kylie Jenner's best friend with multiple sources confirming their flirting and kissing.
When did Khloe and Tristan get back together?
Keen to make her family work, Khloe and Tristan pick up their romance, taking things very slowly, in July 2020.
It came after reports confirmed Tristan had been "working hard to prove himself and has been a great dad to True."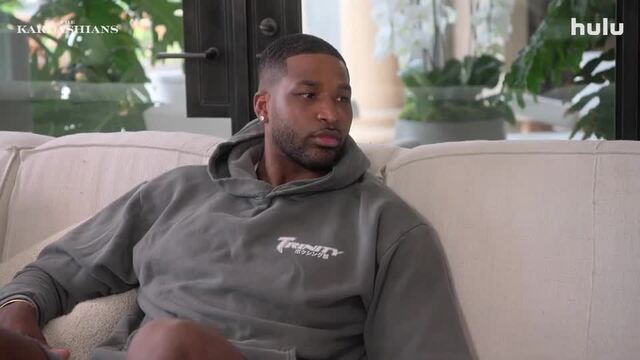 Watch the trailer for The Kardashians Season 4
What was the Tristan Thompson paternity scandal?
In December 2021, Khloe breaks things off with Tristan for good after it was revealed he had fathered a son with a personal trainer while he and Khloe were together.
The drama unfolded on an episode of the Kardashians which saw Kim read the court documents over the phone to her sister. It revealed he had a secret relationship with her while dating Khloe.
Tristan issued a public apology and admitted the child was his as he said: "Today, paternity test results reveal that I fathered a child with Maralee Nichols. I take full responsibility for my actions. Now that paternity has been established I look forward to amicably raising our son."
When did Khloe Kardashian and Tristan Thompson get together and how did they meet?
A mutual friend arranged a surprise blind date for Khloe and Tristan which led to dating rumours in September 2016.
They went Instagram official shortly after while on holiday together.
Listen live to Capital, and catch up on any shows you missed, on Global Player.