Fans Rush To Defend ZAYN After Accusations He "Flaked On Studio Twice" With This GRAMMY Nominated Star
18 September 2017, 15:16 | Updated: 13 June 2018, 13:21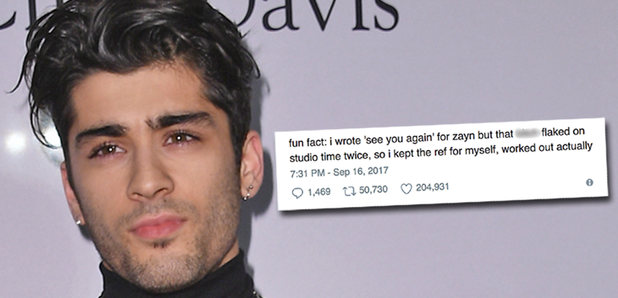 There were some strong words flying around out there!
We all know that Zayn Malik has one of the strongest fandoms around, so when he was called out on Twitter for bailing on studio time recently, the team assembled for their boy.
Tyler, The Creator was the GRAMMY-nominated artist who dared to speak out against the Zquad's idol and he revealed that he'd actually written a song for Zayn, but he kept it after the former 1D lad cancelled studio time on two occasions.
> Zayn Malik Has Revealed He "Never Really Spoke To Harry" Styles & We Can't Even Deal
fun fact: i wrote 'see you again' for zayn but that bitch flaked on studio time twice, so i kept the ref for myself, worked out actually

— Tyler, The Creator (@tylerthecreator) September 16, 2017
But following the hard-hitting tweet from Tyler, the Zquad instantly jumped to Zayn's defence, sharing a number of sassy replies to the Odd Future rapper....
why r u so obsessed with Zayn?
lmao he dgaf about ur existence!

— Zolanda (@Zayminem) September 16, 2017
Did we ask?

— Rani (@halaalniaz) September 16, 2017
Fun Fact: Didn't know this song existed until u mentioned Zayn. I see u need exposure so u used King Zayn

— Willow (@NetflexJunkie) September 16, 2017
You won't @ him tho

— Cortez B (@tezberumen) September 16, 2017
Zayn and Tyler haven't previously worked together and after Tyler's strong words online, it doesn't seem like they will any time soon nowhere.
Since Tyler decided to keep the song 'See You Again' for himself, he released it on his 2017 album 'Flower Boy' and gained millions of streams online, so we're sure he's not too upset about it.
> For More Exciting Zayn Chat And Loads More Music Goodness, Download Our Amazing App!
Whilst you're here, check out Zayn's latest single 'Dusk Till Dawn' featuring the mighty Sia...