Shawn Mendes Just Designed This Fan's Tattoo In The Street
12 September 2018, 11:20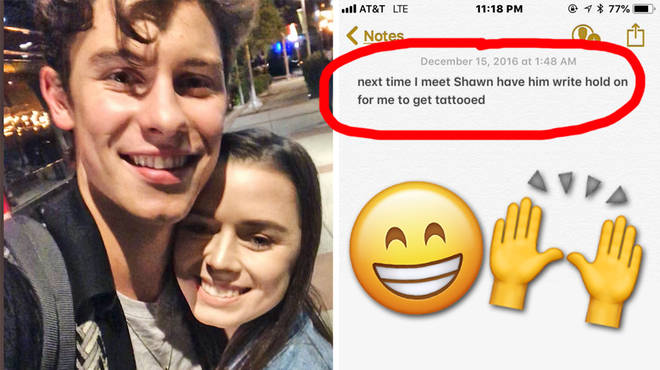 Shawn Mendes fan Megan Elizabeth asked him to design a tattoo when she met him recently.
Shawn Mendes has written countless hit songs and taken plenty of pictures with fans over the years, but one thing he hasn't done too many times in his life is design tattoos.
> This Shawn Mendes & Camila Cabello Theory 'Proves' They're Working On A New Collab
However, when Shawn Mendes fan and YouTuber Megan Elizabeth met the 'In My Blood' star recently, she asked him to write her a specific message so that she could get it tattooed.
Taking to Twitter, Megan shared a picturew of a note she'd written back in December 2016 which read 'next time I meet Shawn have him write hold on for me to get tattooed'.
Included in the post was a picture of Shawn's writing, revealing the 'hold on' tattoo that Megan will now get inked and we've gotta say we think it's gonn alook really cool.
It's not the first music tattoo that Megan's got however, as she already has a 5SOS 'Youngblood' tattoo inked...on the inside of her bottom lip!
'Hold On' is a fan-favourite Shawn Mendes song taken from his 2016 album 'Illuminate', with many fans have revealed that they relate with the song's emotional lyrics.
After seeing Megan's design, her fellow Shawn Mendes fans were buzzing with and jumped in the comments underneath Megan's tweet to congratulate her on receiving such an incredible gift from the Canadian star.
He really tried his best 'cause thats handwriting is more than fine. You're lucky 😂

— Shawn, see you in PL🇵🇱 (@TheWayILookAtU) September 11, 2018
Omg this is so cuteee im gonna cry😍😍

— Boukje💃 //Look pinned plz💕 (@_BoukjeVisser) September 11, 2018
Whilst he's not known for his tattoo designing skills, other fans have also had Shawn's words inked onto them and one fan recently managed to catch up with the 'Nervous' star to show him the results...
> Download Our Free App For All The Latest Shawn Mendes News!