Paps Filmed Louis Tomlinson Clothes Shopping & Changing For 8 Mins & People Think It's Weird AF
4 May 2016, 14:17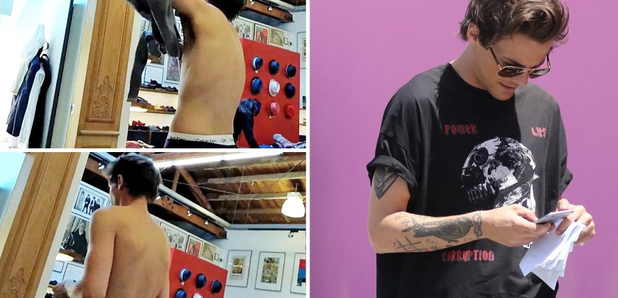 Old Louis T was 'out'n'about' in LA yesterday wardrobe shopping ahead of his surprise appearance on America's Got Talent. Of course some paps were on hand to capture his arrival at the store.

And as usual they film him entering the shop, (Paul Smith to be specific).
However, this is where it gets a bit odd. Because suddenly a pap is inside the venue, blatantly filming Mr T.

At one point we even see Louis topless, physically getting changed.
The supposedly 'covert' video is over 8 minutes in length, with barely anyone else in the store.
Straight away people had questions.
this video of Louis shopping who allowed this

— caity (@yungjoebiden) May 4, 2016
Someone even suggested they might have given permission for it to happen?
as if you think a high end designer like paul smith would just allow paps to bother their clientele.. they were called and given permission

— gracie (@harrytif) May 4, 2016
And that Louis possibly even knew it was being filmed?
Louis obviously knew the pap was taping him in the store. They allowed him in. The store/Louis could have had them removed if it wasn't ok.

— 1DCentral (@1DCentral_) May 4, 2016
It's not as if the photographer was trying to hide!
I just saw that video of the pap following Louis into the store and filming him getting a fitting lol the pap isn't subtle at all

— Aj / please Harry? (@floralhs_) May 4, 2016
However, after the past few months he's had, others are just happy to see him comfortable.
One thing about that video...it was refreshing to see Louis being comfortable and acting natural.. Took me back to 2011.

— Charlie (@Louisheartsme) May 4, 2016
You can watch the full video here: