We're 99.9% Sure Jade Thirlwall Not-So-Subtly Shaded Disney For Failing To Cast Her As Jasmine
17 July 2017, 13:25 | Updated: 17 July 2017, 15:37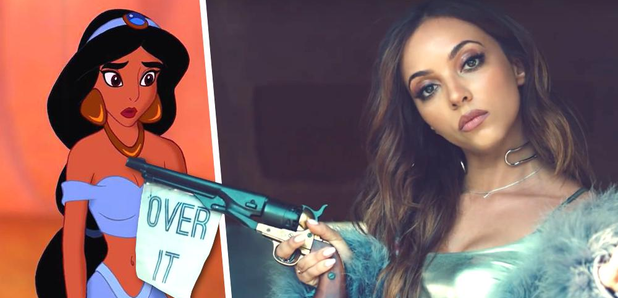 She won't be seeing a 'Whole New World' anytime soon.
It makes perfect sense; doesn't it? Jade's name begins with 'Ja-'. Jasmine's name begins with 'Ja-'. That's how movies cast their actors, isn't it? (Let's not lie - we're not that knowledgable on how the movie industry works.)
At Disney's latest fair, D23 Expo, the iconic animators unveiled a lot of news about upcoming projects - from 'Incredibles 2' to Tim Burton's live-action remake of 'Dumbo' - but there was one announcement that Mixers waited to hear... Was Jade going to portray Princess Jasmine in Guy Ritchie's 'Aladdin'?
> Prove You're A Genuine #Mixer By Getting 100% On This 'Power' Lyrics Quiz...
No. Unfortunately.
It was initially rumoured that the 'Power' singer was going to portray Aladdin's love-interest in the upcoming remake back in May this year, but Disney denied that possibility, after they announced the full line-up, which sees Naomi Scott (who recently played the pink rangers in the recent 'Power Rangers' rehash), as well as Egyptian-Canadian actor Mena Massoud as the titular character, with Will Smith taking over from Robin Williams as the Genie.
Shortly after the news was announced, Jade posted a screenshot from one of her most popular music videos, 'Shout Out To My Ex', to Instagram. Was it just her beaming with pride because she created one hella music video? Or was that specific screenshot of her holding a sign that says "OVER IT" a sly dig at Disney for not casting her as her favourite princess?
> Download Our App, And We'll Keep You Updated On ALL Of The Little Mix News You Need To Know!
Tonnes of Mixers rallied to support the 24-year old, leaving lots of comments, saying "#jadeismyprincess" and "ou will always be our princess Jasmine. Don't let this get you down."
Jade doesn't really need to worry about not being cast as Jasmine though, does she? Not when she's a princess in real frickin' life.
Pic: PA Images
This song has SO much more meaning, now we know it could even be directed to Disney...