Little Mix's Jade Thirlwall In Advanced Talks To Play Jasmine In The New Aladdin Film
22 May 2017, 15:10 | Updated: 8 June 2017, 10:02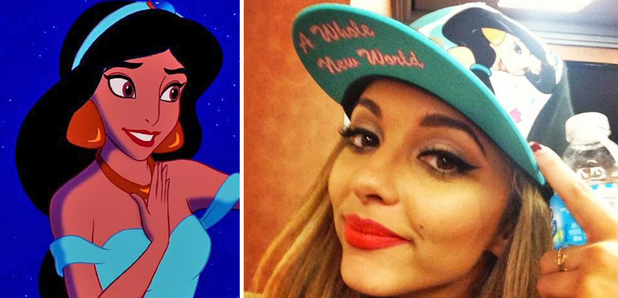 But would she play the role as a Geordie though?
Chart hits, sweet fragrances, best selling books - there aren't many areas where Little Mix haven't succeeded and now it seems that the big screen could well be their next venture!
Well specifically Jade, who is reportedly in advanced talks to play the role of Jasmine in Guy Ritchie's forthcoming live action remake of classic Disney film Aladdin. Amazing right?
It's well known that Jade is a huge Disney fan and the fact that she's even in talks to take on the role must be pretty exciting for the Little Mix lady. However, some people are concerned that any filming commitments could clash with Little Mix tour dates etc and are unsure as to where the whole thing would leave the future of the band.
Speaking to a tabloid recently, one source said, "Jasmine is Jade's perfect role, so she's delighted to have got this far in the process. The talks have been going on for some time now and the longer they go on, the better her chances are looking."
"All of the girls have their fingers crossed for her, as they always support each other. But they also know that it would be a huge commitment. Jade would need to film for months, and that's before promotion for the movie began."
"So this week they sat down in a break from their tour dance rehearsals and talked about what they might do if Disney did decide to cast her. It was quite an emotional conversation. But they all agreed that they would try to make it work for her around Little Mix commitments. It wouldn't be easy, but as far as it's possible, that's what they want."
Let's not forget that time a Mixer gave Jade a Jasmine hat and she absolutely LOVED IT...
Amazing crowd in #littlemixchicago tonight! Thanks so much to the mixer who got me this hat I it! Xxjadexx pic.twitter.com/LQBmLbRTV4

— Little Mix (@LittleMix) 15 March 2014
So can we just get this straight please? There is a strong chance that Little Mix's Jade is going to play Aladdin's bae Jasmine in what is likely to be one of the biggest films of the year? We're gonna need a lie down.
Make it happen Jade! Make it happen.
You may also like...