Little Mix – 'Only You' (Live At The Jingle Bell Ball 2018)
10 December 2018, 09:01
The girls pulled it out of the bag once again with this stunning rendition of their Cheat Codes collab.
You've definitely had 'Only You' on your playlist ever since it was released, and Little Mix sounded even more incredible singing it live in front of the Jingle Bell Ball audience tonight.
Capital's Jingle Bell Ball 2018: How To Watch, Listen & Stream
These girls have performed for sold-out crowds the world over, so you know you're always in for a treat and they ALWAYS bring it when they hit the stage.
Check out this incredible performance all over again with the video above – you'll be glad you did!
Little Mix – Jingle Bell Ball 2018 Set List
'Power'
'Black Magic'
'Touch'
'Secret Love Song'
'Only You'
'Woman Like Me'
'Shout Out To My Ex'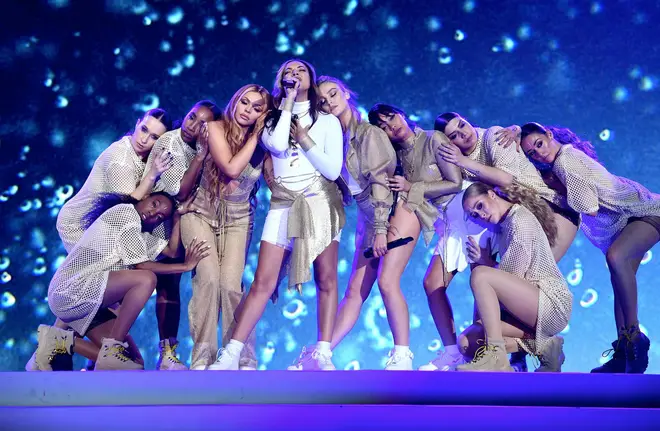 Little Mix – 'Only You' Lyrics
Dancing with your silhouette in the places that we met
Ooh, tryna find you in the moon
Paris never feels the same, when the streets all call your name
Ooh, so I hide in crowded rooms
And I'll follow right down the river
Where the ocean meets the sky
To you, to you
Once upon a time we had it all
Somewhere down the line we went and lost it
One brick at a time we watched it fall
I'm broken here tonight and darling, no one else can fix me
Only you, only you
And no one else can fix me, only you
Only you, only you
And no one else can fix me, only you, oh
Only you
Did I let go of your hand for a castle made of sand
Ooh, that fell into the blue
I went following the sun to be alone with everyone
Ooh, looking 'round a crowded room
And I'll follow right down the river
Where the ocean meets the sky
To you, to you
Once upon a time we had it all (we had it all) (mmm)
Somewhere down the line we went and lost it
(We went and lost it)
One brick at a time we watched it fall (fall)
I'm broken here tonight and darling no one else can fix me
Only you, only you (yeah)
And no one else can fix me, only you (no one like you)
Only you, (nobody else), only you (oh)
And no one else can fix me, only you, (oh)
Only you
(Falling, falling, falling, yeah)
Only you, (only you), only you, (only you)
And no one else can fix me, only you (only you)
Only you, (only you), only you, (only you)
And no one else can fix me, only you
> Download Our App For The Latest #CapitalJBB News