Every Reason Why Little Mix's Jesy Nelson Is The Funniest Woman In Pop
29 June 2018, 17:19
From THE most hilarious moment in pop, nay, all of history, to a hilarious french saying gone wrong, Jesy continues to give us absolute life with her comedic ways...BALAGDEH.
She's one quarter of the biggest girl group in the whole world, Little Mix, but she has also earned the title of 'living meme' and internet icon after she has pulled off some of the funniest moments we've ever seen.
She's simultaneously gone viral on multiple occasions without even meaning to, drops us the biggest pop bangers of our time, and proves she DGAF.
Is there anything Jesy Nelson isn't good at?
Jesy's world famous attempt at a Jamaican accent.
Back in 2014, the girls sat down for an interview with You Generation, and thus was born the single funniest moment in internet history. Upon Jesy being asked to try a Jamaican accent, the singer thought about it, panicked, and what came out of her was part demon, part ghoul, and 100% legend.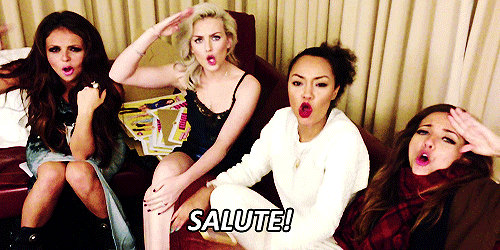 Picture: GIPHY
Jesy's made you a delicious meal, and WALLAH!
Excuse us whilst we wipe our tears, because this will never stop being funny. Jesy had been busy rustling up a mexican feast and wanted to share her culinary successes with her millions of fans, only when she tried to write 'viola', she spelt it 'wallah' and people couldn't contain themselves...
obsessed with Jesy Nelson thinking "voila" is spelt "wallah" pic.twitter.com/0knvxFGGCp

— Steve (@stipkins) January 16, 2018
From "Balegdeh" to "Wallah" real quick! Wow Jesy really is a queen.

— ernest is far from home (@tomsspideysuit) January 18, 2018
Jesy's hilarious Global Awards interview where she tried to sing Liam Payne's Familiar.
It's safe to say the Little Mix ladies had their fair share of fun at this year's Global Awards, and rightly so, they went and scooped up 'Best Song' for their tune 'Power' with Stormzy, and may have gone on to hit the bar up a little hard. The result is this absolutely hysterical interview with our very own Will Manning, where Jesy doesn't hold back one little bit.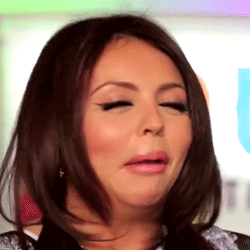 Picture: GIPHY
One last time, we couldn't resist.
Download Our Brand New App For All The Latest Little Mix News!