Little Mix's Jade Thirlwall Went Full Savage On Cardi B & Nicki Minaj LOVED It
30 October 2018, 11:27 | Updated: 30 October 2018, 12:02
After the Cardi B and Nicki Minaj feud exploded last night, with Cardi claiming to have been asked first to appear on new Little Mix tune 'Woman Like Me', Jade Thirlwall has lashed out at the 'I Like It' singer by liking some pretty savage Instagram posts tearing the rapper down...
Little Mix's Jade Thirlwall just chimed in on the 'Woman Like Me' Cardi B/Nicki Minaj feud by liking Nicki's diss tweet that asks if Cardi has 'ever written a rap' and Nicki Minaj loved it so much she re-posted it with a shoutout saying "B*tch Jade from Little Mix said not on my watch!", proving this is brand new BFF power group is one we need to watch out for.
Little Mix Defend Nicki Minaj After Cardi B Claims She Was Original 'Woman Like Me' Collaborator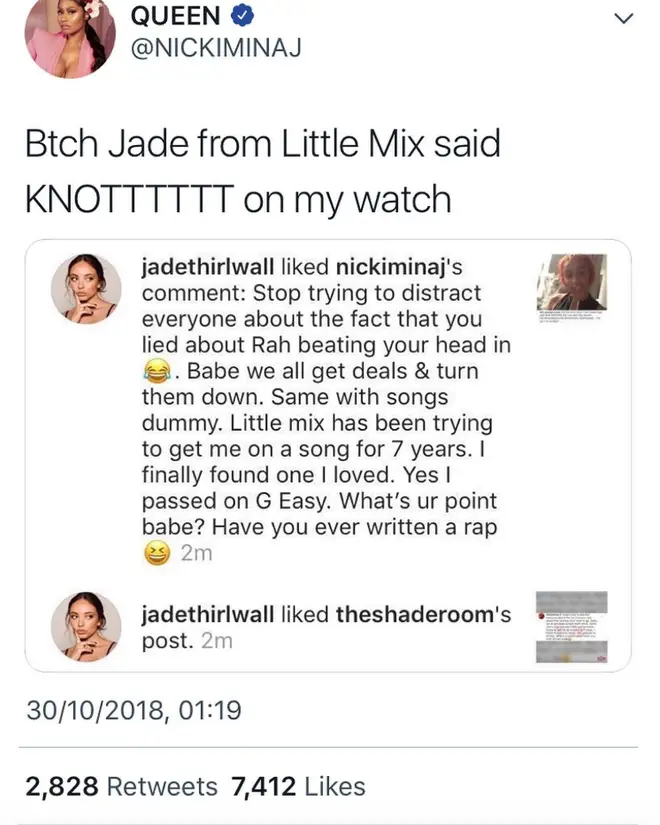 If you've missed the drama that went down, Cardi B claimed SHE was first offered the feature in Little Mix's new song before Nicki in a mammoth video bashing of her long time rival on Instagram which kind of backfired terribly when Jesy, Perrie, Jade and Leigh-Anne stepped into clear up they'd wanted to work with Nicki since the beginning of time. Awkward.
In a post, the girls wrote: "Sorry Cardi, this is the tea, we've always wanted the Queen (no shade)" and a caption explaining: "We just want to clarify...Nicki was approached first" with an accompanying montage of times the band have said how much they want to work with the 'Chun-Li' rapper, which is many times!
Cardi and Nicki's feud has seriously heated up in the past few months after they fought at a New York fashion week show party with Cardi throwing her shoe at the rapper.
Her Instagram rant last night saw her address a whole range of topics, but it was when she played the empty version of 'Woman Like Me' to 'prove' she was asked to be on the song first that the internet was sent into a frenzy.
Nicki Minaj spoke out, refusing to address Cardi's messages, to which Little Mix retweeted her message with a love heart, cementing which side they're picking in this battle.
Want Tickets To Capital's Jingle Bell Ball Before Anyone Else? Download Our App Now To Access Pre-Sale!