All The Times Ariana Grande And Miley Cyrus Proved They Have The Sweetest Friendship
11 September 2019, 16:15 | Updated: 13 September 2019, 17:02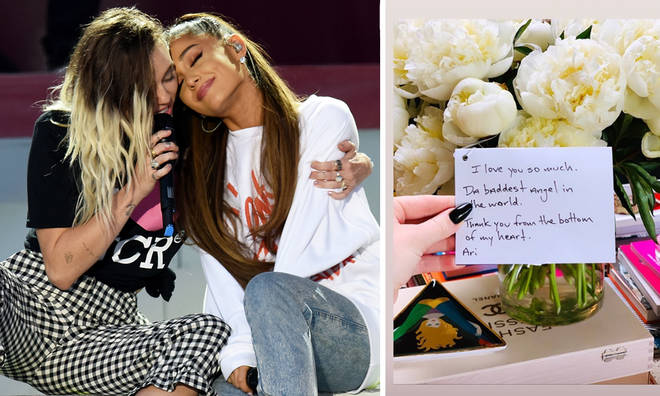 Ariana Grande and Miley Cyrus are BFFs and the 'Boyfriend' singer's latest gesture to Miley just proved that.
Ariana Grande and Miley Cyrus have always supported one another throughout their hugely successful careers, and they haven't stopped praising each other's work since each of the ladies hit the spotlight.
Whether it's about heartache or a new song, the pop stars are always acknowledging one another's work, and it's a bond we should all be envious of.
Inside Ariana Grande's $16 Million New York Penthouse Apartment
They've even sung together in the past and are about to drop a new tune with Lana Del Rey – you can find out more on that here.
In the meantime, here are all the times Ari and Miley proved they have the cutest friendship...
Miley tells fan Ariana tastes like 'Thank U Next' perfume
After Miley and Ariana stunned together alongside Lana Del Rey in the 'Don't Call Me Angel' music video for the new Charlie's Angels movie soundtrack, one fan tweeted her asking what the '7 Rings' singer tasted like, as Miley can be seen licking her cheek in the video.
Miley responded to the fan with a link to Ari's 'Thank U Next' perfume, which is described as 'full of attitude, full of sweetness' - could you find a more suitable smell for the 'Sweetener' pop princess?
Ariana sends her support to Miley following her split from Liam Hemsworth
Miley's break-up from her boyfriend of 10 years and husband of eight months left us all shook, so when the pop star penned an incredible tune about their separation, 'Slide Away', it broke all our hearts to hear Miley sing about moving on – however, she seems happier than ever with her new love, Kaitlynn Carter.
Sending her support after watching the emotional video, Ariana reached out to her close friend: "This / you are so stunning. Inside and out. Love u," Ari tweeted.
The pop star queens join forces with Lana Del Rey for the Charlie's Angels soundtrack
The pair, who have been good friends and huge supporters of each other for years, have most recently been working along with Lana Del Ray on a track (and music video) for the Charlie's Angels reboot starring Kristen Stewart and directed by Elizabeth Banks.
The tune is called 'Don't Call Me Angel' and is most likely to do with the gesture below…
Ariana sends Miley a bunch of flowers
Ariana Grande melted all of our hearts by posting fellow superstar and good friend Miley Cyrus a bunch of flowers with a heartwarming note, with the 'Mother's Daughter' singer posting on her Instagram page so we could all enjoy their cute moment.
Along with a bunch of white roses, Ari sent a handwritten note to the 'Wrecking Ball' singer that reads: "I love you so much. Da baddest angel in the world. Thank you from the bottom of my heart. Ari."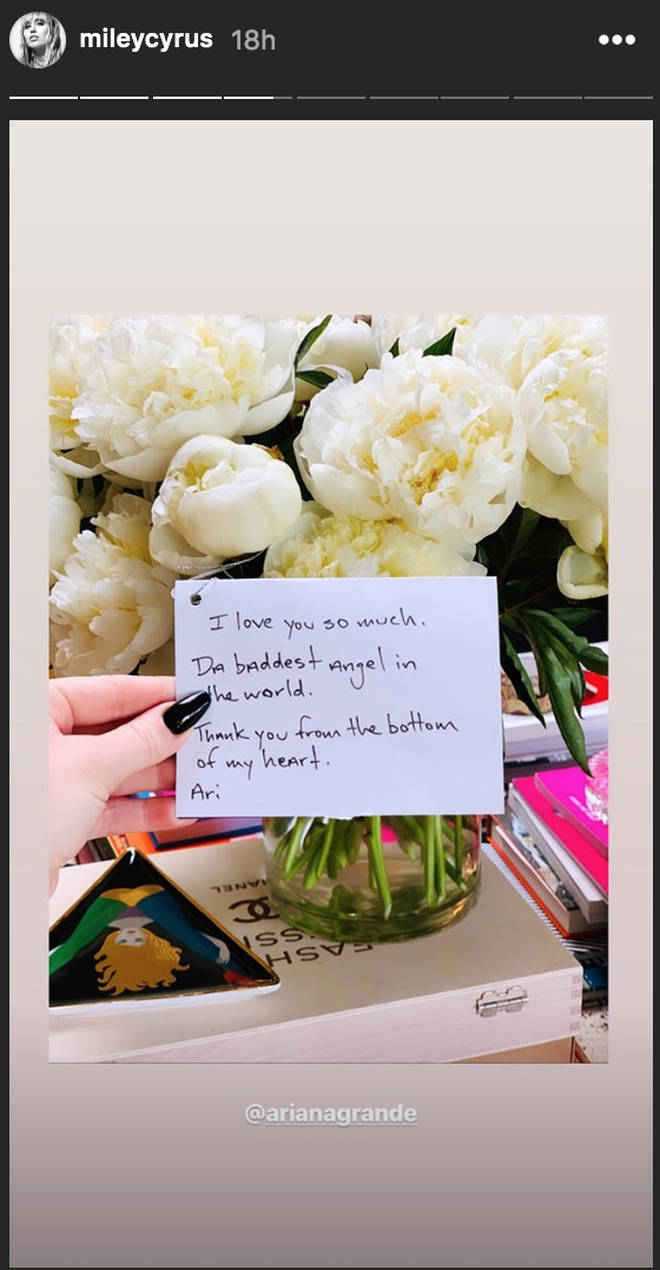 Miley supports Ariana through One Love concert
Miley proved herself an incredible friend when supporting Ariana on stage during the One Love Manchester concert back in 2017, flying in especially to the UK to be there for the 25 year old.
The girls sang 'Don't Dream It's Over', which they'd performed on Miley's Happy Hippie channel and they sat side by side for the uplifting tune.
They had everyone singing along with them and Miley made sure to hold an emotional Ariana's hand the whole way through.
Ari joins Miley on Happy Hippie Presents
The pair put their world class vocals to good use for a duet of 'Don't Dream It's Over' in a touching performance which showed everyone how close they are.
Miley even called her pal: "the cutest bear/mouse" before Ari returned the compliment saying Miley is: "the cutest unicorn in the world."
Miley sends Ariana flowers for her VMAs win
The girls are constantly tweeting in support of each other, something they've been doing since 2012. So when Ariana scooped Best pop Video for 'Problem', her BFF made sure to congratulate her "baby love" with a bunch of flowers.
Ari tweeted: "a special baby love sent me flowers... @mileycyrus u are the cutest angel pie in da world."
Attached was a picture Ari had snapped of the beautiful pink bouquet arranged in a vase.
Could this friendship get any cuter?
> Download Our Brand New App For All The Latest Ariana Grande News